Hi there,
We have a very special guest today, Lisa Tilson of the My Card Trip blog. She is an extraordinary designer and today's design is BRILLIANT! So, without delay, I will turn it over to Lisa – be sure to watch her video, it's awesome!
Hello there crafters!
I am delighted to be back as a Guest Designer here at Foiled Fox today and I have a fun and cute interactive card for you.  I have been wanting to use the My Favorite Things Peek-A-Boo Wheel Die-namics for some time now and thought I could pair it up with the recently released Just Ducky stamp set.
And as this is an interactive card, I have filmed a video for you 😊. It is always easier to watch an interactive card come together, so I hope that you find it useful. There are also a few hints and tips below to help you along the way if you fancy having a go at making one yourself. I have kept the focus of the video on the creation of the wheel itself and the assembly of the card as that is what is important here. I have not shown the colouring of the images, but I have listed the Copic numbers below if you are interested in seeing what I used.
So, here is the card that I have created today.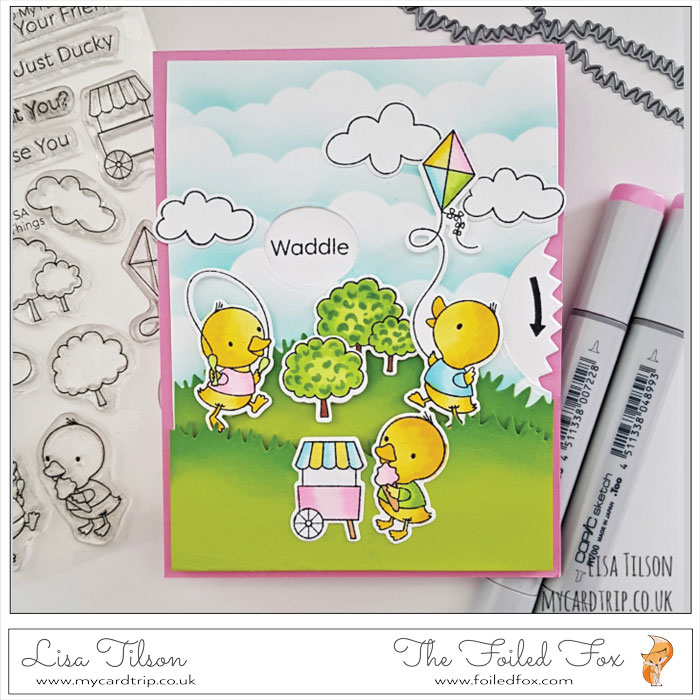 Continue reading "Just Ducky Interactive Card by Lisa Tilson" →