Hi Everyone,
It is so nice to feature another project from our dear friend, Heather Telford who a very talented lady and always brings us something wonderful! For this project, she is sharing a beautiful card design that features a new stamp company for us, Darkroom Door but is a real favorite of one of Heather's.
The circle of flowers and the dreamy sky make this design simply stunning! Take a look at how she did it, then don't forget to pop over to her blog for more inspiration.
I'm excited to see Darkroom Door stamps in the Foiled Fox store and just as happy to share a project with one of my favorite sets on the blog today. Darkroom Door stamps are very artistic, many are based on photos that Rachel Greig, the owner of DD, has taken. You can keep things very realistic with these stamps or get a little artsy with them; I tend to lean to the artsy side.
I have been having fun masking with masking fluid (liquid frisket) and masking tape lately. It is a great way to frame a design. To create this card I traced a circle in pencil on a piece of Fabriano hot pressed watercolor paper then painted a ring of masking fluid around the circle. I painted about half an inch of masking fluid so I wouldn't end up stamping or painting outside the masked area by accident. I also splattered a few dots of masking fluid here and there to add interest to the scene.
I painted the background first and kept it fairly pale, the sky is broken china distress ink on the top half and bundled sage ink on the lower section. As I often do I smooshed the inks on my glass mat, added a little water then picked them up from there with a paintbrush. Once the background was dry I placed the panel in my Misti to stamp the flowers from Darkroom Door 'warm wishes' set. I inked the flowers in worn lipstick distress ink with dabs of orange from a spiced marmalade distress marker, spritzed them lightly then stamped. Because I already had some pale color behind I repeated this process a couple of times to build up the depth of pink and orange in the flower head. I inked the stems and leaves with Forest Moss distress marker.
I dotted a few droplets of water on the flowers to add some watermarks. To do this I place a drop of water, leave it a minute then absorb it with a paper towel leaving a pale spot in a colored area. Once everything was dry I removed the masking fluid and added a sentiment from the same 'warm wishes' set in Versafine Shady Lane ink. To finish off the card I trimmed the panel to a square then popped it up with a piece of white foam on a cream card base.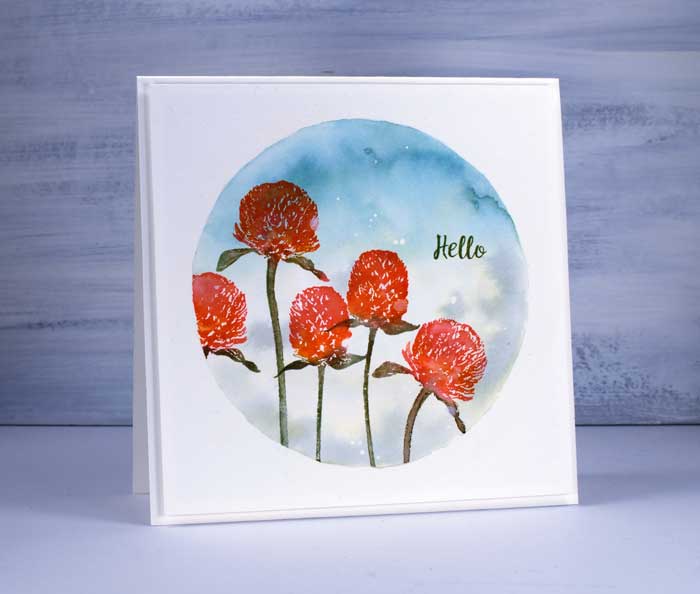 If you look closely at my card you can see I only used two of the clover stamps from the DD set. Because the stamps have nice long stems I was able to bend the stem once it was stuck on the door of the Misti stamp positioner to make the flower heads point in different directions.
Thank you for joining me here today; I hope I've given you a little inspiration for your future projects.
More about Heather: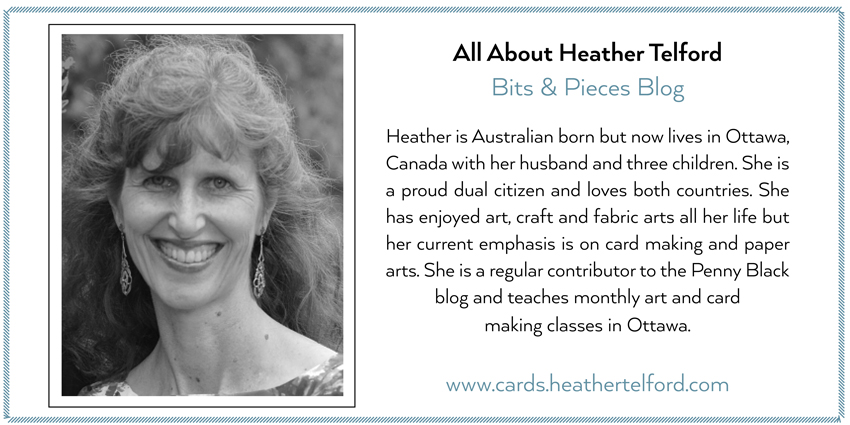 •      •      •      •      •      •      •
Supply List: