Hi Everyone,
It is always a delight to have Heather Telford as our guest artist. Today she is sharing a gorgeous creation she made using Meadow Blossoms by Concord & 9th. Heather uses vibrant and cheerful colors to make this card design really pop!
As many of you know, Heather is one of the best at watercolor creations. Take a look at this and read how she made it happen. It is simply stunning! Then, be sure to pop over to her blog for oodles for inspiration.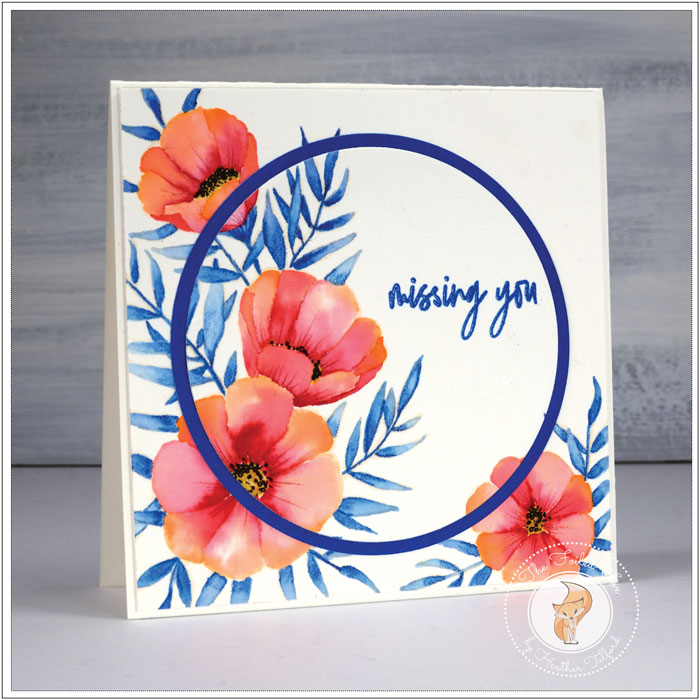 Hello, my friends,
I created a 'missing you' card to share today because I think we are all missing someone right now. I know we can connect in a range of ways online and I am very thankful for that but I'm also looking forward to connecting in person again!
This pretty floral stamp is called 'meadow blossoms' and it's from Concord & 9th. The set has a large three flower stamp, a single flower, and seven lovely sentiment stamps. I stamped the large floral down one side of my hot pressed watercolor panel in Gina K 'barely there' amalgam ink and the little flower on the opposite side. The Foiled Fox sent me Gina K's amalgam inks to try out. I am a fan of no-line watercolor and several of the amalgam inks are pale and well suited to the technique. The 'barely there' ink is a buttery color which I thought a good outline for pink/orange flowers. It was a good match and the buttery color practically disappeared as I painted all the petals. I ended up painting the leaves blue so perhaps that match wasn't perfect but the ink is very pale so it didn't end up being an issue.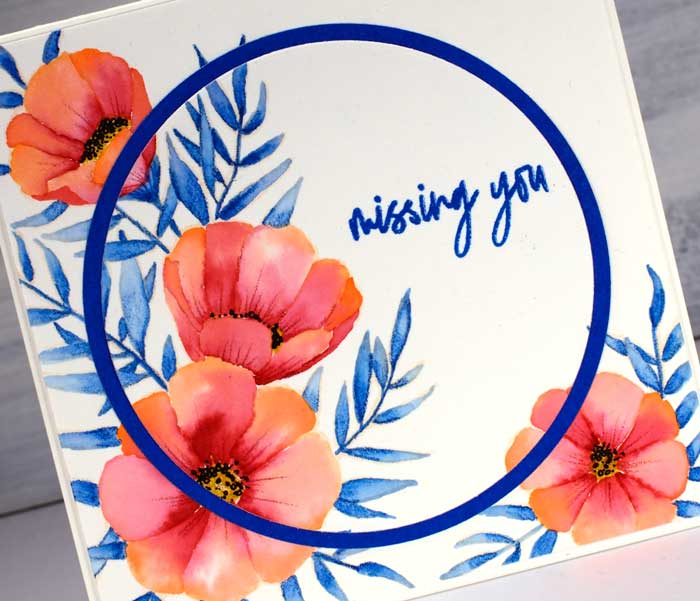 To do my no-line watercolor I worked with Peerless paints and Derwent Inktense pencils. I painted each petal one at a time letting it dry before painting adjacent ones. I painted with water first then dropped some alizarine pink at one end of the petal, geranium pink at the outer edge then blended from one color to the other. The combination was brighter than I expected and ended up looking a bit tropical.
Once all the petals were painted I used an Inktense yellow pencil to color for the centers. I colored each center lightly with the pencil, blended with water then, when dry, added little black dots. with a fine line pen. The leaves are very narrow so I decided to color them with an Inktense blue pencil. I colored one end then blended with water to fill the whole leaf. I also used Inktense pencils to draw veins back on the flower petals where they had almost faded away.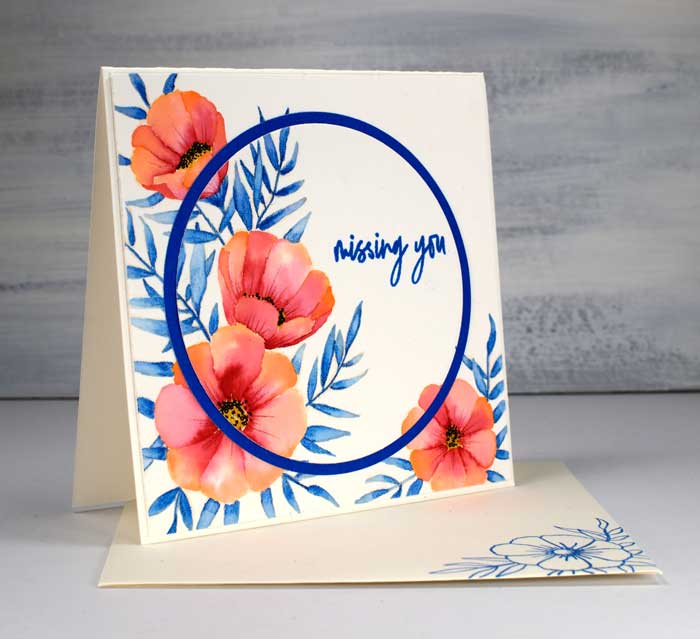 To assemble the card I used circle dies to cut a circle from the center of the card and a slightly larger circle from a coordinating blue cardstock. I also cut a circle the same size as the stamped circle so I could glue it in the space left when I removed the stamped one. I layered the blue one on top then the stamped one of top of that. The sentiment is stamped in Versafine Clair paradise ink then embossed in clear powder. I did a poor job of positioning the panel on my square card base the first time so I recut the whole panel and attached it to a new card base; it didn't add much bulk, just made it a bit sturdier if anything.
I am working on some cards with the Gina K amalgam inks and this pretty stamp so they will be on my blog before too long.
Are you spending more time getting inky? Are you trying some new techniques perhaps? I have been sending more cards than usual lately just to stay in touch with something cheery. Take care everyone; thanks for visiting today.
More about Heather: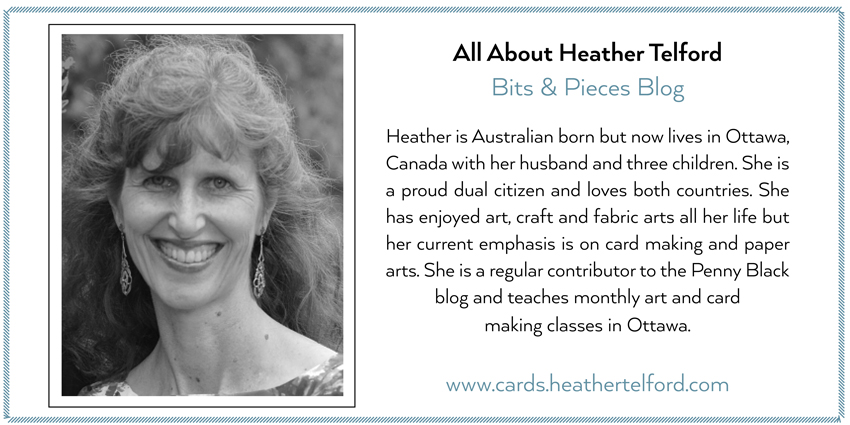 Supply List: