Hi Everyone,
We are sharing another cheery and colorful floral layout by Zinia of Abstract Inspiration. Zinia really knows how to create a special page and bring a smile to your face. She uses the Altenew Watercolor Wonders stamp set and the very cool distress oxide inks to create this beauty.
After you soak in all this loveliness, be sure to pop over to her blog for more inspiration.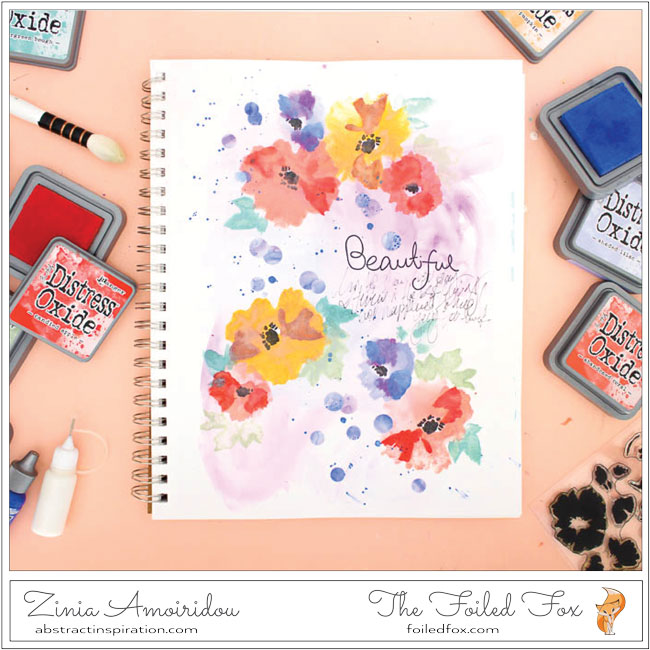 Today's art journal spread is really fresh and springy! The main medium I'm using is Distress Oxides combining some colors from the latest release with a few of my favorite shades from the past.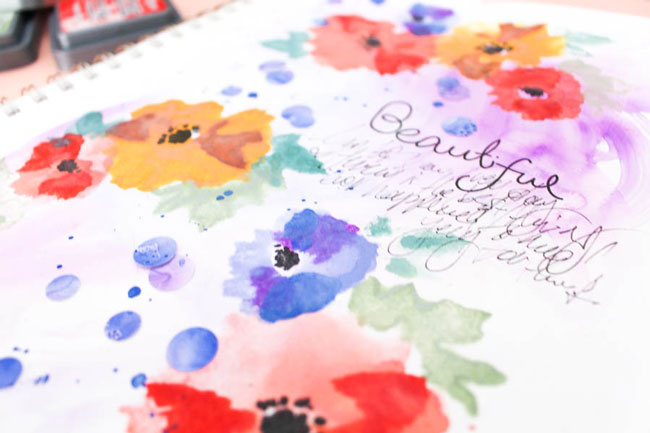 Sometimes I get intimidating staring at a white page. So to break into the empty space and get started, I just rubbed some color on the page straight from the ink pad and blended it out with a water brush. I only went for some small touches of color but it was enough to build a ground for the rest of my design.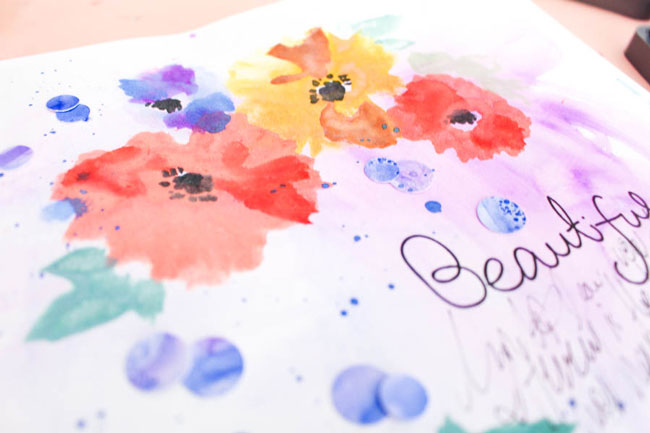 If you've seen some of my past projects you'd know that I really enjoy painting my own things but for some reason today I really felt like stamping. Since I wanted to use my Distress Oxides, I dug into my stamp collection and found the perfect stamp set to use with these inks, Watercolor Wonders by Altenew.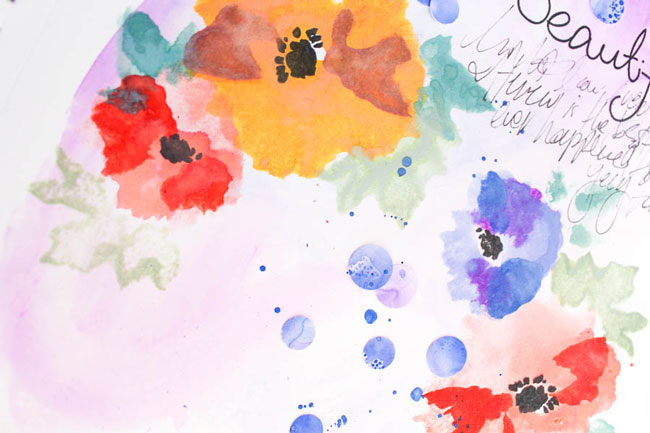 What I love about this set is that even though it's a layering stamp, you don't really need a guide and you can just add your layers as you please. No need to align the images and be precise. On top of that, you get the most beautiful and artful painty flowers in just a few minutes.
To make sure that my flowers will be extra artsy, I used one of my favorite stamping techniques. After inking the stamp, I sprayed it with a couple of light spritzes of water before I stamped the images on my page. This technique is especially effective with Distress Oxides because the colors oxidize and create the most amazing effects on the paper.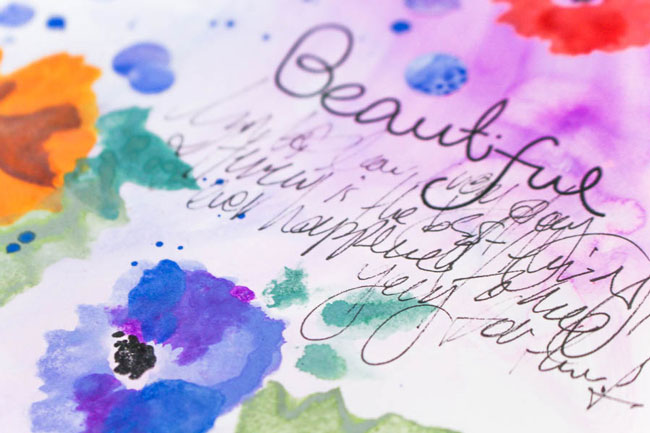 Once my flowers were stamped I decided to add a few more details on this page. I grabbed a piece of alcohol ink cardstock and created a messy background using blue and purple colors. Once the Oxides were dry the colors were very dull and oxidized. To bring the colors back to life, I lightly rubbed the surface of the alcohol cardstock with a damp paper towel (it was actually the paper towel that I used to dab off the excess color while stamping my flowers). Tim Holtz who actually used Distress Micro Glaze to remove the oxidization effect from the cardstock inspired this technique.
To incorporate this beautiful background on my art journal page, I used some small circle punches and created some confetti to use as collage elements around my flowers.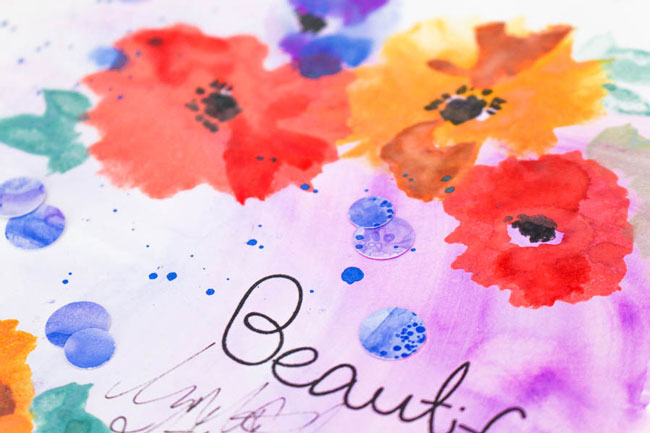 As a finishing touch, I used another gorgeous stamp set from Altenew, Simple Flowers, and stamped the word beautiful on the page. I scribbled on some journaling and then I called this page done.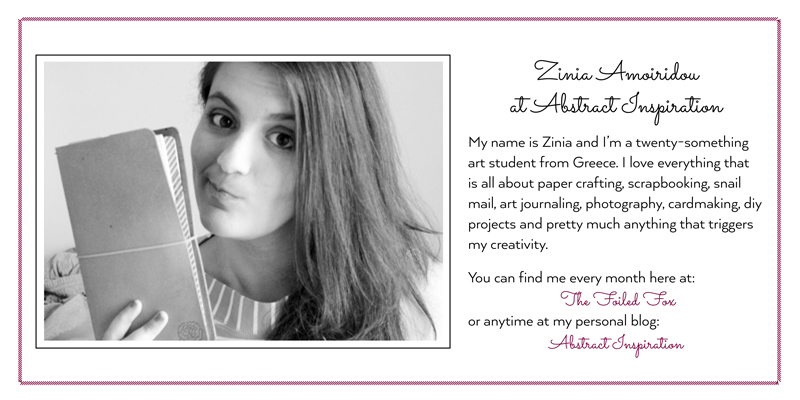 Goodies Used:
Altenew
Watercolor
Wonders
Stamp
Set

Altenew
Simple
Flowers
Stamp
Set

Tim
Holtz
Evergreen
Bough
Oxide
Ink Pad

Abandoned
Coral
Distress
Oxide
Ink Pad

Candied
Apple
Distress
Oxide
Ink Pad

Tim
Holtz
Aged
Mahogany
Oxide
Ink Pad

Tim
Holtz
Bundled
Sage
Oxide
Ink Pad
Tim
Holtz
Carved
Pumpkin
Oxide
Ink Pad

Tim
Holtz
Blueprint
Sketch
Distress
Oxide
Ink Pad

Tim
Holtz
Shaded
Lilac
Distress
Oxide
Ink Pad

Tim
Holtz
Wilted
Violet
Distress
Oxide
Ink Pad

Versafine
Onyx
Black
Ink Pad

Tim
Holtz
Blueprint
Sketch
Distress
Oxide
Reinker

Tim
Holtz
Stamping
Platform