Hi Everyone,
Are you one of those early birds that get their Holiday cards sent early? Unfortunately, I am not one of those organized people. I always wait until the last minute. One of the reasons is that I get busy with so many other things but mainly because I do a different card for each family – that way I can have fun with a bunch of really neat Holiday stamp sets that are released the weeks leading to Christmas. So, with this in mind, hang on to your hat, I will be sharing a bunch of Holiday cards this week and next.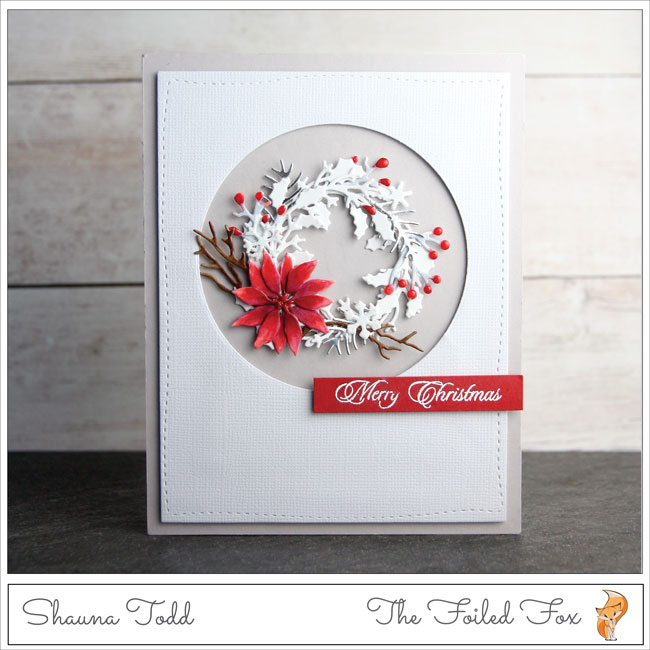 Since this card's main attraction is the wreath, I started there. I gathered together the Penny Black Layered Christmas Wreath and Layered Poinsettia die set, Impression Obsession Bare Tree and Pine Sprig Cluster die sets. Using white Neenah cardstock, I cut a bunch of the wreath parts, one tree, and two small poinsettias. The pine sprigs were cut from silver foil cardstock.
I colored a few branches of the tree with brown Copic markers and continued with red Copic markers for the poinsettia and gray and red Copic markers for the berry branch. There is a Copic marker guide below, listing all the colors used.
After the berry branch was colored, I gave the berries an extra-dimensional boost by adding drops of clear IrRESISTible Pico Embellisher and let them dry.

Once all the parts of the wreath were cut and colored and the berries dry, I started attaching the parts to the doubled wreath ring… meaning, I stacked and glued one wreath ring on top of the other to give extra strength.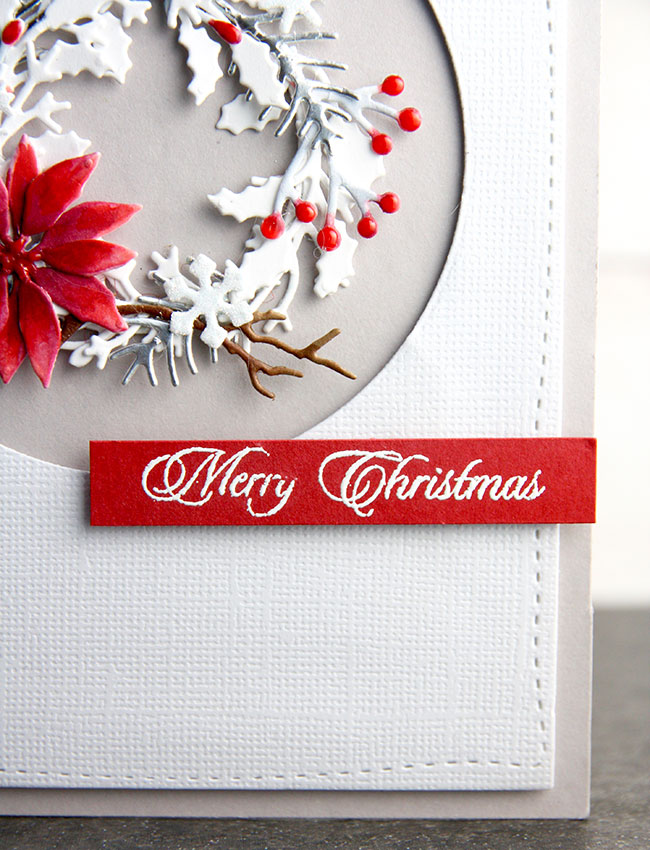 To get the card ready to assemble, I cut a panel from textured white paper using the Whimsy Stamps Hand Stitched Rectangles and a circle die and made a card base from Alpaca cardstock.
It is now ready to put this card together. Foam mounting tape was added to the back of the white panel and then adhered to the card base. The wreath was carefully applied and the two layers of the poinsettia were glued in place. For an extra embellishment, I added Nuvo Red Berry crystal drops to the center of the flower.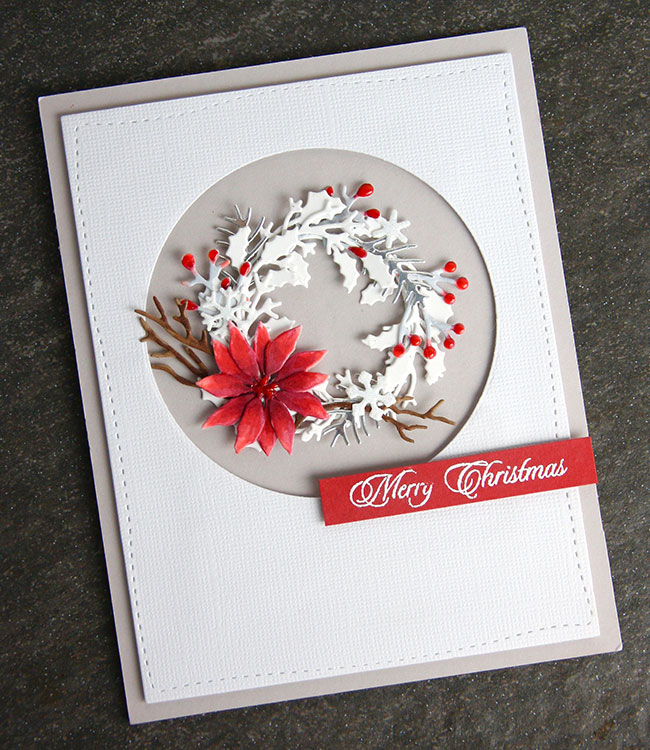 For the final touch, I stamped 'Merry Christmas' from the Penny Black Prancers stamp set onto a strip red cardstock using Versamark ink, then sprinkled white embossing powder and heat set. The sentiment was adhered with foam tape, and VIOLA the card is finished!
Thank you so much for joining me today. See you real soon,

Supply List:
Penny
Black
Layered
Wreath
Die Set

Penny
Black
Layered
Poinsettia
Die Set

Impression
Obsession
Bare
Tree
Die

Impression
Obsession
Pine
Spring
Cluster
Die Set

Whimsy
Stamp
Hand
Stitched
Rectangle
Die Set

My
Favorite
Things
Circle
Dies

Penny
Black
Prancers
Stamp
Set
Bazzill
Alpaca
Heavy
Cardstock

Bazzill
Mono
Textured
White
Paper

Peppermint
Red
Heavy
Cardstock

Neenah
110lb.
Solar White
card stock

Silver
Foil
Cardstock

Hero
Arts
White
Satin
Pearl
Embossing
Powder

VersaMark
Watermark
Ink Pad
Nuvo
Gloss
Red
Berry
Crystal
Drops

IrRESISTible
Pico
Embellisher-
Clear

Foam
Dimensional
Tape

R22
Copic
Marker

R29
Copic
Marker

RV69
Copic
Marker

E23
Copic
Marker
E74
Copic

E79
Copic

C2
Copic
Marker