Hi Creative Friends,
We are sharing a gorgeous card design by our good friend Heather Telford. We love sharing projects from Heather. She is so talented!
For this card design, she used the beautiful and serene Snowfield stamp by Penny Black.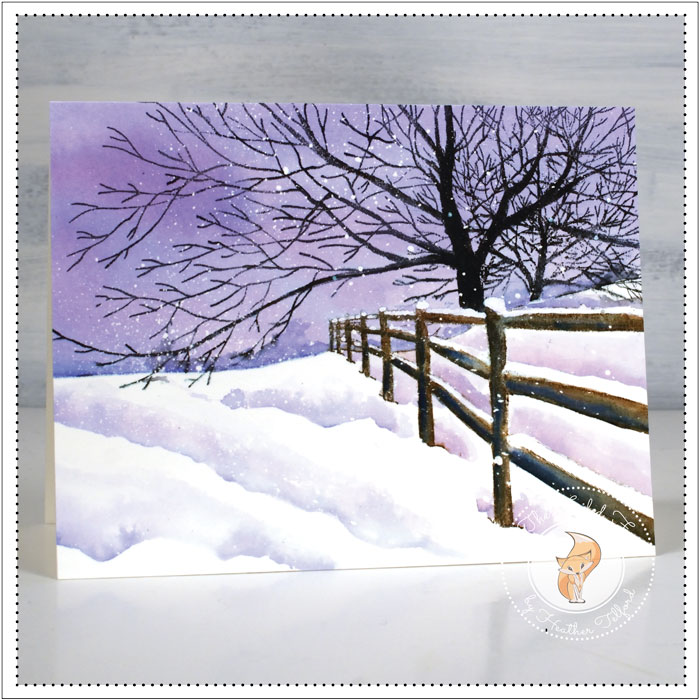 It's a treat to be here on the Foiled Fox blog again with a wintry stamped scene. The stamp is called snowfield and it's from Penny Black.
As usual, I worked on hot-pressed watercolor paper. There is often a lot of detail in scenic stamps and the smooth surface of hot-pressed paper helps me capture as much detail as possible. Before stamping I splattered masking fluid on the watercolor panel and let it dry. Sometimes I use an old paintbrush to splatter but this time I used a splatter brush that spreads fine dots over the panel.
I kept the watercolor panel in a stamp positioner for the whole process which enabled me to add ink one color at a time if I wanted and to keep building up color with multiple stampings. I stamped the scene first in speckled egg distress ink. This gave me a pale print of the whole scene which would be covered or diluted as I stamped and painted darker inks over the top. Using the first print as a guide I filled the sky with a mix of Blueprint Sketch and Dusty Concord inks concentrating darker colors along the hilltop to look like distant trees. I dried the sky completely before moving on to the next step.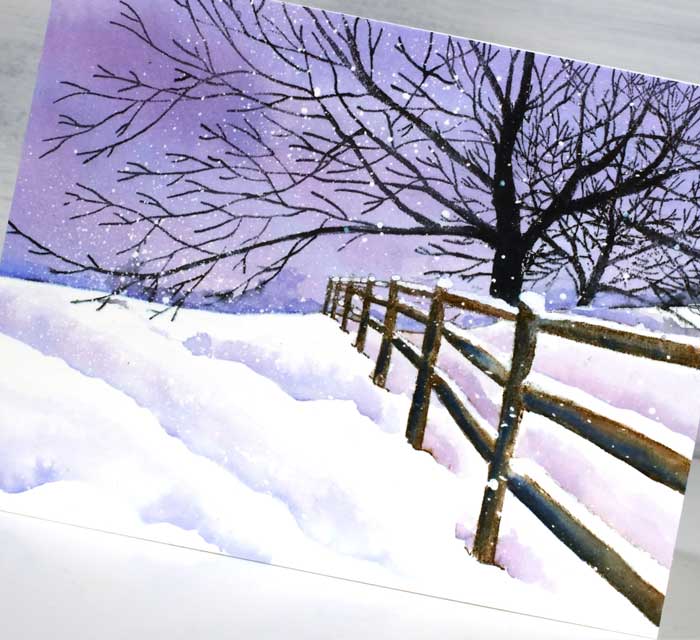 I stamped the fence first with ground espresso then added both hickory smoke and black soot on subsequent stampings. I blended with a paintbrush to get shadows on the fence posts. To preserve the look of snow on the fence I painted above the snow with a diluted mix of blueprint sketch and dusty concord. Where the fence got smaller in the distance I added snow on top of the fence with a white gel pen.
I painted bumpy lines of blue/purple ink in the foreground area and blended them upwards with water to make them disappear. I keep a paper towel in my hand when I do this step to dab away paint and water before it soaks in or goes too far. Finally, I worked on the tree. I stamped it both with archival Black Soot ink and distress Black Soot. This gave me outlines that would not dilute and the ability to blend the distress ink to fill any areas which were not solid enough.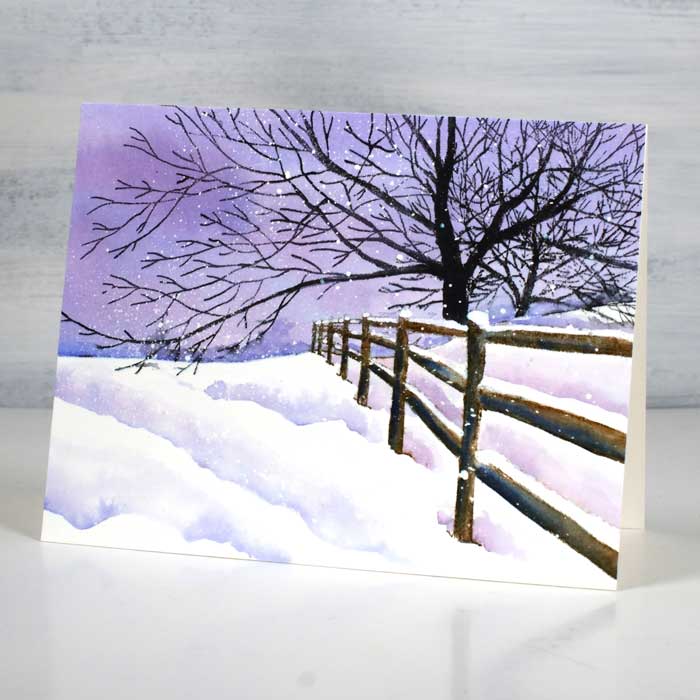 The final satisfying step is removing the masking fluid to reveal snow falling over the scene. If you don't want to do the masking fluid step just splatter white paint over the panel at the end. I'm happy to say I'm not seeing this kind of snowy scene out my window just yet but I will enjoy it when it comes in a month or so!
More about Heather: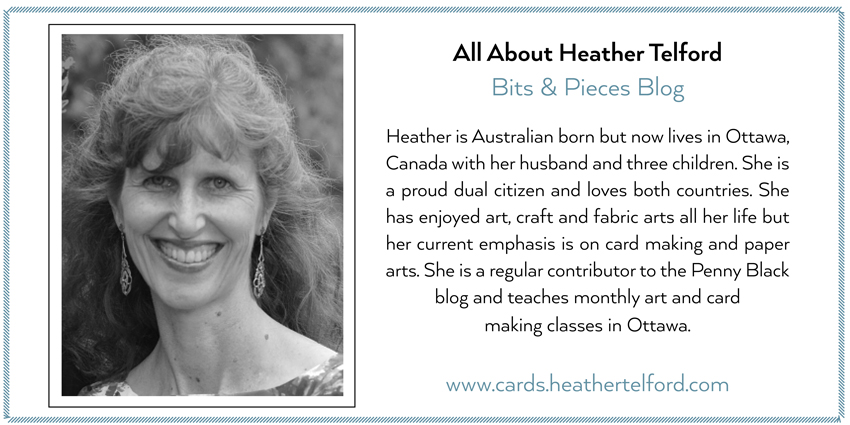 Goodies Used: