Hello Witches,
Get your brooms and ride over for a bubbly brew!
Fresh Potions are made to order with this Witches Brew stamp and die set by Papertrey Ink. Combine it with spider webs, spiders, and witches' broom to make a scary but fun Halloween card.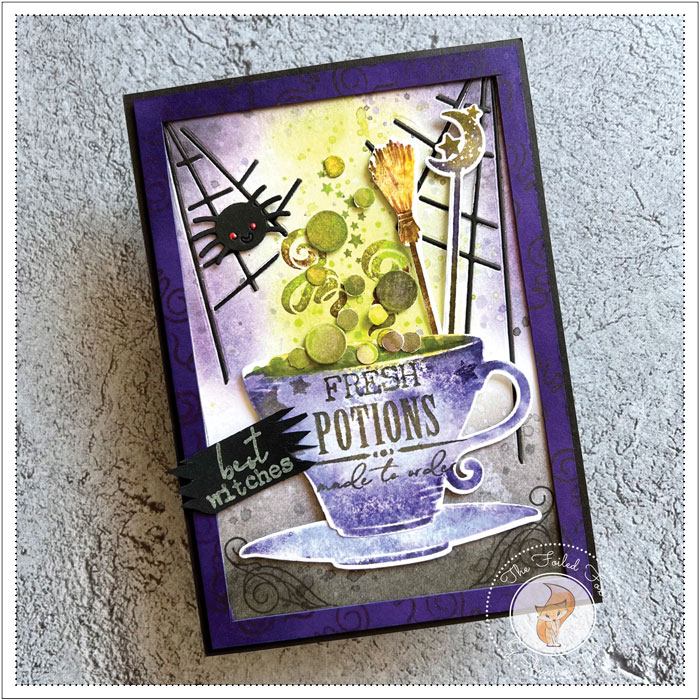 It all starts with making the 'witches brew'. I cut out the cup and saucer from watercolor paper using the coordinating dies, then chucked them all (both the positive and negative parts) into my stamp positioner.
Ready to stamp, I started by inking the stamp with Shady Lilac, giving it a few spritzes of water, stamped, then stamped again after adding a little Villainous Potion distress ink on the edges. When dry, I stamped one of the awesome sayings in the stamp set with Black Soot distress ink, then set it aside.
While I was cutting out and stamping, I also cut out the broom and moon stir stick. They were stamped using Wild Honey and Cocoa Bean for the broom and the moon stir stick was a combination of all the colors used so far.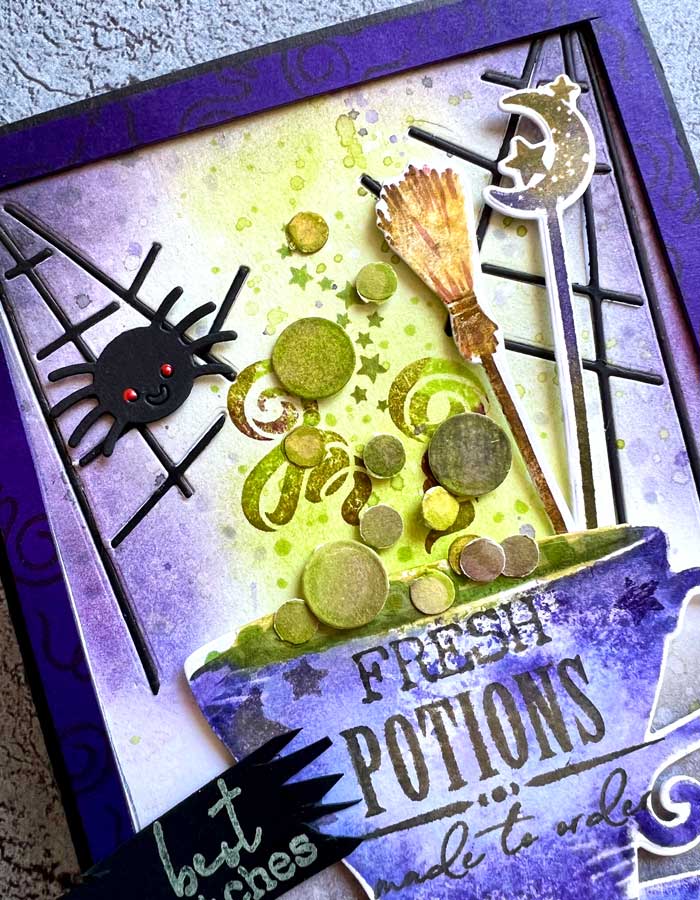 Next, I worked on the background. Using a piece of Bristol paper, I blended on Pumice Stone and a little Black Soot distress inkson the bottom quarter of the panel. For the other three-quarters of the panel, I added Villainous Potion and Twisted Citron for my bubbly brew. The panel was then splattered with dots of ink that I had smooched onto my work surface and loosened with water. I also stamped a few ornamental scrolls (included in stamp set) where the teacup would sit.
To finish the panel, I cut out spider webs in the upper corners using the new Cornered: Spider Webs. Then cut out separate spider webs from black cardstock and inlaid them into the background panel where the spider web cutouts were.
For the next step, I stamped a purple cardstock panel around the edges with the scrolly stamp with Black Soot ink, then cut out the middle using a rectangle die. This created a tidy border with a scrolly pattern.
I mounted the bristol panel onto a slightly larger black cardstock card base, then added the newly made purple frame, teacup, and saucer with stir sticks using foam squares.
To make a steamy 'brew', I colored a scrap of Bristol paper with Twisted Citron and Forest Moss, then cut out circles with my circle dies and a hole punch. At the same time, I added a few embellishments rising up from the teacup by stamping stars and steamy scrolls.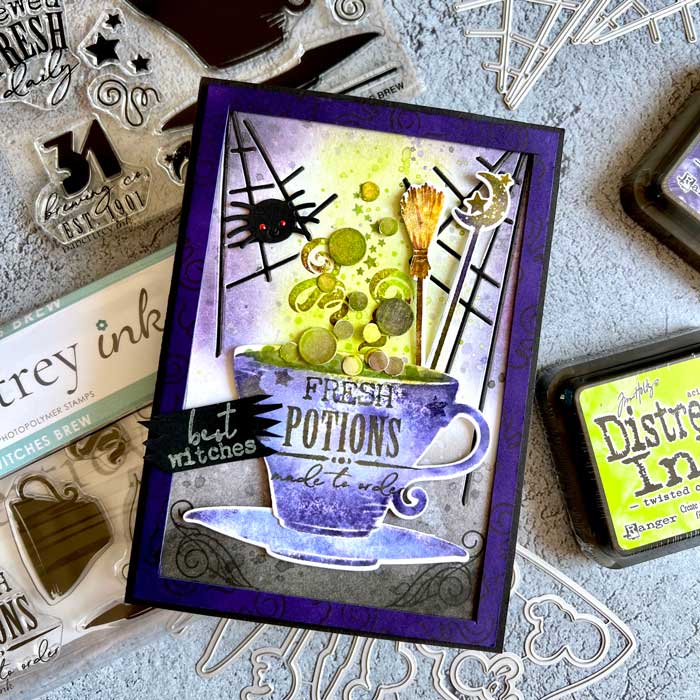 To finish, I attached all the circles with glue or foam, added a spider, and sentiment that I had stamped with Versamark inks, then embossed with glow-in-the-dark embossing powder (check out the third pic to see the glow!).
Baw-ah-ah… my scary Halloween card was done. ♥
Goodies Used: