Happy Mother's Day to all Mothers everywhere!
I am just sneaking in here with a quick card design for Mom. The great thing about it is that you can use this design for any occasion. For instance, it would be perfect for a Grad or Dad. The Skinny Upper Alpha dies by The Stamp Market make it so easy.
Real quick, I want to remind you about our challenge going on. It is the Color Trio challenge. Check out all the details below and hurry and enter. It is easy to do, just choose three colors (white and black can be used too to help out) and let your imagination go wild. Click the blue button to enter.
Now, on to the card!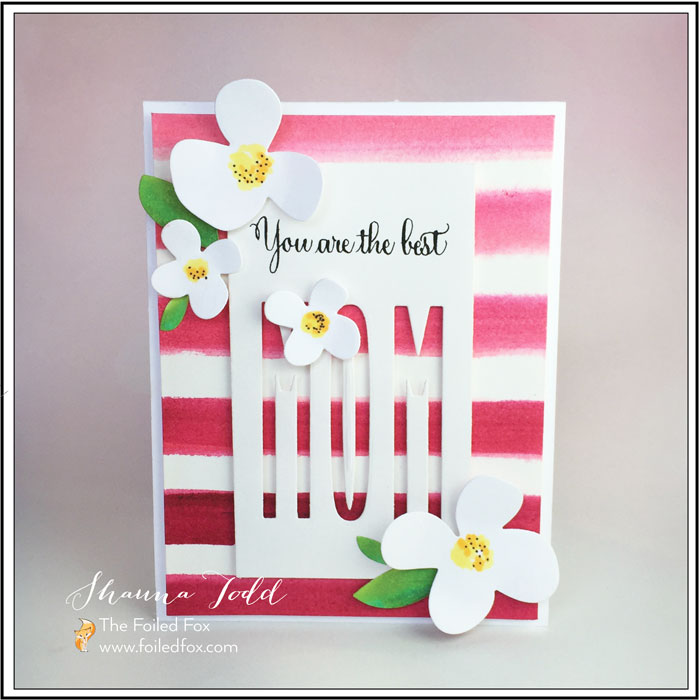 This design starts out with a striped background. All that is needed here is a flat paintbrush, some watercolor paints and a piece of watercolor paper. I used a hot pressed watercolor paper so I had a smooth surface. Next, I spritzed the paper with water. I wanted it damp but not soaking wet. Then, I chose three colors that coordinate well. You certainly can use only one but I wanted an ombre effect so the three colors were perfect.
In this example, I used three pinks from the Altenew watercolor set. With my flat brush, I brushed stripes with my brush, trying to stay as straight as possible and starting with the lightest color and worked my way thru to the darkest at the bottom.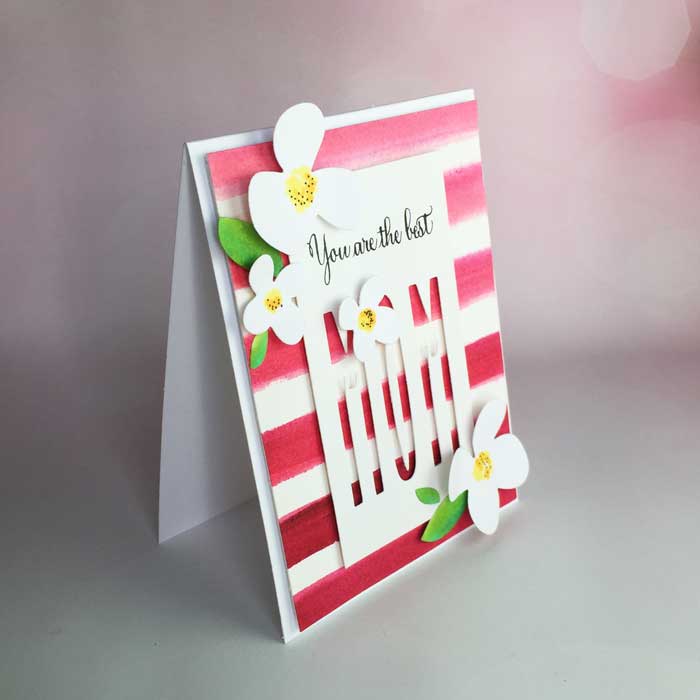 While the watercolor panel was drying, I grabbed a small piece of my favorite Bristol paper, Koh-I-Noor. This paper is new in our shop and boy is it fabulous. Anyway, using the Skinny Upper Alpha die set, I cut out the word 'MOM' and then hand lettered 'You are the best' with Sumi ink and an oblique pen. You can certainly and easily stamp a message, I just didn't have one around so lettering was the next best thing.
With the watercolor panel dry, I adhered a foam panel to the back to pop it up and added it to the front of a white card base slightly larger. Then, I added the 'Mom' panel by adding thin strips of foam to the back and attaching it to the watercolor panel.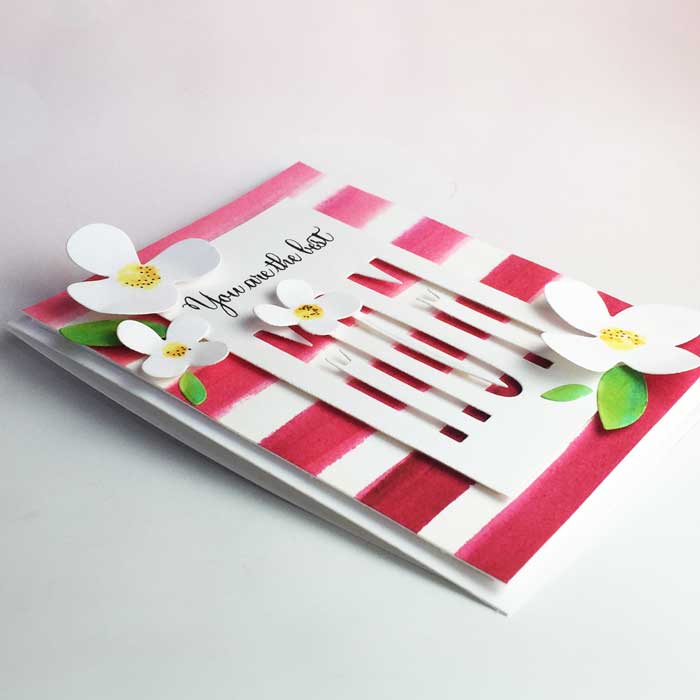 Now, to make it pretty, I cut out a few flowers and leaves of different sizes from The Stamp Market Small Blooms die set and colored in the centers of the flowers with Y13 and Y17 Copic markers and black dots with a Zig black 05 pen. The leaves were colored with YG03, BG32, and G46.
All that was left was to arrange and attach the flowers with a little foam tape and glue. And there you have it, a beautiful Mother's Day card for my daughter – YAY!
♥ ♥ ♥
Remember the Color Trio challenge. Enter by clicking the blue button

You are invited to the Inlinkz link party!
Goodies Used: