Woohoo! We are back with another beautiful design by Heather Telford.  You know you are always in for a treat when Heather visits! For this one, she has used her Inktense pencils and Starry watercolor paints to create a gorgeous array of flowers in the Bouquet Ballet stamp by Penny Black and then added her own hand-lettered sentiment.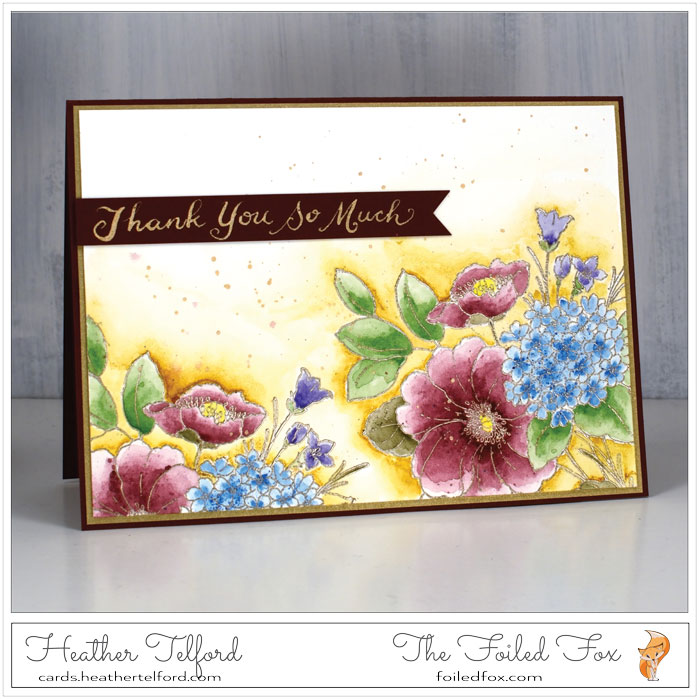 Below is Heather's comments on how she created this beautiful card design. But before we turn it over to Heather, if you haven't heard, Heather and The Foiled Fox are sponsoring a GIVEAWAY – YAY! All you have to do is comment on your favorite flower(s) on Heather's or The Foiled Fox blog and then wait by your email. We will be announcing the winners next week!

Here's Heather:
I am excited to be back with more flowers as part of our Floral Faves giveaway. I have thoroughly enjoyed reading what your favorite flowers are and the memories connected with those flowers. I have to admit I am like many of you in that I don't have one favorite but several and I enjoy flowers in general, in my garden, in my home, in the wild! That might be why I chose to color a bouquet of flowers for today's card rather than just one type.
I embossed the 'bouquet ballet' stamp in platinum embossing powder twice off the edge of a hot pressed watercolor panel. I did all the watercoloring with Derwent Inktense pencils choosing just a few colors so as to keep the look cohesive. I painted in layers, adding water first to a petal or flower then picking up color from the pencil lead and blending it into the wet area. I let each section dry before returning to paint another layer over the first in the same color. This way I was able to build up depth of color and variations from light to dark.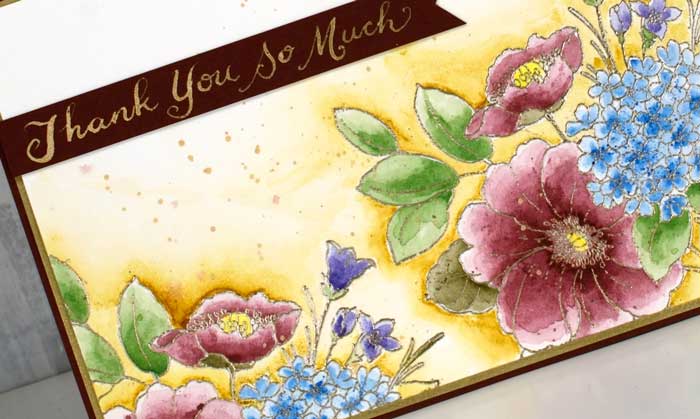 While waiting for the flowers and leaves to dry I painted a background color around the whole image. This was a little fiddly but I used a small watercolor brush with a good pointy tip so I could get into the nooks and crannies. I also splattered some of the 'paint' made by dragging my very wet brush across the pencil lead and onto my glass mat. I ended up with a splash of burgundy 'paint' and also green and blue that I could splatter over my panel for added interest.
I was inspired by Shauna's gorgeous calligraphy the other day so I pulled out my dip pen and wrote my sentiment on a matching strip of cardstock in champagne gold paint from the 'starry colors' Gansai Tambi paint set. I also splattered some of the champagne gold across the panel. I wasn't going to mat the panel but the matchy-matchy gene took over and I matted in gold and attached the panel to a burgundy card base.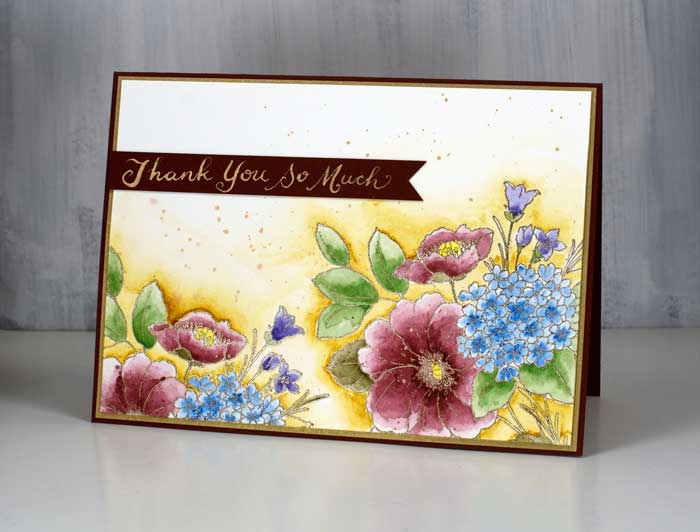 Thank you for getting involved in our Floral Faves Giveaway. If you haven't commented on the original post to tell us your favorite flower please go and do that now. Your chance to enter ends Sunday night and the winners will be announced next week. Thanks for all your encouraging comments; it is a delight to share projects with you.
•••••••••••••••••
Learn about Heather: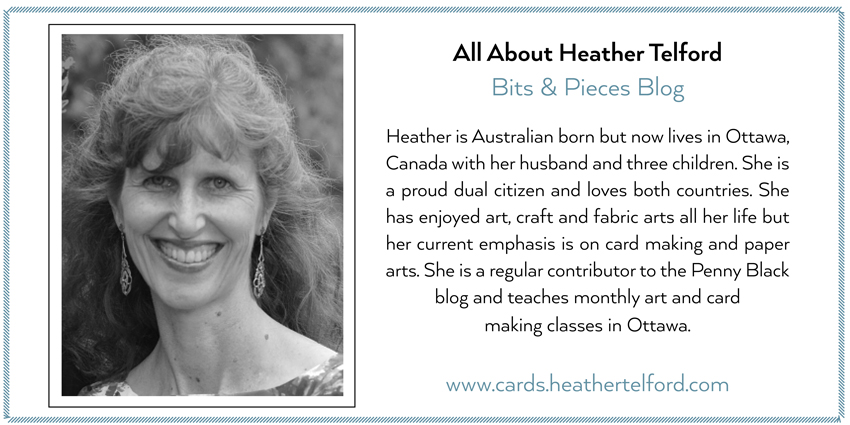 Supplies Used: