Hi Crafty Friends,
Spring has sprung and so have the flowers. This card design is bursting with big, beautiful wildflower blooms made by using the Wild Flower dies by Alexandra Renke set in a vase, courtesy of the Painter's Vase stamp set by Penny Black.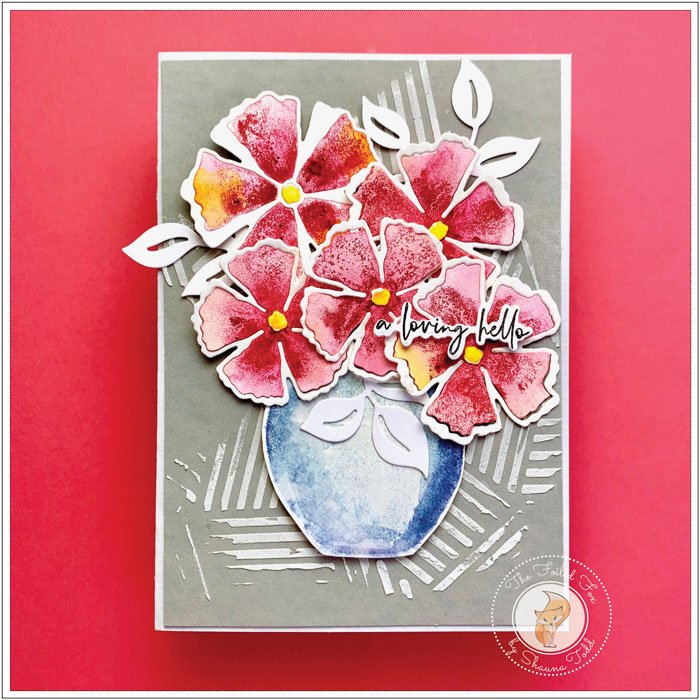 I started with the background. So, using a palette knife, Ranger Opaque Texture Paste, Hero Arts Cubic Background stencil, and an Extra Heavy-weight Mohawk Grey cardstock panel, I placed the stencil over the panel, then randomly spread the texture paste with my palette knife.
While the texture paste was drying, I cut out a bunch of wildflowers from white card stock and another set from hot-pressed watercolor paper. I set aside the white card stock ones and went to work on the watercolor paper flowers.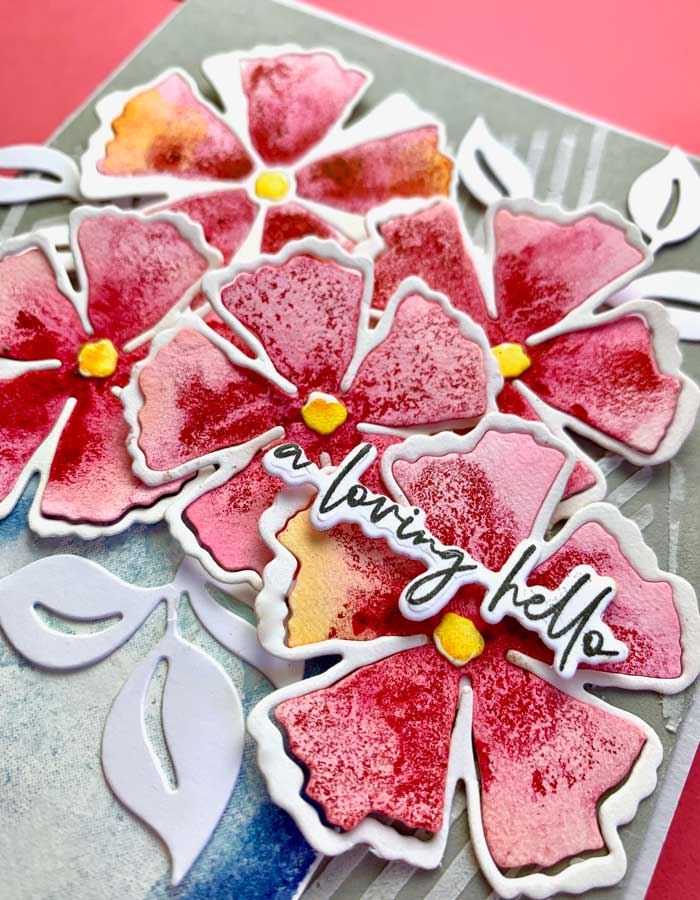 I wanted vibrant colors and the one sure way of getting intense watercolors is to use Dr. Ph. Martin Hydrus paints. I love these paints! Their color and brightness are stunning and their liquid form makes them very easy to use. In fact, all I did it spritz a fair amount of water onto each flower, added a drop of paint in the center (in this case, I used Quinacridone Magenta), and let the paint spread naturally. Then, with a moist brush, I lightly brushed the paint out toward the tips of the petals. After doing this, I added another drop of paint to the center of each flower to add more intensity of color.
For the very round centers of the flowers, I spritzed them and added a drop of Hydrus Gamboge, then added a hint of Gamboge to some of the petals. I let them dry while I made the vase.
With another piece of watercolor paper, I stamped the vase for the Painter's Vase stamp set, using Papertrey Ink Blueberry Sky. I then smooched a patch of Blueberry Sky and a patch of Dark Indigo on my glass mat so I had a mini palette of colors. Then, with a moist brush, I gently smoothed out the ink on the vase, adding color as needed from my mini palette, being super careful not to disturb the shading the stamp provided. When dry, I fussy cut around it.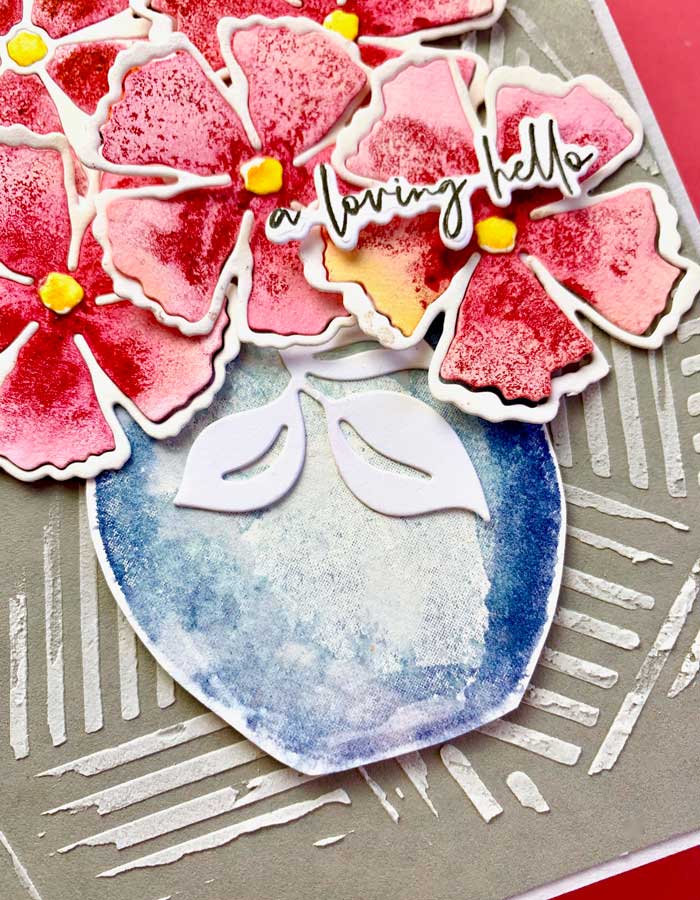 To prepare to arrange my flower bouquet, I mounted the textured panel to a slightly larger white card stock card base, then added the vase with a bit of foam tape.
I was almost ready to arrange my flowers but I needed one more thing – some foliage. So, using the Curvy Leaves die set from Pinkfresh Studio, I cut some leaves from white card stock.  Then united the outer white cardstock flowers with the interior watercolored flowers, arranged and mounted them with foam tape around the vase just like I would if they were a real flower bouquet!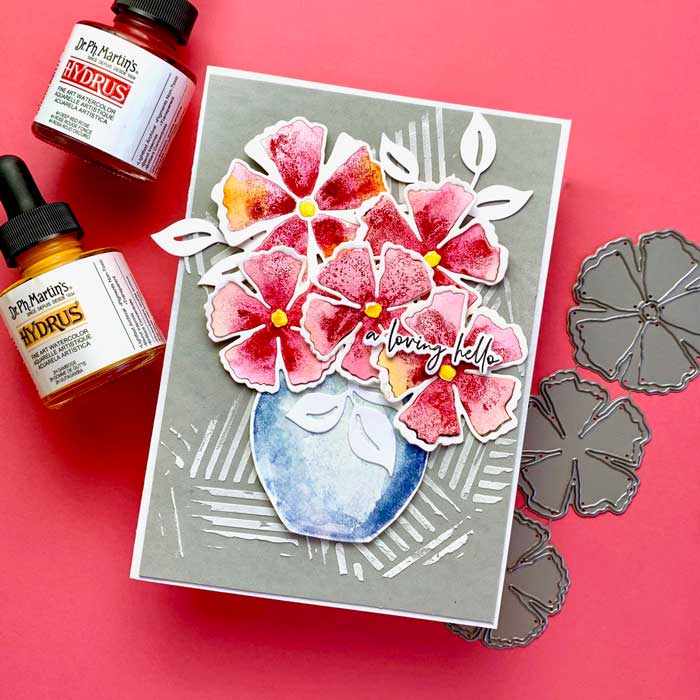 The only thing left was the sentiment. I couldn't bear to cover the flowers with a big sentiment so I used a small one I had already made from a previous project. It was from the Papertrey Ink Effortless Beauty stamp and die set. I love these stamps and dies that stamp and cut out the sentiments and this stamp and die set is chock full of them!
A small confession, I maybe should have gone with a larger sentiment., I'm still not sure! ♥
Goodies Used: