Hi Crafty Friends,
Laurel Beard of Simply Cardmaking is visiting our blog today and she is sharing a bright and cheery birthday card design that is sure to brighten anyone's day. The bright colors are from the Catherine Pooler ink collection but you can pull out any inks you like to make this card come together in a jif!
If you want to see more great Laurel Beard card designs, be sure to pop over to her blog!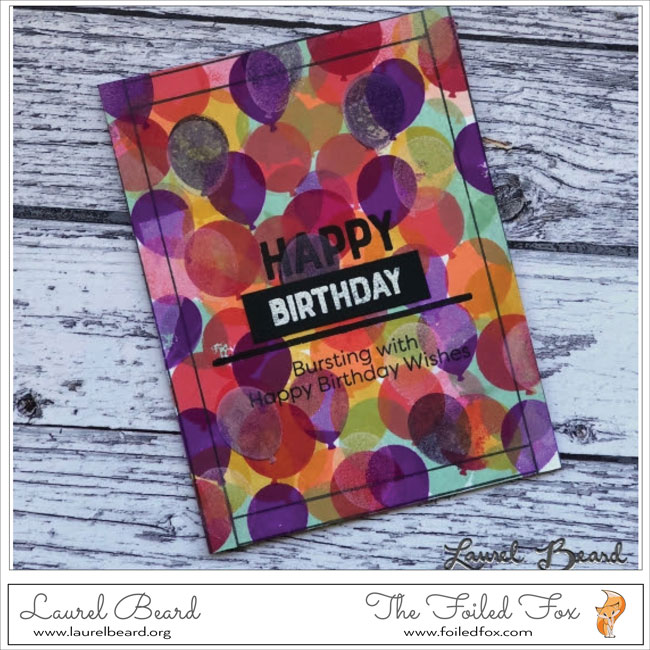 Hi there everyone!
Laurel Beard here today for some of my favorite peeps, The Foiled Fox!!!! I've got a birthday card I'm bursting to share with you. Get it? Bursting? LOL!!!!! The My Favorite Things Bundle of Balloons stamp set is a versatile set that you can use year round for any kind of celebration card! Who doesn't love balloons? There is also a coordinating die set, but I chose to focus on the stamping today. To assemble this card is really easy! Just grab some colored ink and start stamping away! I am using all Catherine Pooler inks because they are amazeballs.
Make sure to overlap your balloons because then you create a brand new color! TRICK: A few of my balloons were brighter than I wanted so I stamped over them with white pigment ink to soften the color, and then stamped a few more balloons in the same white pigment ink. I added some lines with a cartoonist pen and then stamped the sentiment!
I did find a sharpie in my stash and added a thicker line in between the two sentiments just to ground the Happy Birthday some. Otherwise, it was just kind of floating around with the balloons! 🙂
I hope you like today's card and thanks so much for popping in today! 🙂
Goodies used: