Hi there,
I know it is not officially Fall yet but this "Leaves Cover" die by The Stamp Market certainly gets you in the mood. And what better way to show off the beautiful colors of Autumn than alcohol inks!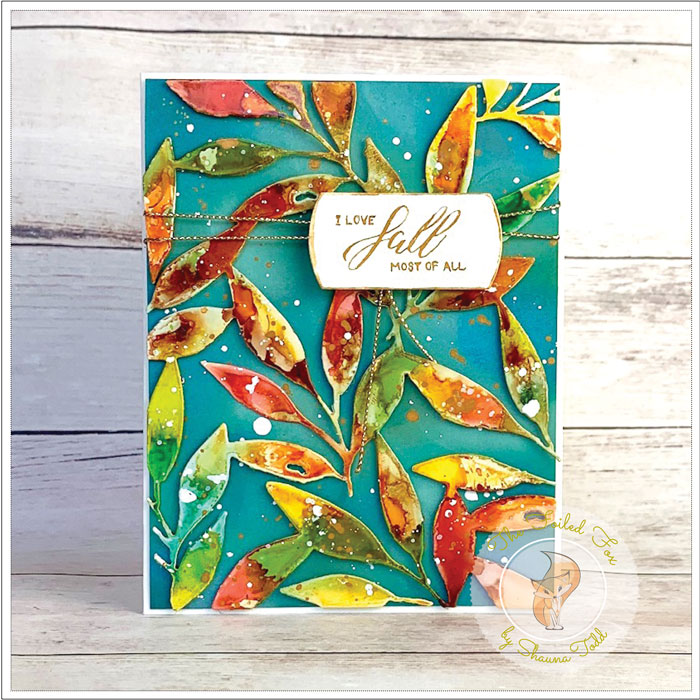 Everything about this card design is centered around the awesome cover die by The Stamp Market. But before I was ready to use it, I had to create a colorful Autumn leaf panel. To do this, I grabbed a piece of Yupo paper slightly larger than the cover die, splashed alcohol blending solution on the paper to help the inks move and mingle. Then, started adding droplets of Autumn colored alcohol inks and with my trusty puffer and alcohol brush by Tim Holtz (see supply list below) moved the inks around, making sure I didn't muddle the inks together too much.
For reference, the colors used were: Sunshine yellow, Sunset Orange from the Summit View trio, Mermaid and Teakwood from Mariner, and finally Meadow from Cottage Path grouping.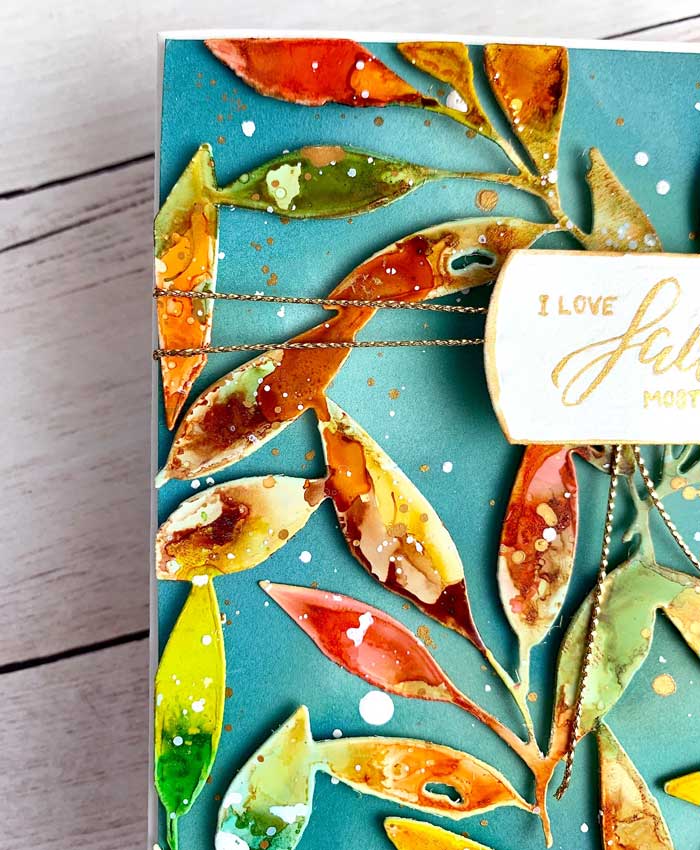 Once the panel had just the right amount of color, I set it aside for a few minutes to let it dry. While I was waiting, I cut a panel from a sheet of Eucalyptus card stock and randomly blended Evergreen Bough distress oxide ink to give a mottled look. I made sure not to cover the whole panel, just in spots. I wanted to preserve some variation of color.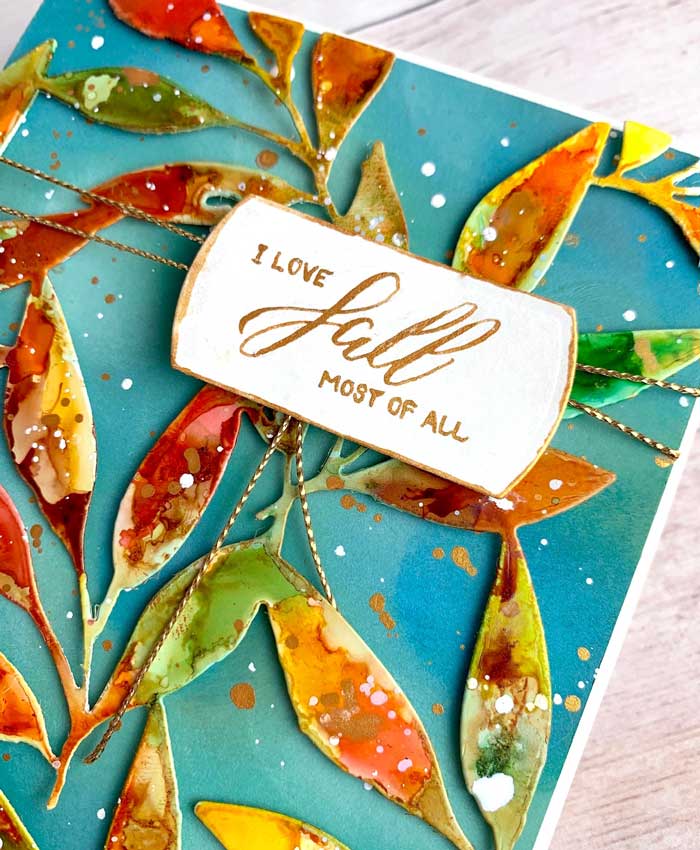 With the base panel done and the alcohol ink panel now dry, I cut out the leaves, using the cover die. Since all the leaves are connected, it was easy to add bits of foam tape here and there on the back of the leaves and mount them onto the Eucalyptus panel. Next, I splattered on Dr. Ph. Martin Bleedproof white ink, as well as a little gold from the Finetec Artist Mica collection onto the combined panel.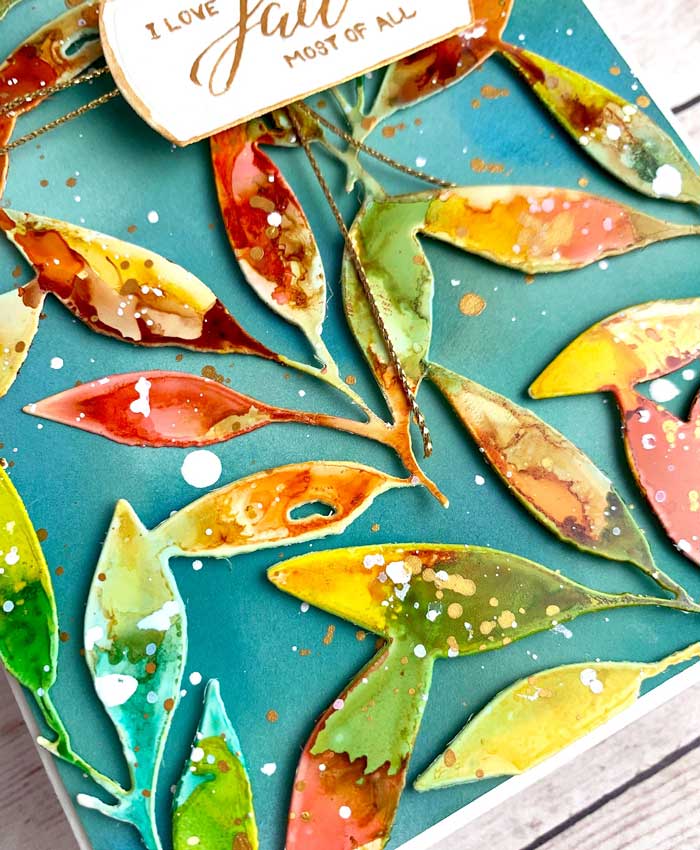 Now that the leaves and panel were dry, I wrapped some gold cord around them both and mounted it onto a slightly larger card base.
The final step was to add the sentiment. This was accomplished by cutting a label from the Essential Basic Label set by Pinkfresh Studio and hand lettering the expression with the same Finetec gold paint.
Of course, as always, a great alternative if lettering isn't your jam, is to gold heat emboss your favorite saying.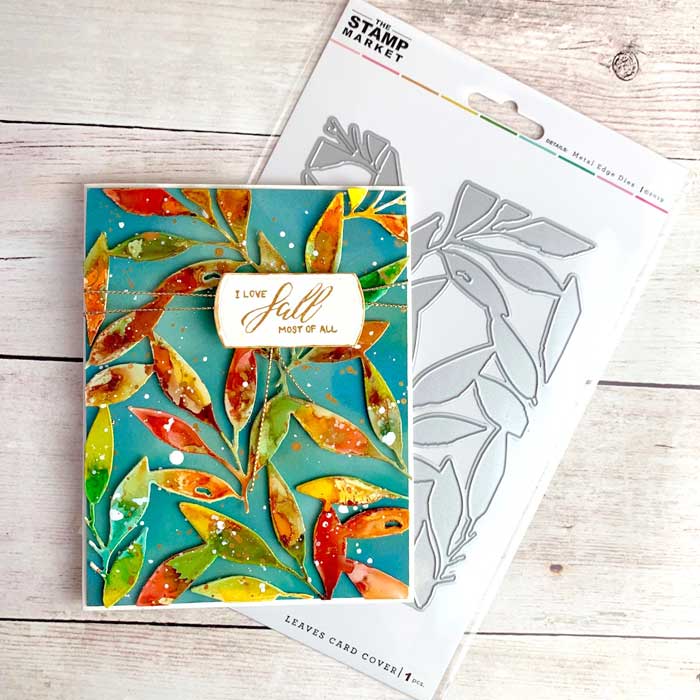 And there it is, a wonderful way to ushering in Autumn.
I hope you enjoyed these colorful leaves. If you did, please leave a comment on our Instagram or blog. Thanks a bunch!!🍂
Goodies Used: