Hi Crafty Friends,
Beautiful and colorful Fall foliage is on display today. By using the awesome Fall Foliage die set by Penny Black and a few distress oxide inks, you can be on your way to making this easy Autumn card.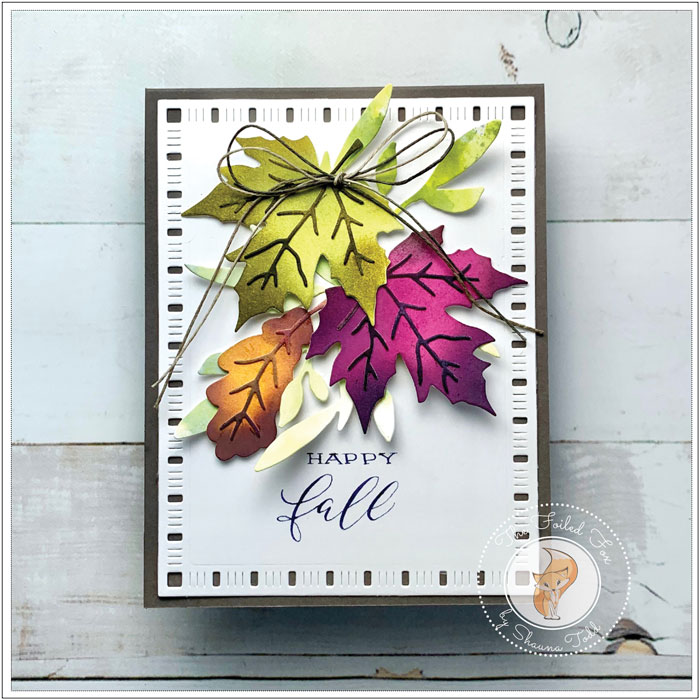 These leaf dies are awesome! They were first cut out of Bristol paper using the die set. The Bristol paper allows for easy ink blending.
I did not push out the leaves or their respective 'leaf-veins' out the piece of paper after they were cut. But, rather, left them in so they had some stability while I did a little ink-blending.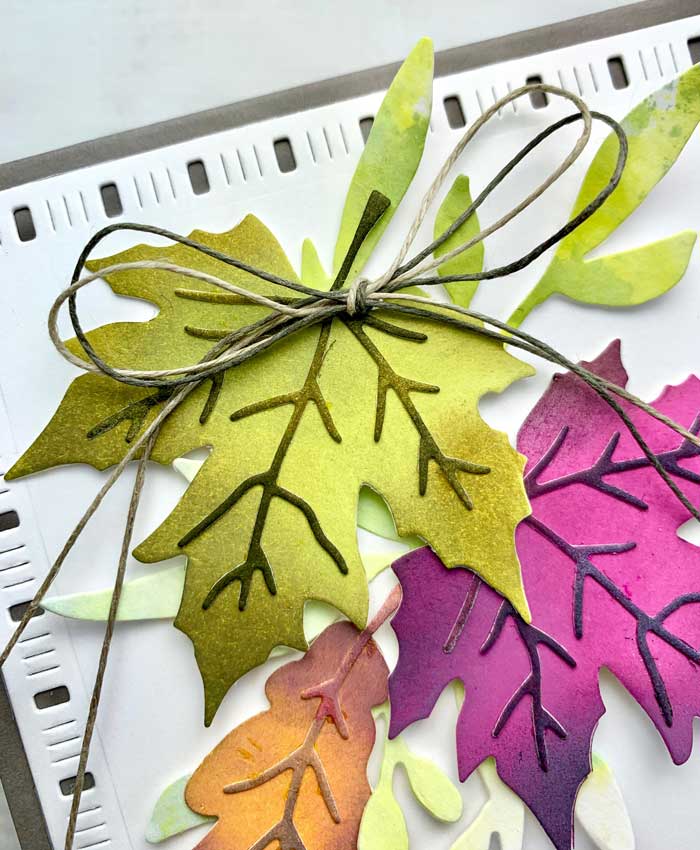 The leaves all colored with distress oxide inks. For the green leaf, I used Peeled Paint and shaded it with Forest Moss and Black Soot. The purple (my favorite) was inked with Seedless Preserves and shaded it with more Seedless Preserves and Black Soot. The final large leaf was colored with Wild Honey and shaded with Seedless Preserves and Black Soot. I also rummaged through my bits and pieces I save and found a few sprigs of leaves from the Papertrey Ink-Ink To Paper Floral Delicacies. These leaves were originally colored by schmoosing New Leaf, Spring Moss, and Ripe Avocado onto my glass mat, spritzed it with water, and dabbing the Bristol paper around so it picks up the color.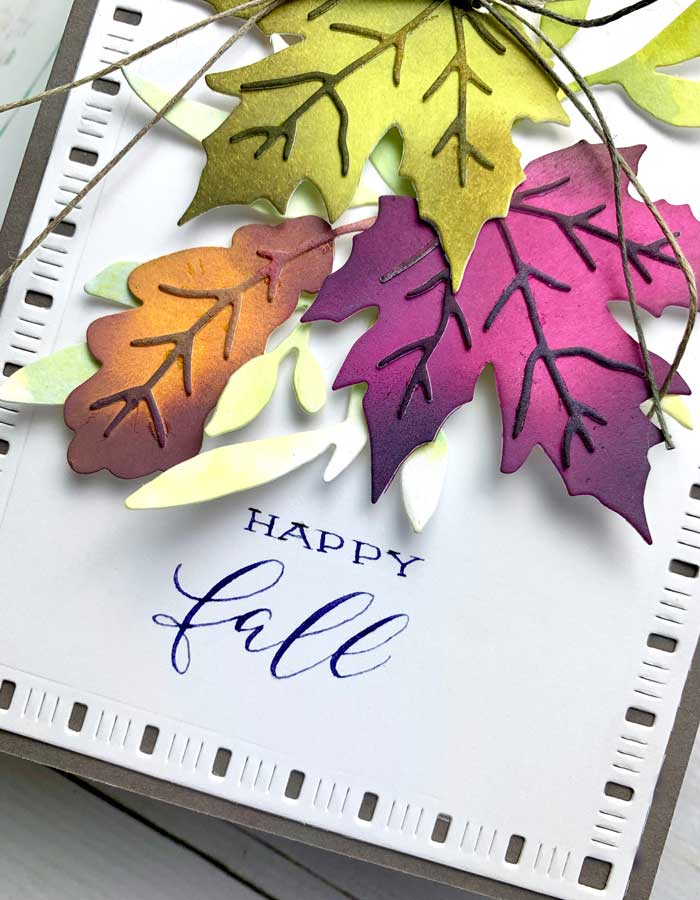 There were a few more things needed before assembly. First, was an A2 Slate card stock card base and the second was a Bristol paper panel cut with the largest frame from the Dainty Dashes frame set by Penny Black.
It was time to assemble, or at least arrange to see where everything would go. While looking at the arrangement, I toyed with leaving this card design without a sentiment. But, in the end, I couldn't resist dragging out my oblique pen and writing "Happy Fall".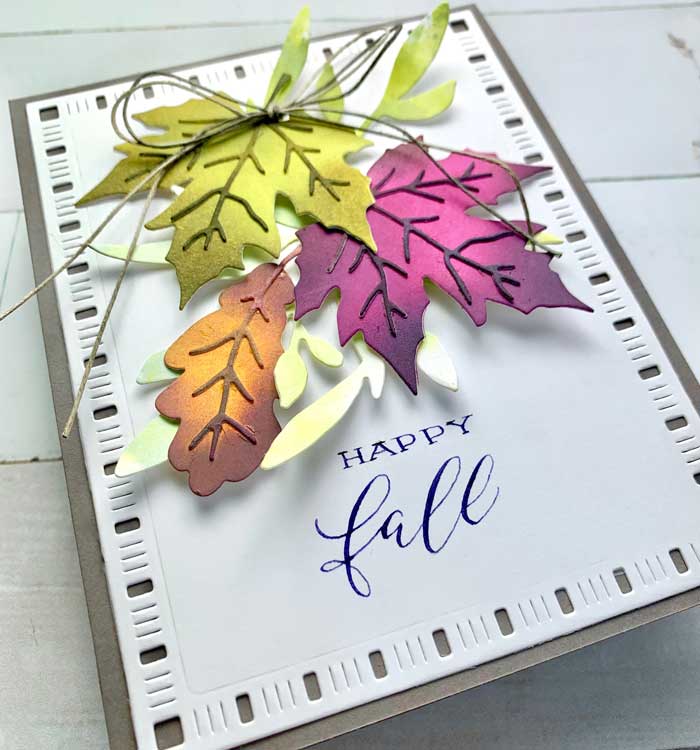 With the sentiment now on the white panel, I added it to the Slate card base and then re-arranged the leaves and stuck them down with my trusty Lawn Fawn glue pen.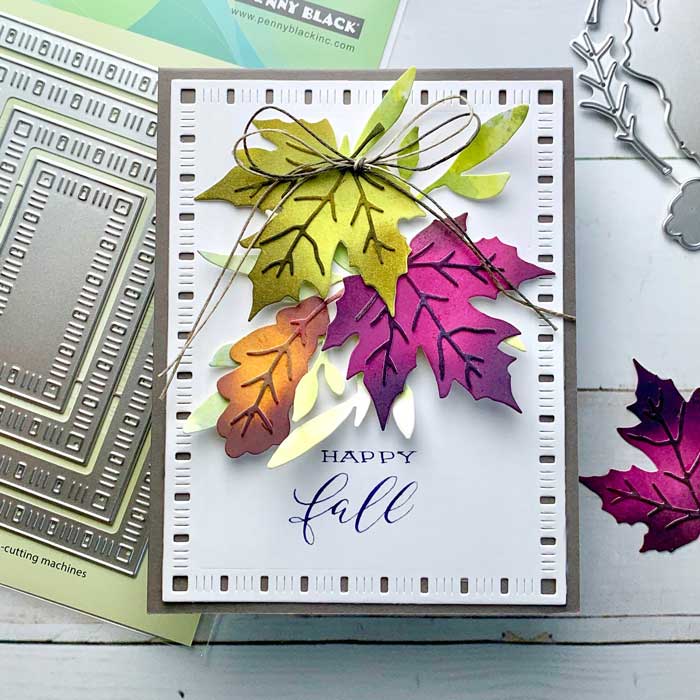 The final bit was to add a bow from the Earthy twine collection… and there you have it! 🍂
Goodies Used: