HI there,
The end of the month has come so quickly! The only thing good about that is that we get to visit with Zinia of Abstract Inspiration again. It is always a great pleasure and she never fails to bring us something luscious to drool over.
Take a look at this spread this month. We just love it. It seems you can just fall into it… much like Alice in the Wonderland story where she falls down the rabbit hole to an enchanted place.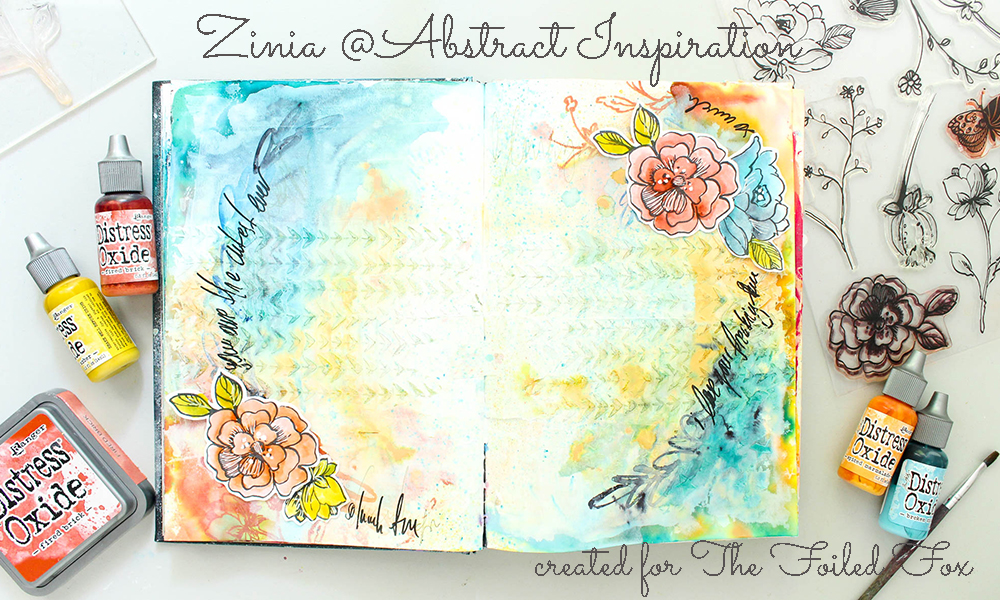 Hello everyone, it's Zinia of Abstract Inspiration again with another art journal spread using the gorgeous Distress Oxides. The more I use these inks (and re-inkers) the more I love them!
I created this page while I was on the go so I used an old leftover-paint-journal I had with me. The base of my page had some texture through a chevron stencil but that was just a happy coincidence if you want to recreate this page feel free to skip this step completely.

I started with a thin layer of gesso and then I used my distress re-inkers to create a fun flowy background. I just added small drops of color and spraying them with water to help them spread. After my first layer was dry, I added some stamping using a gorgeous floral stamp by Altenew and my Distress Oxide ink pad in Fired Brick.
I really love stamping with Distress Oxides and then spraying them with water. You can a really awesome messy look that I absolutely adore, so that's what I did here.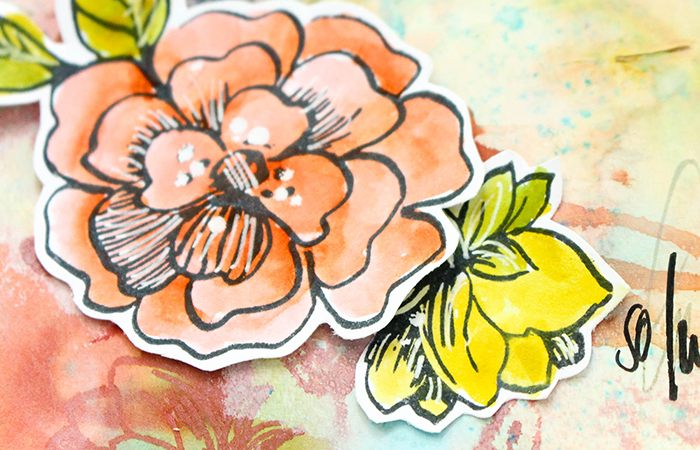 Then I continued adding more color on my background. This time, I decided to add a stronger color using Ken Oliver's Color Burst powder in Turquoise. I kept tilting my page to help the colors spread on their own and I really loved the way most of the color was concentrated at the edges while the middle was white.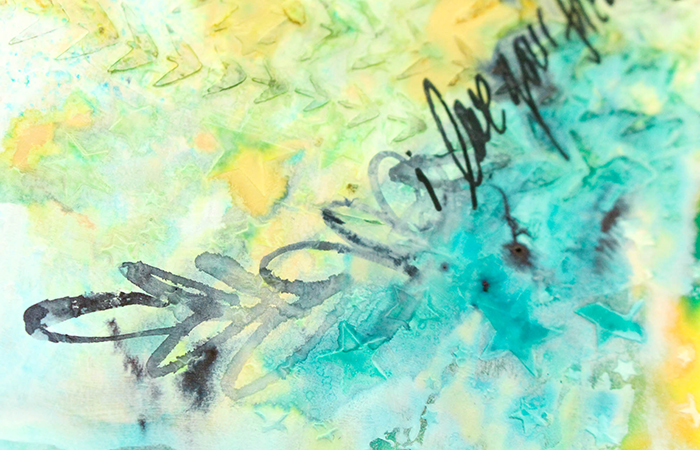 So I decided to accentuate that design and continue building my composition and make it look like a vortex. I mostly let the colors work on their own but when necessary I helped them go to the right direction using a paint brush.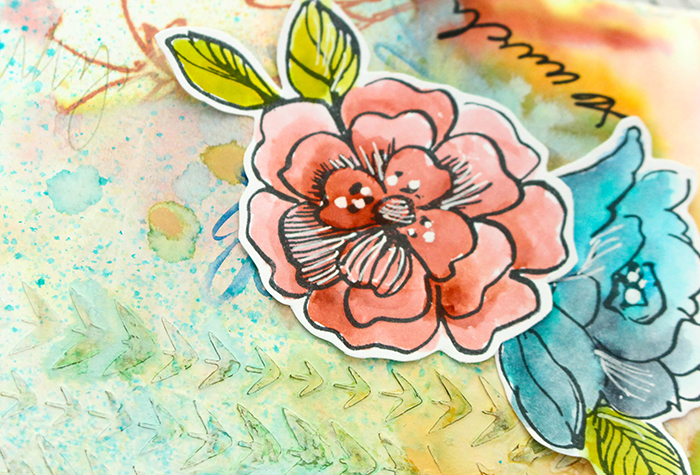 To add some focal points on my spread, I used the same Altenew stamp sets and stamped some flowers on a scrap piece of paper using Memento ink in Tuxedo Black. Then I used my Peerless watercolor palette and I loosely colored the images with very basic shading in the middle. I also added some white highlights and details with a paint pen.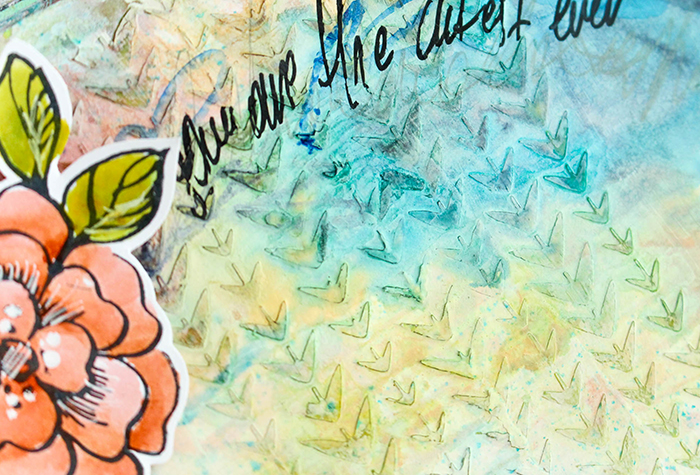 Using the same colors from my Peerless palette, I scribbled some leaves on my spread and placed the fussy cut flower images on top of them. I created two small clusters to keep everything nice and balanced.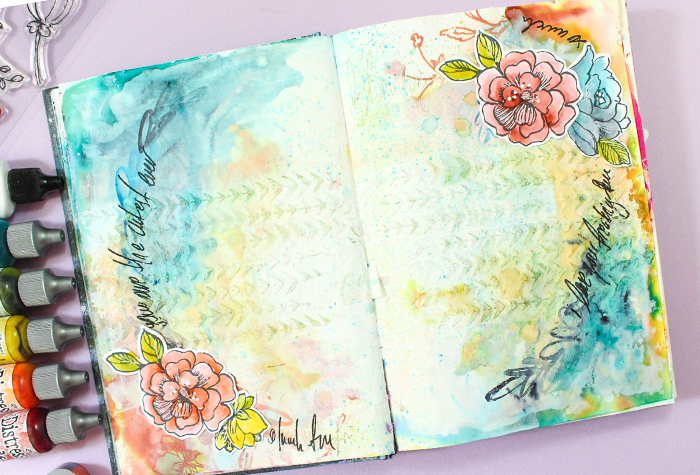 To finish off the page, I used a black pen and added some journaling around the page following the same circular shape that goes through the whole design.
Supply List:
Dylan
Reaveley's
Art
Journal

Altenew
Botanical
Garden
Stamp
Set

Spiced
Marmalade
Distress
Oxide
Reinker

Peeled
Paint
Distress
Oxide
Reinker

Fossilzed
Amber
Distress
Oxide
Reinker

Fired
Brick
Distress
Oxide
Reinker
Broken
China
Distress
Oxide
Reinker

Fired
Brick
Distress
Oxide
Ink Pad

My Favorite
Things
Wonky
Chevron
Mix-ables
Stencil

Dina
Wakley
White
Gesso

Peerless
Watercolor
40 Pak

Ken Oliver
Turquoise
Color
Burst
Memento
Tuxedo
Black

Dyan
Reaveley's
Dylusions
Paint
Pens

Pentel
Water
Brushes

Tonic
Studios
Tim Holitz
Detail
Snips

Mini
Mister

Black
Silver
Brush