Hi Crafty Friends,
We have something exciting to announce!! Starting today, The Foiled Fox and Heather Telford (one of our very favorite guests!) are hosting a Holiday Traditions giveaway event. For the next couple of weeks, we will be sharing card designs that represent a few holiday traditions we enjoy in our homes. We are hoping you will join in on the fun and share a few of your holiday traditions by commenting on our blogs and Instagram (links are provided at the bottom of this post). Each time you comment, you will have another chance to win.
To kick off this merriment, Heather is sharing their family tradition of making gingerbread. When Heather told me her tradition, I was sure I would see gingerbread men on her card design. I was so surprised and awestruck by her ingenuity and cleverness! This year, she is not only making tasty gingerbread cookies to delight her family but she has made a duo of incredible card designs to share with us. Don't they look good enough to eat?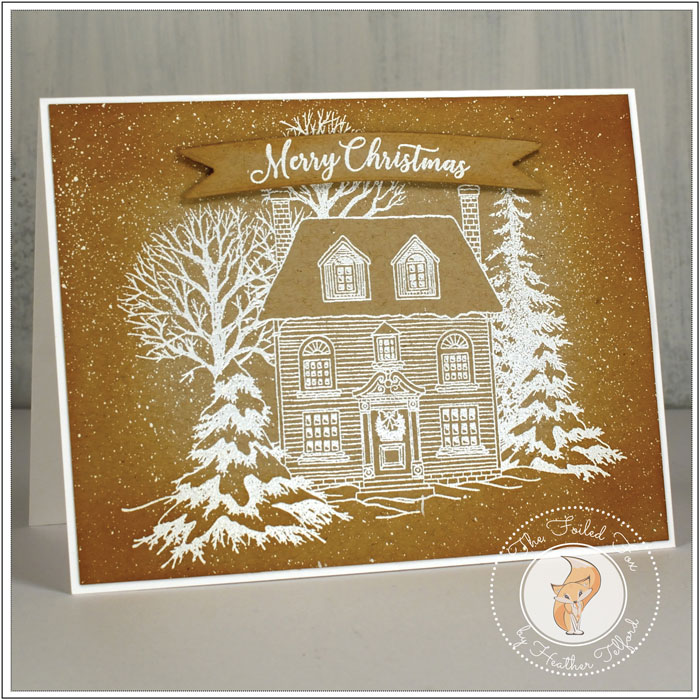 As the leaves fall all around me, Canadian Thanksgiving has come and gone and Christmas card making is in full swing. I won't be decorating just yet but I have teamed up with The Foiled Fox to create some projects inspired by the holiday traditions. We will be sharing some of our holiday traditions and hope you will comment and let us know some of yours. If you do we will put your name in a draw for a Foiled Fox gift card – definitely a lovely tradition around here.

A long-time tradition in our family has been the making and decorating of gingerbread. As you can imagine my favorite part of the process is the decorating, and maybe the eating! I started making gingerbread back in Australia where Christmas is during the summer holidays so having the oven going on a hot day was not an ideal situation. Nevertheless, I still baked gingerbread cookies (biscuits in Australia) and decorated them with white icing. When my children were old enough they joined in and we started making gingerbread houses as well. We sometimes teamed up with friends and made some elaborate buildings and designs. We haven't made a house in a few years but we make stars, trees, snowflakes, and many other shapes every year and enjoy decorating, giving and eating them.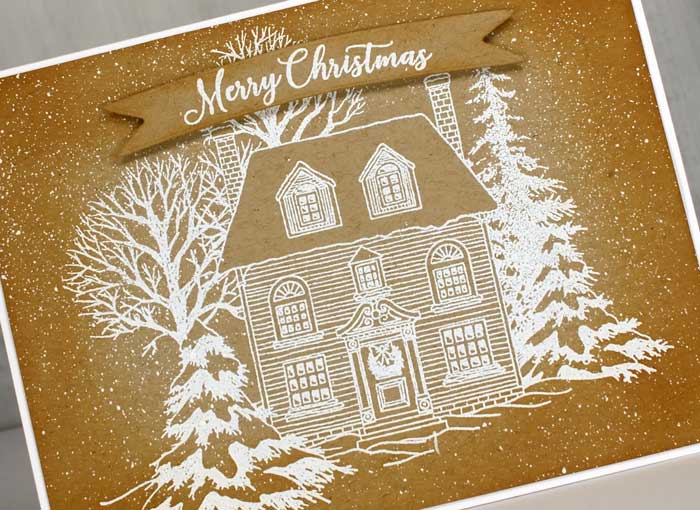 Making gingerbread cards was a lot easier than a batch of gingerbread cookies but I still took a little time to work out which products gave me the look of gingerbread and icing. I settled on kraft cardstock (these cards are Neenah desert storm) and opaque bright white embossing powder. I used the Penny Black 'warm reception' house stamp, the cottage from the PB 'cozy nights' set and snowflakes from the PB 'Frosty's Flakes' set.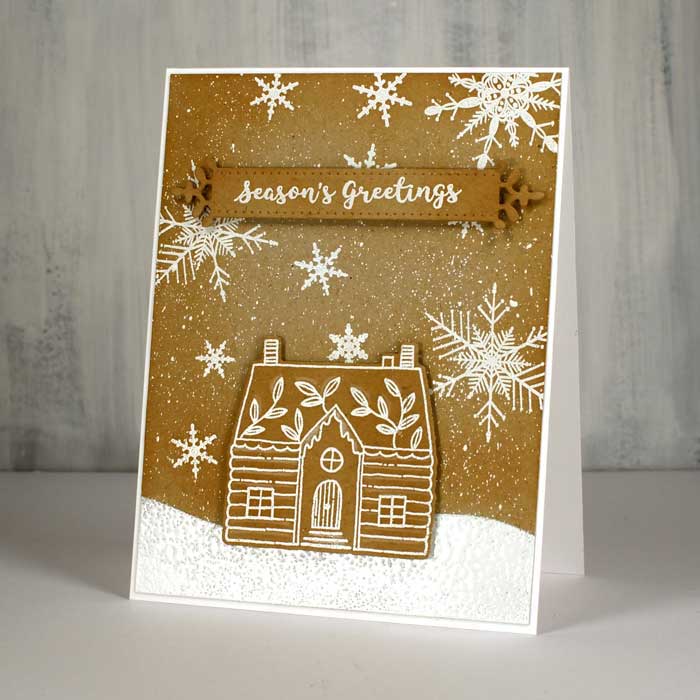 I stamped the houses and snowflakes in Versamark on the desert storm panels and embossed in WOW bright white opaque embossing powder. For the snowbank I placed a hill shaped mask across the stamped panel and sponged delicata white shimmer ink to cover the exposed area. The delicata ink was very pretty but not as bold as the white embossing so I just sprinkled white embossing powder over the sponged ink and heated it. To darken the gingerbread to a 'golden brown' I blended distress tea dye ink around the edges of the panels with a blending brush and over the little cut out cottage and die cut sentiments. I was so pleased to see the difference the tea dye ink made; it really looks the colour of my gingerbread straight from the oven (when I don't burn it that is). Every year I am determined not to burn a single batch but every year it still happens! I contemplated blending black around the edges of one of the panels to create the burnt effect but these are not Halloween cards!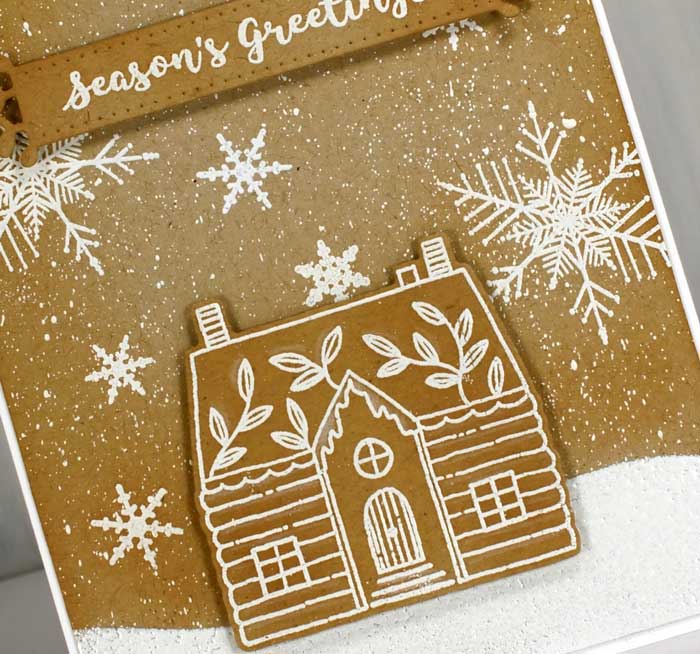 To fill the scenes with snow I masked the houses with masks and splattered white gesso over the whole panel. The sentiments are both from the PB 'banner sentiments' set and are die cut using dies from 'bird & banners' and 'triple banners' before being popped up on dimensional tape in the snowy sky.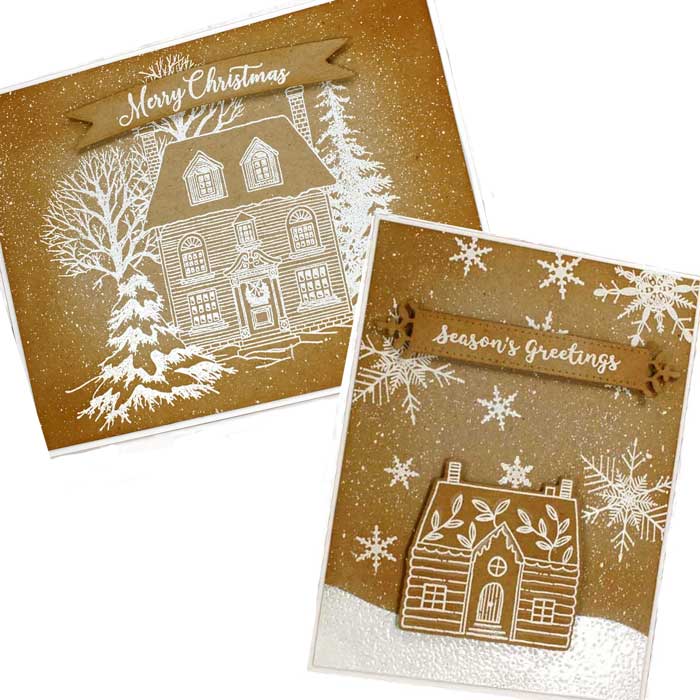 I would love to hear about one of your holiday traditions, it doesn't have to be something you make, it could be somewhere you go, what you eat or an activity you participate in. Share it in the comments and maybe we will all find a new tradition to start this year.
Learn a little about Heather: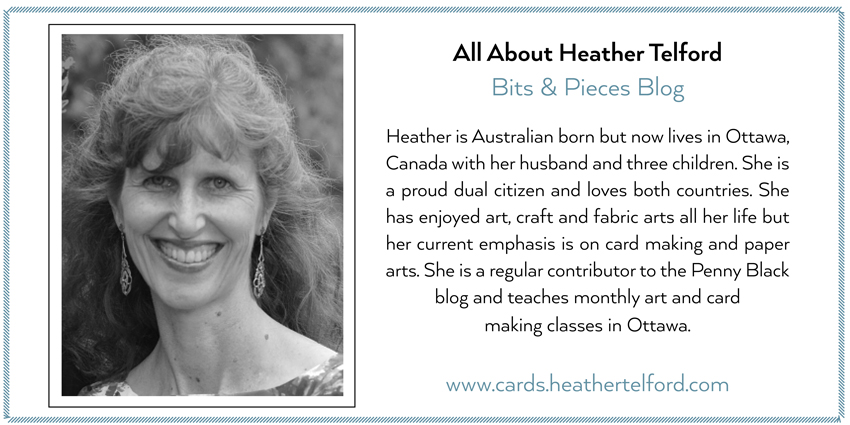 Want to share your family traditions?
Here are a few links to help get you to the right place.
For Heather's blog, click
here
, to reach her Instagram page, click
here
Foiled Fox blog, click
here
and our Instagram page you can click
here
Goodies Used: