Hi Everyone,
This week is a very special one. We will be featuring Heather Telford's designs three times this week – what a wonderful treat! The theme for the week is "Gratitude – Thankful For You".  It goes hand-in-hand with the Autumnal season and upcoming holidays. To start things off, Heather is sharing a beautiful background of multi-colored leaves made with the Concord & 9th Thankful Turnabout Leaves stamp set.
Then, to say "Thank You to you, our readers, we appreciate you all so much", we will be giving away three – $25 gift certificates. Heather explains all the details below.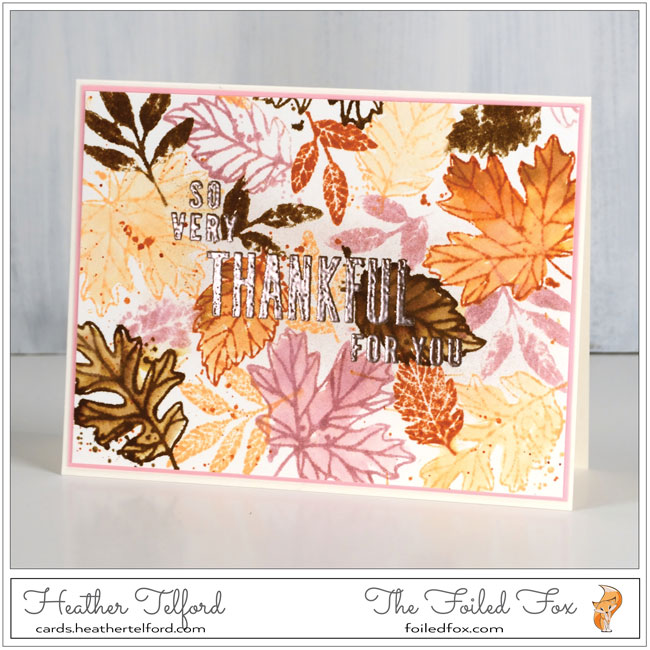 Hi, my card making friends,
I am very excited to be sharing cards on the Foiled Fox blog three times this week. And it is all in the name of 'Gratitude'. I am so thankful for the friends I have made through cardmaking, blogging, and artsy activities. I am always happy to hear from you in comments or messages and I love to see what you are creating also. This week I am sharing three cards which express gratitude and the Foiled Fox is giving away a $25 gift certificate to three of our readers who leave a comment here on the Foiled Fox blog or mine telling us something they are grateful for. It does not have to be related to art and craft at all.  You have until the end of Friday, October 5th to add a comment to any of this week's gratitude posts. We will randomly choose a winner from each gratitude post and announce them on Tuesday, October 9th.

Now onto today's card. This card features the first 'turnabout' stamp I have worked with; it's called 'Thankful leaves' and it's from Concord & 9th. I worked in my MISTI; the stamp stays in place and the paper panel gets rotated. I was working on a rectangular panel whereas the stamp is designed to fill a square panel. To get around that requirement I just attached my rectangle of hot pressed watercolor paper to a 6″x6″ piece of scrap cardstock and turned that about to do my stamping.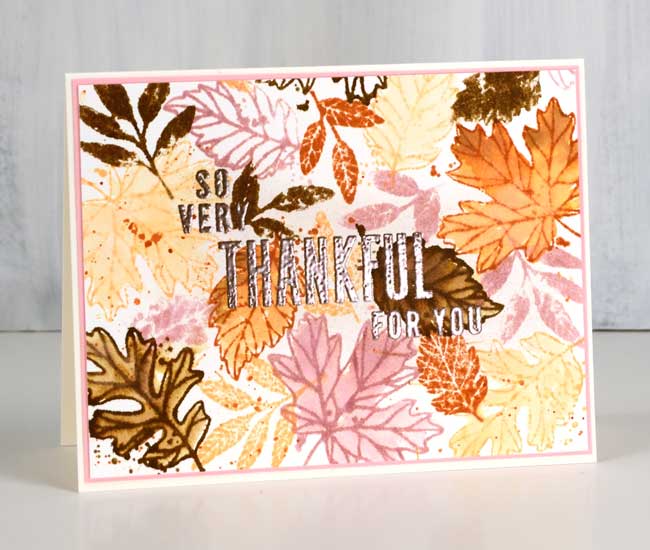 A turnabout stamp has images spread over it sparsely. If you only stamp it once there will be plenty of empty space on your panel but if you stamp it once then rotate your (6″x6″) panel 90 degrees then stamp again the images will fill some more space. If you rotate three times and stamp four times your whole panel will be filled with an evenly arranged pattern.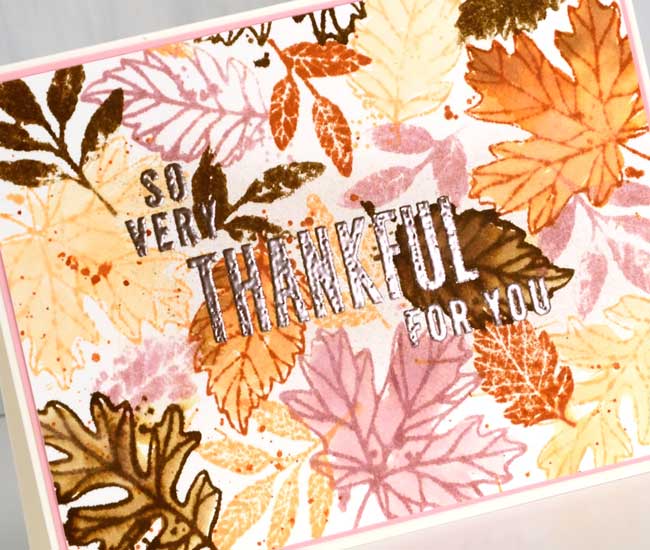 I worked with four colors of distress inks and used one colour per rotation. Some of the leaves are outlined, others are solid; I blended the stamped ink into the outline images to fill them in. If I needed more ink to fill in the bigger leaves I just pressed the ink pad onto my glass mat which I often use as a palette these days. I also splattered some rusty hinge ink over the panel. I might have even stamped the splatter as the set includes a splatter stamp for those of you who like to control your splatter!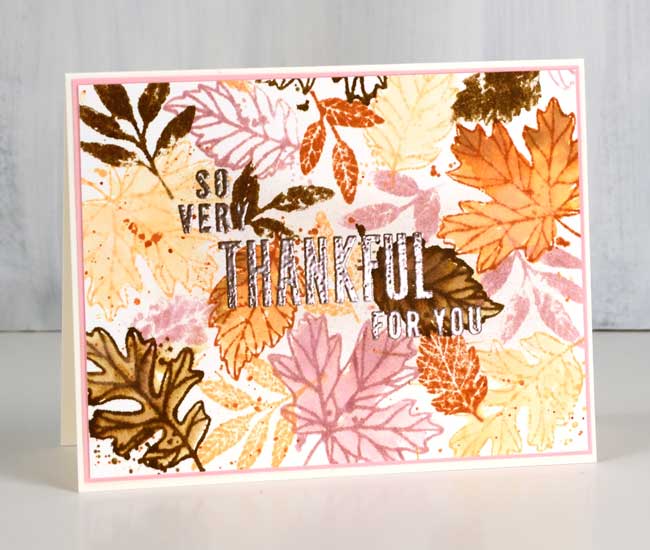 Once the panel was dry I trimmed it and embossed words from the same set in rose gold embossing powder. I know pink might seem an odd color to include in an autumn card but I am quite liking the combo of browns with pink. I matted the panel with pink cardstock and attached to a cream card base.
Thanks for dropping in today; I hope you will enter the give away by telling us something you are thankful for. ♣
About Heather: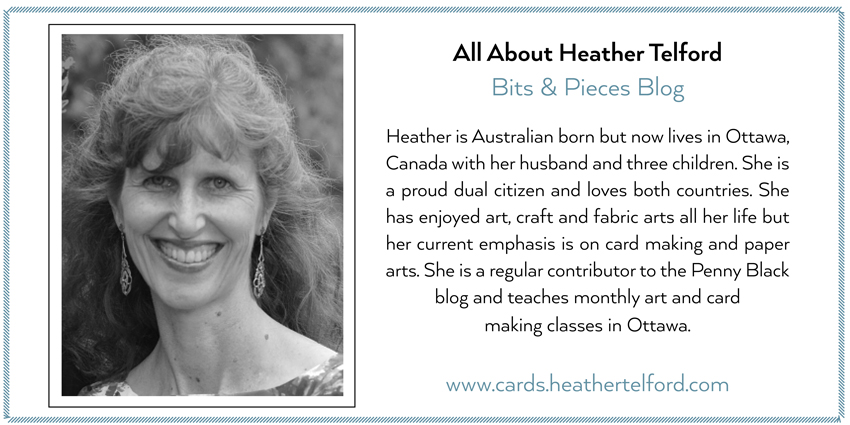 Supplies Used: