Hi Friends,
We have another AWESOME art journal project from one of our favorite bloggers, Zinia Amoiridou of Abstract Inspiration. The spread is bursting with distress oxide color, cheery flowers, and an uplifting quote – blooming love really is unstoppable!
Watch the video and see how she creates this beauty.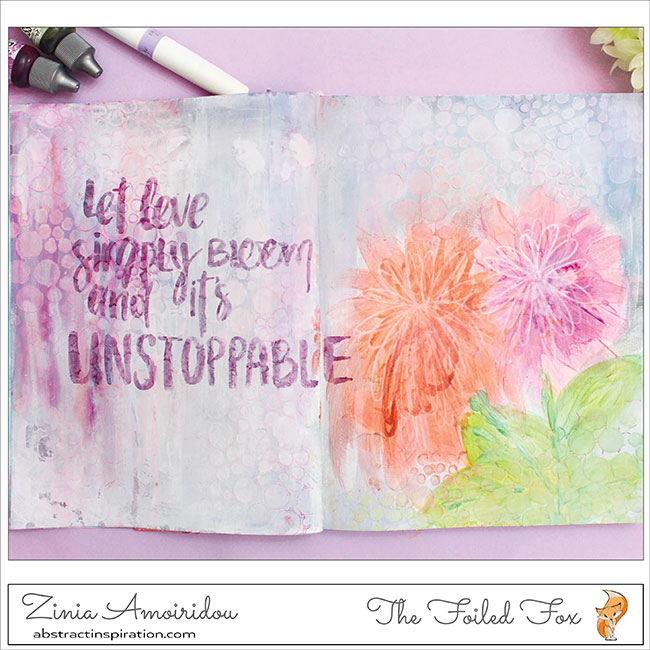 If you enjoyed last month's page, you are going to love this spread too. There are really so many different ways to use Distress Oxide re-inkers. This time I'm mixing mine with some matte gel medium to use them as transparent paints.
I really love working with light colors and slowly building up. You can use whatever ration feels right for you but I recommend starting with a little bit of the ink cause they are very concentrated and a little goes a long way. You can always add some more if you feel that your color is too pale.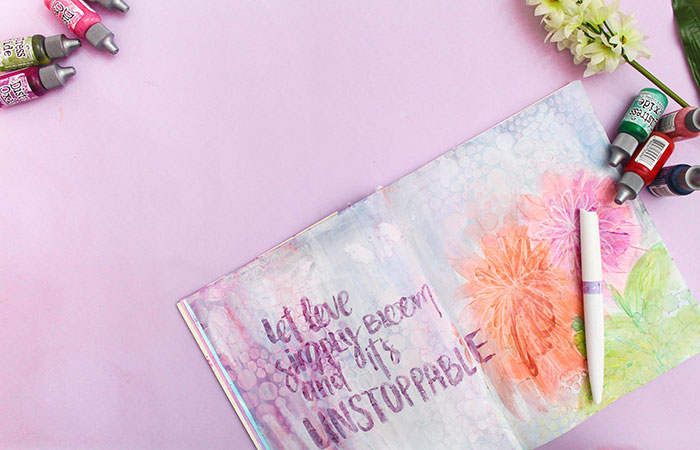 I started by roughly sketching the elements on my page with a very light wash of color. I went for a floral bouquet since I'm obsessed with painting florals these days. As I started building up the color, I did edits to the initial design.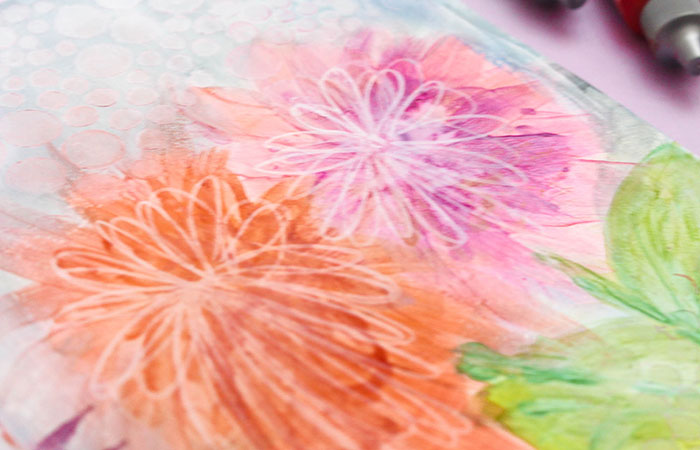 Even though the colors are transparent, if you add enough layers you can cover almost anything. In case you want to cover a dark color with a lighter one, you can also mix in some gesso to make things lighter.
To add some more vibrant details, I used the color straight from the re-inker. Again remember that a little goes a long way so avoid putting too much color on your palette.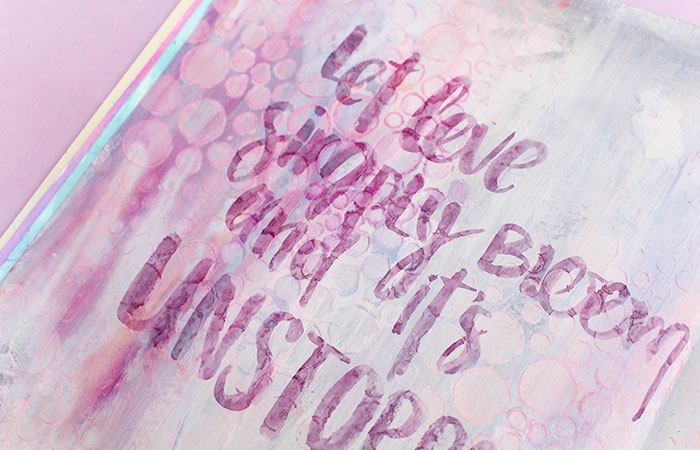 Although I worked on a full spread I didn't want to add any elements on the left page so instead, I decided to create some texture on my background to make it more interesting.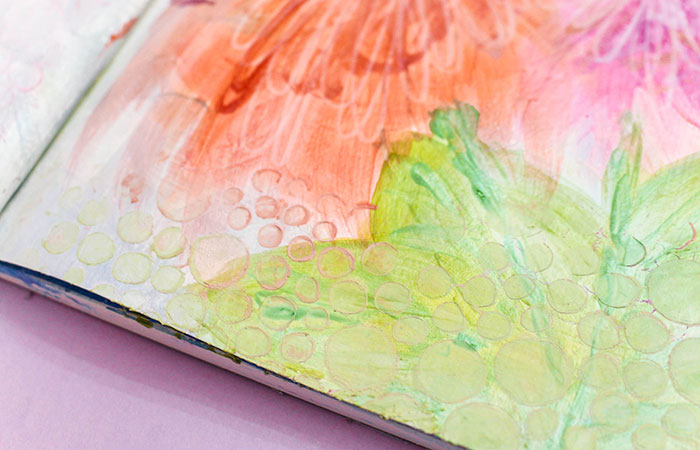 I used one of my most favorite dot stencils by Dyan Reaveley and rubbed some gesso through it with my fingers. In some areas, I dabbed my finger in my palette to pick small amounts of color to create a more colorful blend.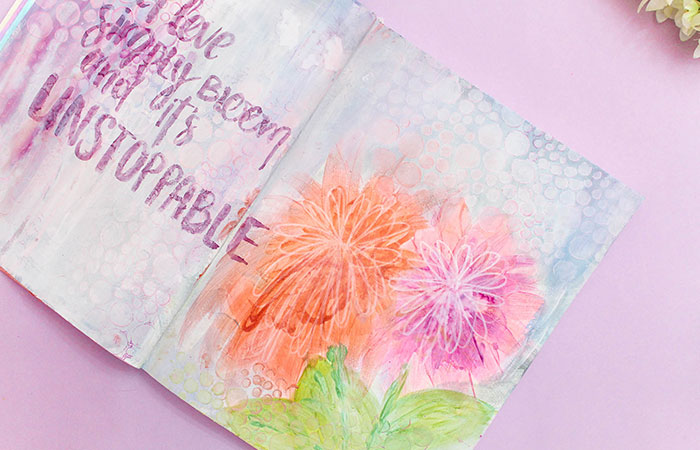 The final step was to add a quote. I used a Nuvo Aqua Flow pen in Lilac Blossom, which matched beautifully with my color scheme, and embraced my perfectly imperfect handwriting.
•••••••••••••••••••••••••••••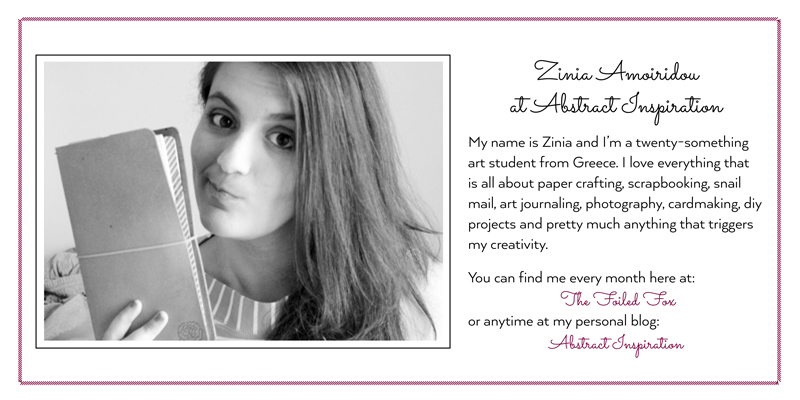 Supply List
Antique
Linen
Distress
Oxide
Reinker

Black
Soot
Distress
Oxide
Reinker

Candied
Apple
Distress
Oxide
Reinker

Lucky
Clover
Distress
Oxide
Reinker

Picked
Raspberry
Distress
Oxide
Reinker

Seedless
Preserves
Distress
Oxide
Reinker

Peeled
Paint
Distress
Oxide
Reinker
Worn
Lipstick
Distress
Oxide
Reinker

Faded
Jeans
Distress
Oxide
Reinker

Dylusions
Holes
Stencil

Nuvo
Spring
Meadow
Aqua
Flow
Pens

10 Well
Plastic
Palette

Golden
Regular
Gel
Medium
– Matte

Liquitex
White
Gesso
Dylan
Reaveley's
Art
Journal