Hi Everyone,
We are so happy to welcome Heather Telford back with us! We always love Heather's wonderful artistry and of course, she is one of our favorite people. Today,  she is sharing another beautiful display of flowers she created using the Magnolia Blossoms stamp set by My Favorite Things.
Ooh and awe over the pictures, then read how she did it! Then, don't forget to pop over to her blog for oodles more inspiration and art.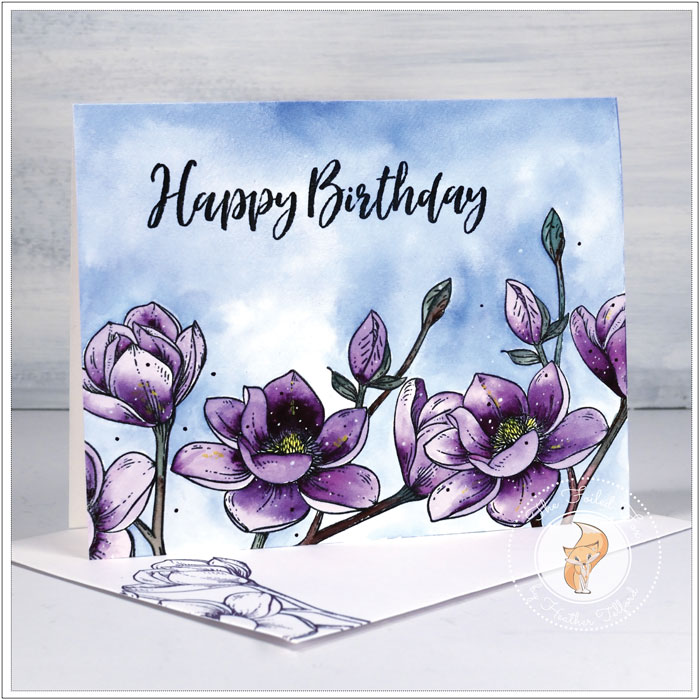 Hi my crafty friends. I am happy to be sharing here on the Foiled Fox blog again. My card today features beautiful new floral stamps from My Favorite Things. The set is called 'magnolia blossoms' and contains two floral stamps including this one showing two blooms. I've already tried a few techniques with this stamp; I can assure you it is pretty when embossed, when colored with no-line water coloring and when stamped in a single ink and left uncolored.
As is often the case I worked on Fabriano hot pressed watercolor paper but before stamping on the panel I stamped on masking paper and cut a mask of the flower stamp so I could overlap the images to make some flowers appear behind others.
I stamped in Versafine Clair nocturne ink, placed the mask over the image then stamped another print of the flowers, repeating to get a border of flowers along the panel. I embossed the whole arrangement with clear embossing powder.  I chose to watercolor with Dr. Ph Martin's Hydrus watercolors and put a drop each of ultramarine, phthalo green, Hansa yellow light, cobalt violet, and Venetian brown in a palette then added water to each to dilute them.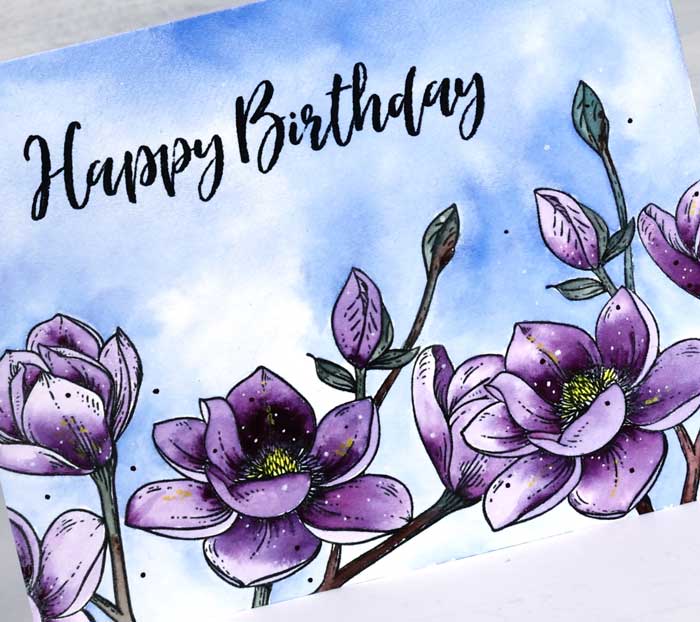 I painted the sky first by painting water then adding diluted ultramarine blue. The embossed edges made it possible to paint up to the edges without too many slips. I diluted the paint and used a tissue to remove some so I could create the variation of color and clouds. The color is intense in the Hydrus watercolors so when painting the petals I started each with a very pale violet wash then added a tiny bit of more intense (but still diluted) cobalt violet to one end of the petal. I often lifted color out of the petals despite my efforts to keep the wash pale. A little goes a long way with these inks.
To do the stems and leaves I worked with Venetian brown and a mix of phthalo green/ Venetian brown to keep the leaves a muted color. The centers of the flower are very detailed and accepted only a little bit of yellow paint in amongst the embossing.  As the yellow contrasted so well with the purple I decided to add a few dots of yellow on the petals as well. With all the painting completed I wanted a little something more so I added random dots of black and white with Sakura gel pens.  Before attaching the panel to a card base I added a sentiment from the MFT 'brushstroke expressions' set.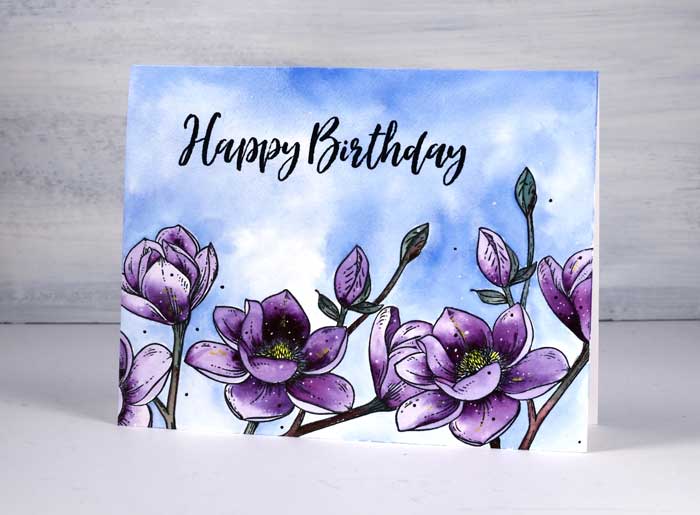 Since I was last here on the Foiled Fox blog I have launched an online card class. I would love to have you join me in experimenting with color as I create unique backgrounds and beautiful stamped and colored foreground images. Pop over here to see what it is all about!
More about Heather: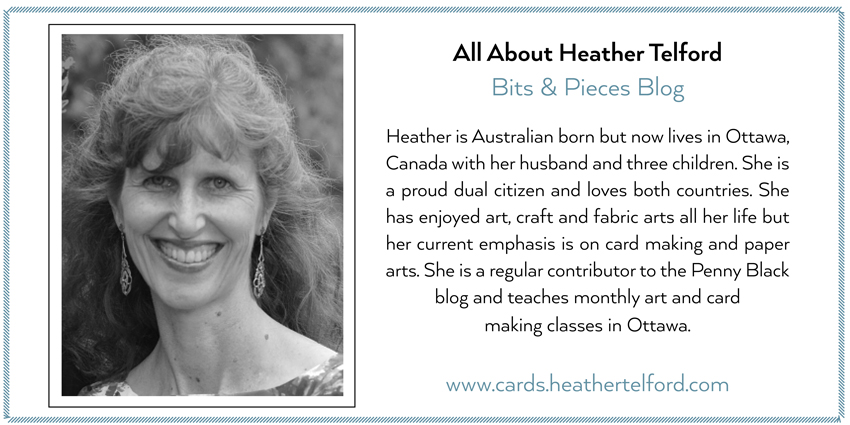 Goodies Used: