Hi Crafty Friends,
We are over the moon excited to share one of Heather Telford's most beautiful card designs yet. She has combined the Penny Black Poinsettia Poem stamp set with the fantastic Karin watercolor markers to create some glorious colors and a strikingly beautiful design! It is simply gorgeous!
Here is Heather to tell you more about these designs. Don't forget to pop over to her blog for oodles more beauty!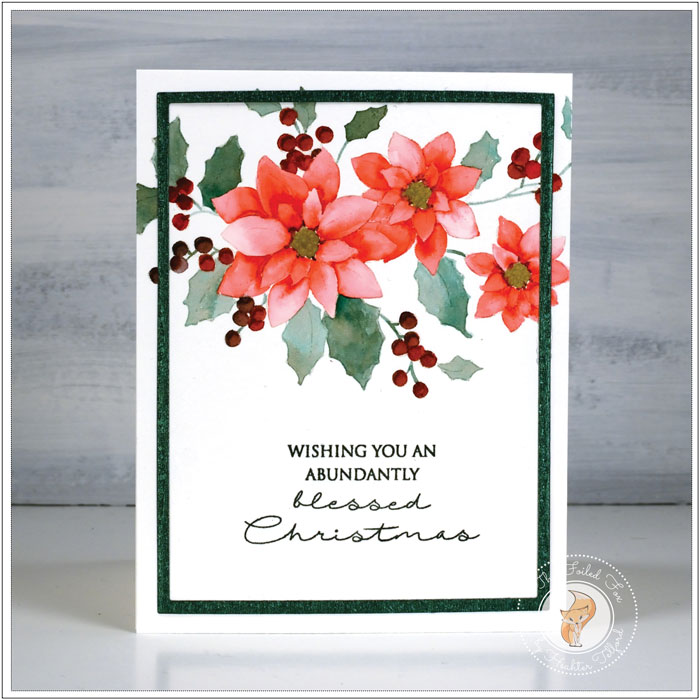 Last time I was here on the Foiled Fox blog I had just started putting the Karin brush markers through their paces. I began by using them directly on the stamps, which produced great results. This time I used them for no-line watercolor and let me assure you they are in their element for this technique. Often I do no-line watercolor on images stamped with antique linen distress ink which works great but this time I tried Papertrey Ink's soft stone ink. Antique linen lays down a pale beige outline, Soft Stone is a pale grey and it worked beautifully. It's good to have options, isn't it?
I stamped the Penny Black poinsettia poem stamp on two pieces of hot-pressed watercolor paper, one portrait, the other landscape orientation. I used a slightly different technique on each panel just to see what happened. On the portrait-oriented panel, I added ink to the panel first then blended it out with water to fill each petal or leaf. On the landscape one, I filled each leaf or petal with water first then touched the tip of the marker to the wet area to transfer a little ink. The end result with the 'water first method' was paler petals.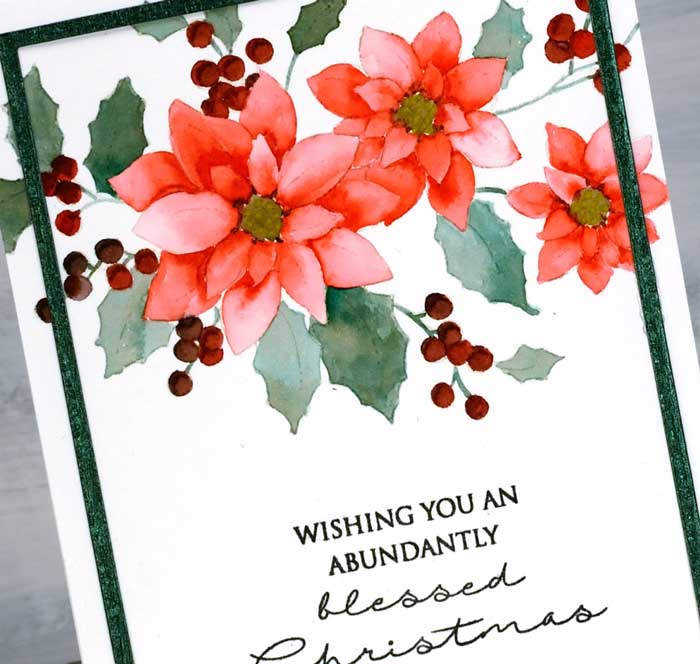 On both panels, I added some red marker to the tip of the green before coloring leaves just to tone it down a bit. Both the teal and the lush green are quite bright so adding a little of the red I used for the petals helped create more muted tones. When you add ink from one marker tip to another it eventually returns to its original colour as you use it for coloring. If there is too much of the added color you can blend the marker on some scrap paper until you have the mix you want.
The brush tips of the Karin markers come to a firm point which makes it easy to draw a thin line with light pressure. I was able to draw over all the stems with the green marker used on the leaves. Another appealing feature is the way the ink layers to a darker almost different color when you let it dry between applications. Rather than use two tones for the berries, I colored one side of each berry, blended it out with a water brush then, once dry added the same red over the top on one side giving all the berries a shadow and some dimension. I colored the centers of the flowers in brown then drew gold dots over the brown. I always seem to end up with gold in the centers of my poinsettias; it's a festive touch.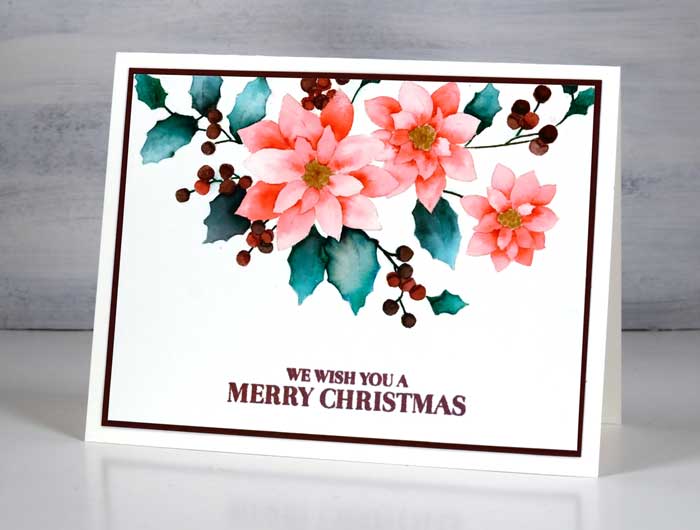 To complete the cards I hunted through my cardstock stash to find the Tonic studios embossed emerald hessian cardstock and used two Waffle Flower A2 layer dies to cut a narrow frame. The other panel looked good with a mulberry cardstock mat and a sentiment stamped with both Versafine Clair tulip red and chianti inks.  By stamping one over the other I was able to create a co-ordinating color I didn't already have in my ink collection. For the green sentiment, I used Memento northern pine, a big favorite of mine. One sentiment is from the Penny Black Christmas Feeling set and the other from PB frozen vista.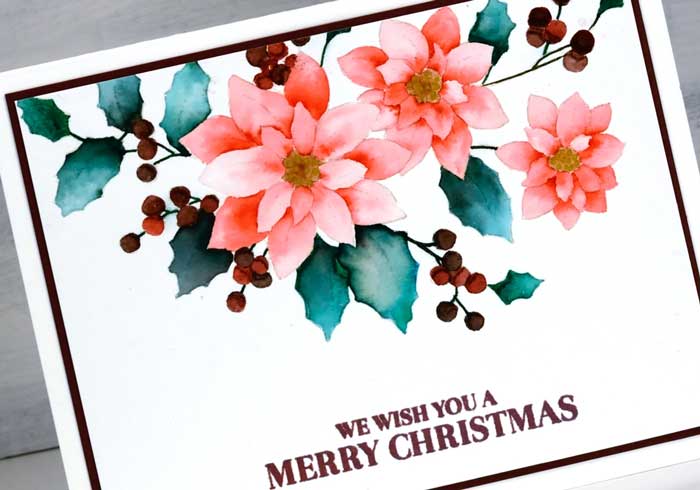 If you head over to my blog I have listed the exact colors used for each panel. They all can be found in the 26 color set, and the larger sets too.
I am definitely enjoying the Karin brush markers and think perhaps a video in the new year might be a good way to show you exactly how I've been using them.
Thanks for joining me today and thank you Foiled Fox for introducing me to the Karin brush markers.
Learn more about Heather: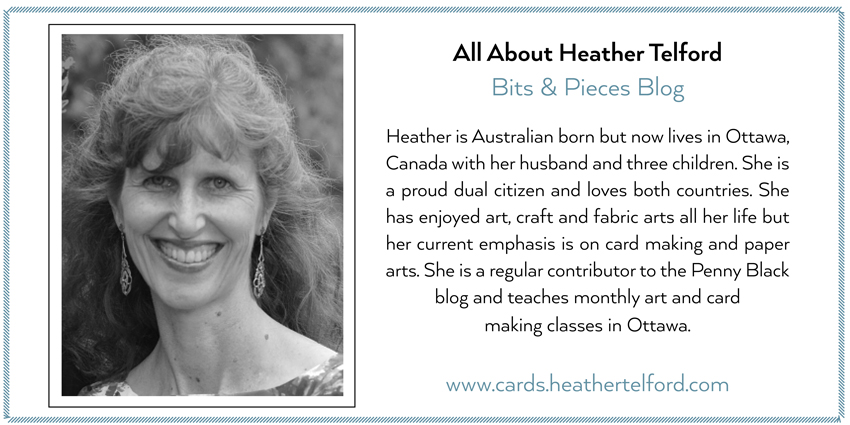 Goodies Used: