Hi Crafty Friends,
I am popping in quickly with something a little different. I am spotlighting a product we have grown to really love here at The Foiled Fox! It is the Cutterpillar Glow and the Tempered Glass Add-on. These two products are in constant use in our craft area. We don't know what we would do without it!
Take a look at this short video and learn all about it!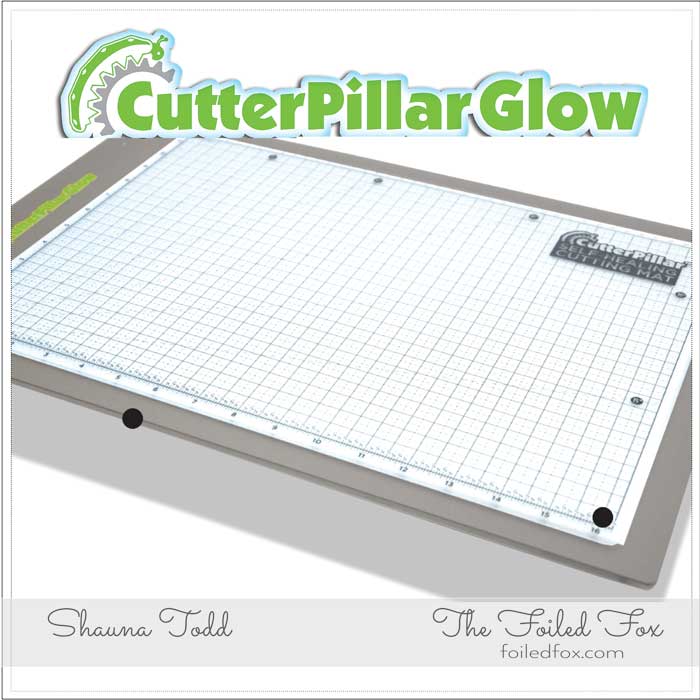 Here is the short video to walk you through all the different features of Cutterpillar Glow
We have used the Cutterpiller Glow and the glass mat in our craft facility for a while now and I personally use it in my own craft room. Both the 'Glow' and the glass mat have become invaluable to me. I love that I can put virtually put anything on the glass mat, complete my project, then all the leftovers can be easily wiped off.
I use the light table a lot too. Since I like to write calligraphic style and draw, the light table is great for using a lined guide sheet under my paper or the sketch under the paper to copy on nicer paper. The great thing about the lines for calligraphy or drawing, I don't have to line everything directly on the paper and more importantly, I don't have to erase the lines and run the risk of messing up my artwork – YAY!
I also use the grid lines on the glass mat all the time to line up a card front or a sentiment strip. The mat, along with an acrylic block with grid lines, has made making sentiment strips a breeze. I always struggled with them before and would avoid them. Now, I just zip through them – and that is terrific!
The Cutterpillar Glow (light pad) comes with a self-healing mat and it fits perfectly on the light surface. If you get the Tempered Glass Mat add-on you will be able to use it for all your mediums and you can even heat emboss on it. I now can't live without the glass mat!
The one thing I need to mention though. These products are heavy so there is a $10 surcharge to ship and sadly, for the same reason, we only ship within the U.S. 🙁
Cutterpillar and companion products: