Hi there,
We are concluding our "Gratitude – Thankful for you" week with Heather Telford. It has been so much fun to share her beautiful designs and her heartfelt messages. And, it has been equaling wonderful to hear from so many of you. We really appreciate each of your comments and have enjoyed hearing a little about you and your life.
Today's project is a lovely one, using the versatile Penny Black Xmas Sprig stamp set and Catherine Pooler inks. Heather tells you all about it below. Then, don't forget to comment to be entered into our GIVEAWAY!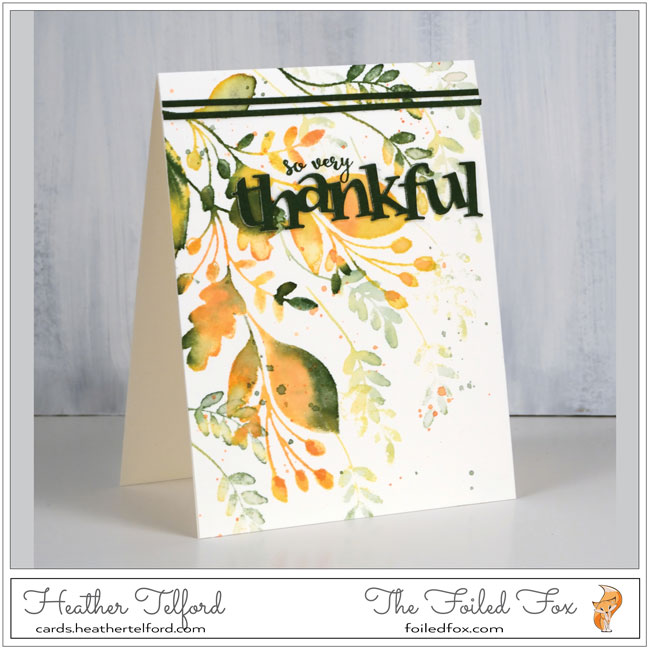 Thank you for joining me here on the Foiled Fox blog again this week. I have thoroughly enjoyed reading the comments on the Monday and Wednesday posts and appreciate you taking the time to share your gratitude with me and other readers. If you haven't read the earlier posts you might not know we are wrapping up a week of gratitude posts today and there is a giveaway. All you need to do to enter is leave a comment letting us know something you are grateful for. The comments will stay open all next week too and we will post a randomly chosen winner from each post on October 9th.

Today I am thankful for my home. After experiencing a tornado in our city last weekend I am once more reminded how privileged I am to have the shelter and protection.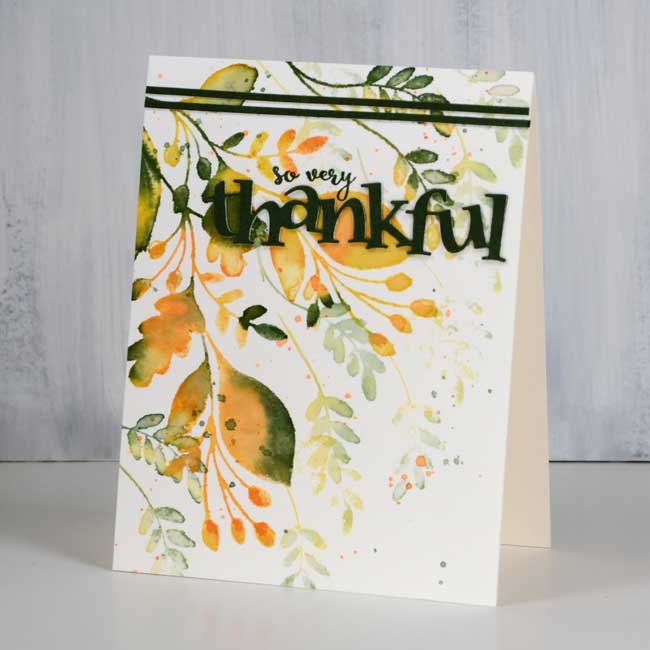 I have a leafy thank you card today made with the Xmas sprigs stamp set from Penny Black. I am always happy to have stamps that can span the seasons. Before I use Xmas sprigs for Christmas designs I decided to put it to use for an autumn card. I used Catherine Pooler inks in three colors and plenty of spritzing for a watercolor effect.
There are three stamps in the set and one has a Christmas bauble on it; I left that one out and used the other two. I used my Misti and inked the largest leafy stamp with Bellini, Spruce and Shea Butter inks. I spritzed the stamp with water to get the colors blending then stamped on the panel. Once stamped I blended the image a little more with a paintbrush. Next, because there was still ink on the stamp I spritzed more water on it and stamped again, this time getting a pale but still multicolored image.
I moved the panel in my Misti and repeated the same process with the large leafy stamp and then again a couple of times with the small leafy stamp. I pressed the ink pads onto my glass mat and added some water so I could splatter some ink droplets around the card.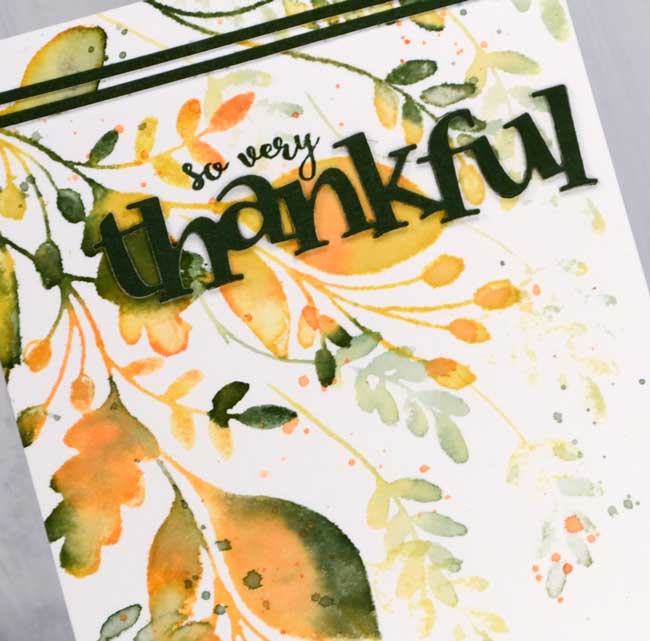 For my sentiment, I used half a die-cut and half a sentiment stamp. The full PB die says 'thankful heart' so I just snipped off the heart. The full stamp says 'so very special'; I just masked to get the first two words. I wanted my die-cut word to match my ink so I swiped the 'spruce' ink across a piece of watercolor paper a couple of times and let it dry. The Catherine Pooler inks are very juicy and do an amazing job at coloring paper. I added double sided adhesive to the back then cut 'thankful' twice and stacked the die-cuts together. Before I attached the die-cuts to the panel I stamped my little words in place.
I decided I didn't want to mat the whole panel but I wanted another design element so I cut a thin strip of my spruce ink colored watercolor paper. (my paper trimmer is listed below and cuts thin strips with the utmost ease!) I ran the Tombow dotted adhesive along the thin strips and attached them to my panel which I trimmed to fill the whole front of the card base.
I am so happy to be sharing here today and look forward to reading your comments below.  Thanks for dropping by.
About Heather: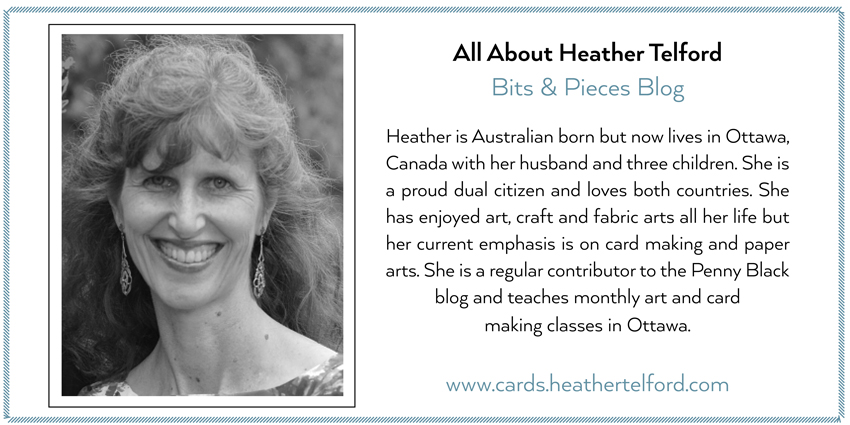 Supplies Used: