Hello,
One of the things you will see from us this year is more projects that are suitable for the masculine side of life. It is not to say they will not work for females, but if you are like me, I struggle a bit when it is a man's birthday or event. So, with that in mind, at least once a month, we will feature a more masculine project.
Today's card is for the bicycle enthusiast.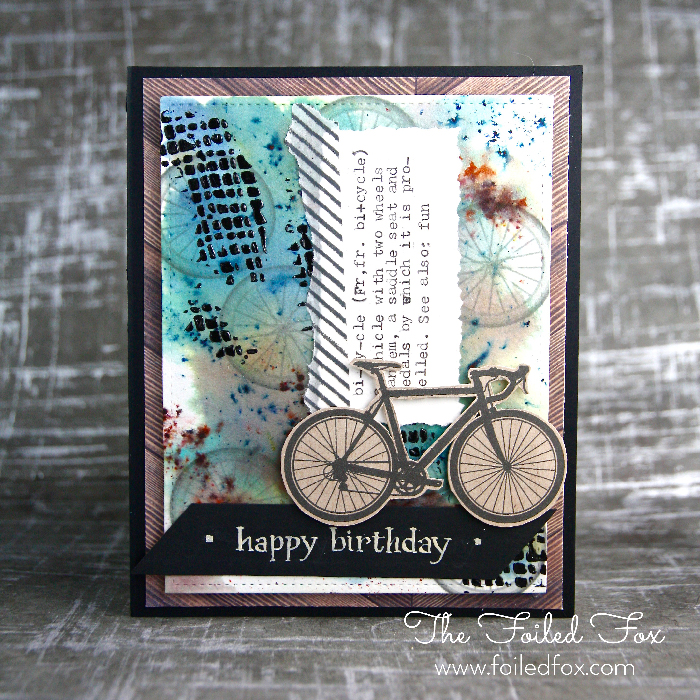 So, what do you do when you need a card and don't have the stamps…well, Google it!  Since this 'not-so-young" man is a major bicycle enthusiast, I couldn't think of anything else that would be appropriate. I went on the search for a proper bike. Now I know he is very specific about what kind of bike he likes so of course, I had to get my husband to approve the bike image. Once the bike was found, I scaled it to the proper size and printed it on plain paper first.
My printer does not like heavier paper going through it's paper path, UNLESS it thinks it is making a copy. So, I tricked it into thinking it was just a copy by taking the previously printed bike on plain paper and placed it on the glass, then made a "copy" using Desert Storm cardstock in the upper paper feed.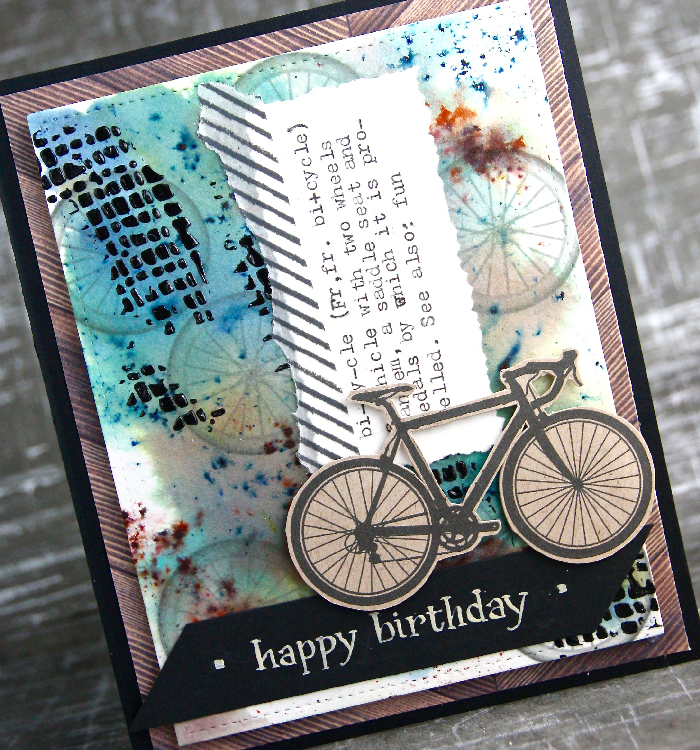 After the bicycle was printed, it was carefully cut out and set aside. Next up was the background. Employing the same techniques used to create the bicycle, I found a bicycle wheel image, duplicated it several times and arranged it as a collage. Then, it was just a matter of following the same step of the bicycle:
Printing the collage onto plain paper
Placing the printing paper on the glass
Putting a piece of watercolor paper in the single paper feed
Printed the collage and trimmed it down to size using die cutting it with a stitched rectangle die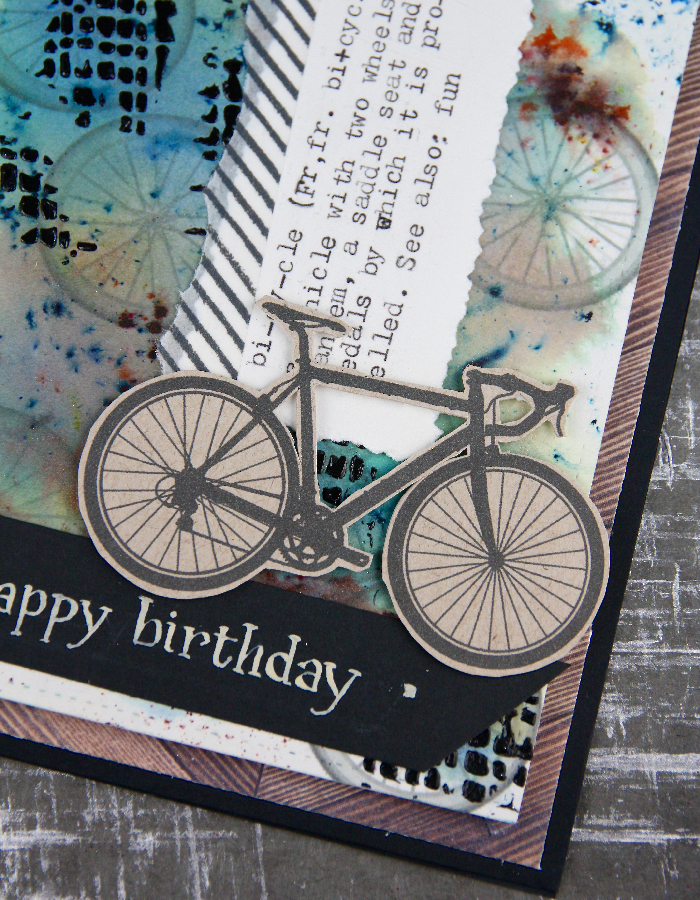 Now the background was ready to watercolor. I wasn't sure how the collage background was going to take to water being applied since I only have an ink-jet printer and inkjet ink is water soluable. But it all worked out! I  brushed on only a thin layer of clear, clean water onto the background and then added some watercolor – for this project, it was mainly blues and grays.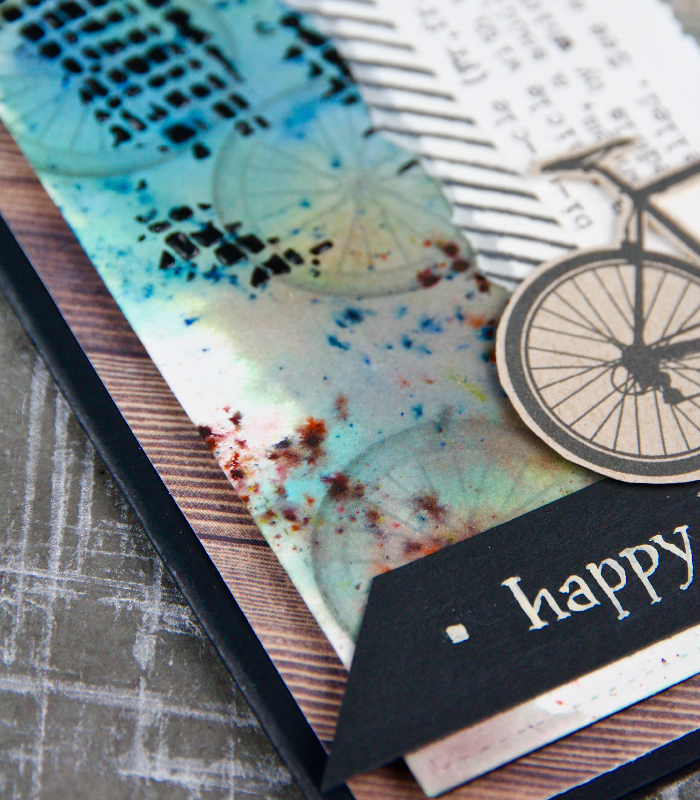 After the watercolor wash was applied, I still thought it needed something…so I sprinkled, in strategic places, a bit of Ken Oliver Earthtones Color Burst dry watercolor crystals. To finish, I let it dry and then added black texture paste through a stencil in the upper left and lower right corners and let it dry again.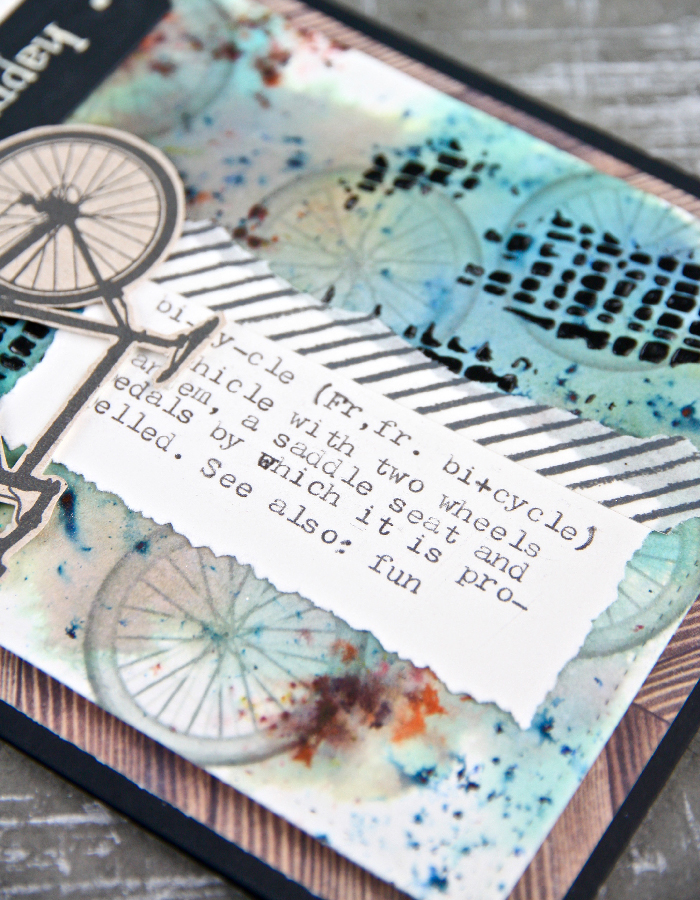 While the background was drying, I typed the definition of the word "bicycle" onto a piece of cardstock and tore the edges and hand lettered "happy birthday" onto a black piece of cardstock. By the way, don't fret if you don't like to hand letter, stamping a birthday message and heat embossing it would be a great way to go too!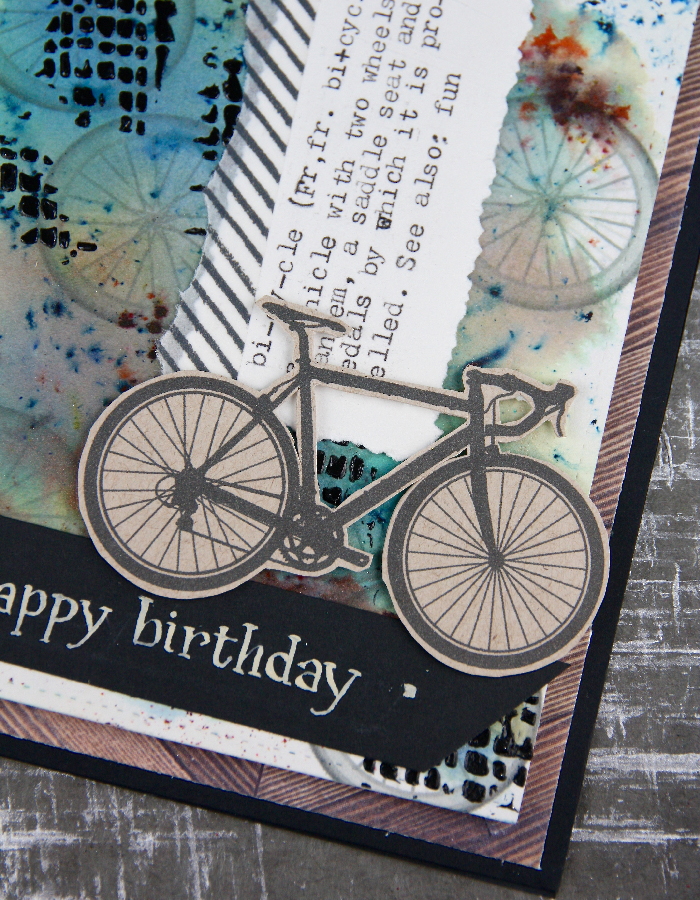 Now, on to the final step of assembly. Using a black cardstock card base, I cut a piece of printed wood paper from the Juniper Berry paper pak and placed it on top the card base. Next, I added foam to the back of the watercolored wheel background and mounted it on top the wood paper. With washi tape, I added the 'definition', popped-up the bicycle and tucked in the 'happy birthday'. And now you have a card made specifically for the bicycle enthusiast!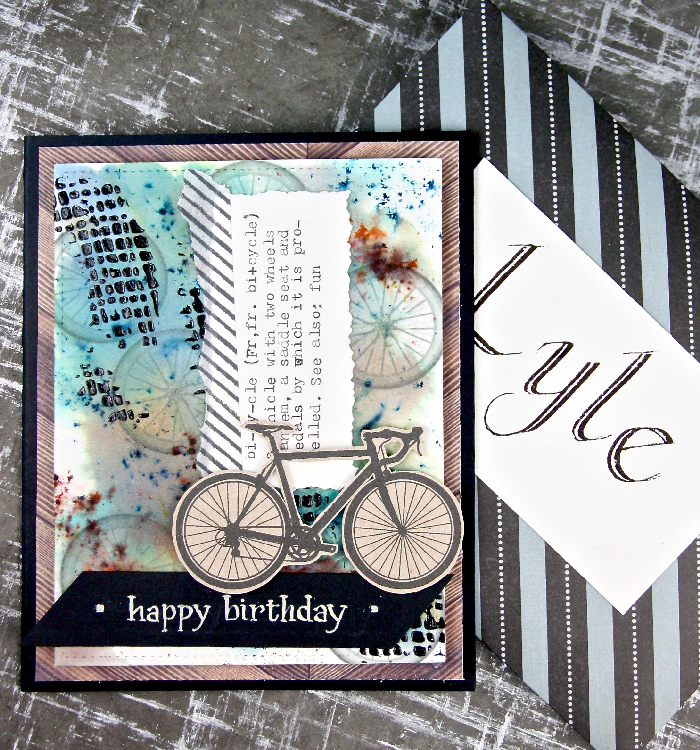 When presenting a handmade card, I think it is only fitting to make a handmade envelope to match.  If you haven't made your own envelopes before, using the We R Memory Keepers envelope punch board makes quick work of it… it is done in a snap…. I don't know what I would do without it!

P.S. – For those that like to letter and wonder what pen I used for the "Lyle" lettering on the envelope.  That was created in one stoke, using a 6mm Parallel Pen with a groove etched in it.  If you would like more information on the groove, give us a shout through email or phone.
Supply List:
Neenha
Black
Cardstock

Canson
Watercolor
Paper

Juniper
Berry
Paper
Pack

Neenah
Desert
Storm
card stock

Kuretake
Gansai
Tambi
Watercolors

Earthtone
Color
Bursts
Shimmerz
Paint
Black
Licorice
Texture
Paste

Tim
Holtz
#14
Stencil
Pak

White
Fun
Foam

Foam
Tape

WRMK
Envelope
Punch Board

6mm
Parallel
Pen