A Hearty Hello to Everyone,
We are sharing another card design by our dear friend, Rosali, from the I Love Stamping blog and Instagram (@ilovestamping). As many of you know, Rosali is the queen of adorableness! She always creates the cutest designs.
This design is featuring the cutie patootie squirrels from My Favorite Things BB Squirrel stamp and die set, along with other great supporting elements.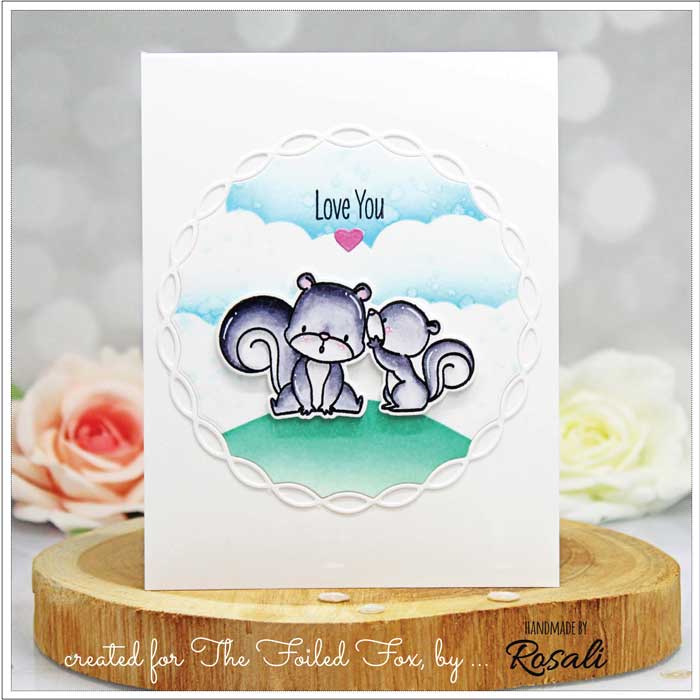 Rosali starts her latest creation with a white Bristol paper card base. Then, on a separate piece of Bristol paper, she uses the Linked Chain Circle Frames Die-namics by MFT and cuts the chained circle.
Working with the center section of Linked Chain cut-out only (the frame was set aside for now) she sets to work creating her scene. To make the background, she positions the Drifts and Hills stencil over the top of the center section, protecting the top area of the cut-out and blends on Pine Needles distress ink. This creates the hill.
Now, with the 'hill' added, she uses Salty Ocean distress ink and the Mini Cloud Stencil, also by MFT to blend on some clouds. A few splatters were splashed on and blotted dry to add a little texture to the sky.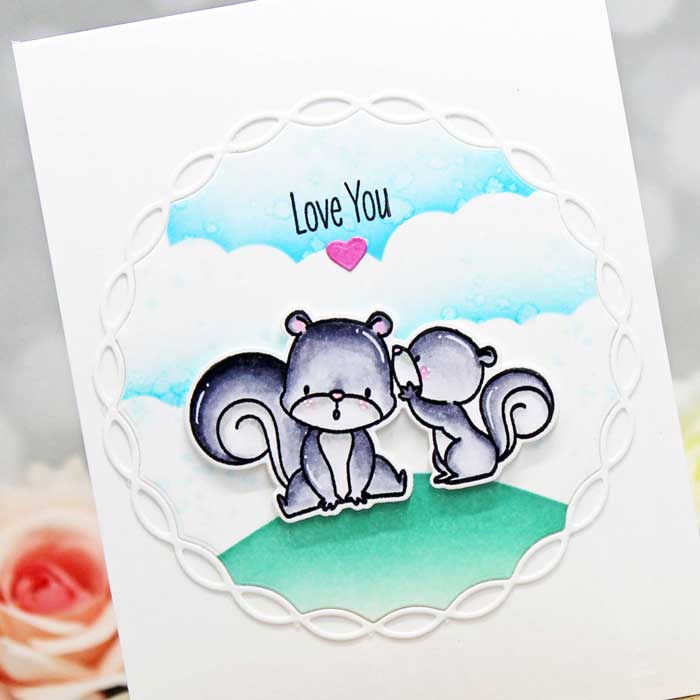 Then, on a small separate piece of Bristol paper, Rosali stamped, using with a waterproof, permanent black ink like Ranger's Archival ink or Hero Arts Black Hues, the adorable squirrels. (I especially love the little squirrel whispering "Love You" to the bigger one, don't you!).
The cute squirrels are colored with Zig Clean Color Real Brush Markers. You can see when you use watercolor paper or Bristol paper, like this one, the Zig colors go on so much more smoothly.
After the squirrels are all colored, a few accents were added with a white gel pen (see all the goodies used below) and then cut-out using the coordinating dies.
The only thing left to do is to stamp the sentiment (from the Joyful Bears stamp set), add a little heart (from the MFT Blueprints 28) and then mount the frame and center onto the card base.
Now we have an adorable card ready to send to any lucky recipient!
•• By the way, we have to mention that this Squirrel set was so popular that everyone has run out. The good news is though we will be one of the first to receive a fresh supply (which should be soon). So, reserve your copy today by clicking here.
♥  ♥  ♥
Learn a little about Rosali: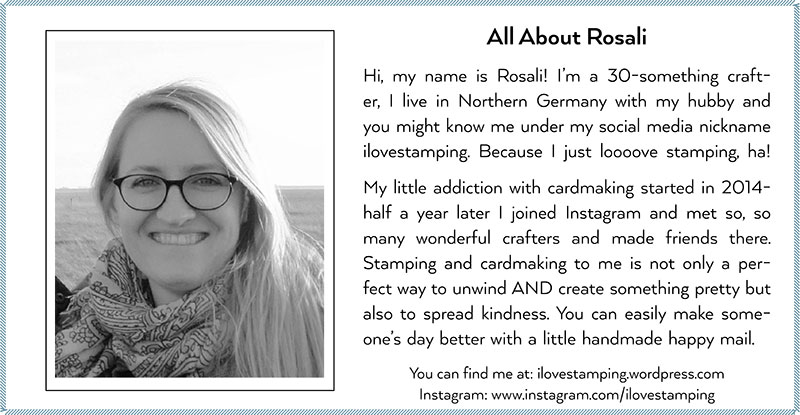 Goodies Used: