HI Crafty Friends,
I am happy to be back and eager to wish you all a very HAPPY NEW YEAR and best wishes for 2019! The new year has officially begun, along with it are plans for new ideas, designs, and projects. To kick off the year, I am starting out with a card that works for any occasion. It is filled with beautiful pink blossoms from the Brilliant Blooms stamp and die set by My Favorite Things.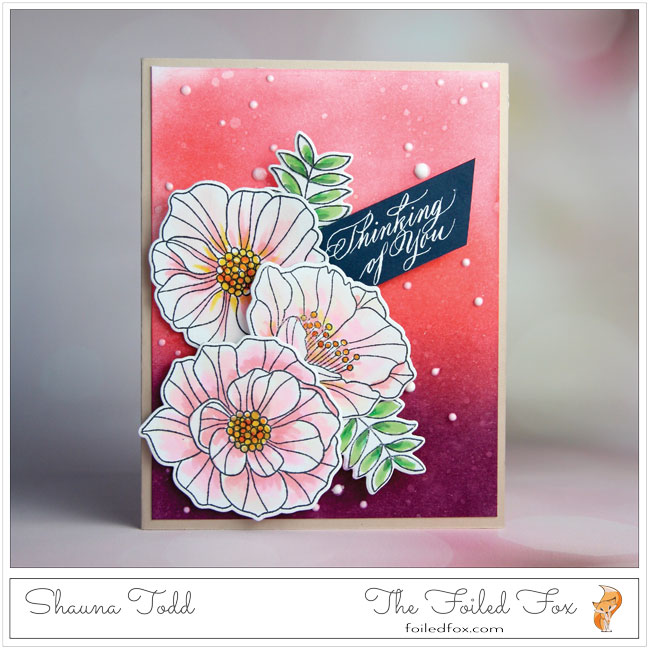 This card is easy and fast to make. It begins with the background. It is simply created by first starting with a piece of Bristol paper and blending on a lot of distress ink. I used Worn Lipstick, Abandoned Coral and Seedless Preserves. I always start with the light color over the entire panel just to get ink on the paper, then I added the Abandoned Coral distress ink about one-third the way down and finally Seedless Preserves on the bottom third. I continued to add ink until the panel was to my liking, then lightly splattered water with a tiny brush and blotted dry to give a slightly mottled look. The panel was then set aside to dry.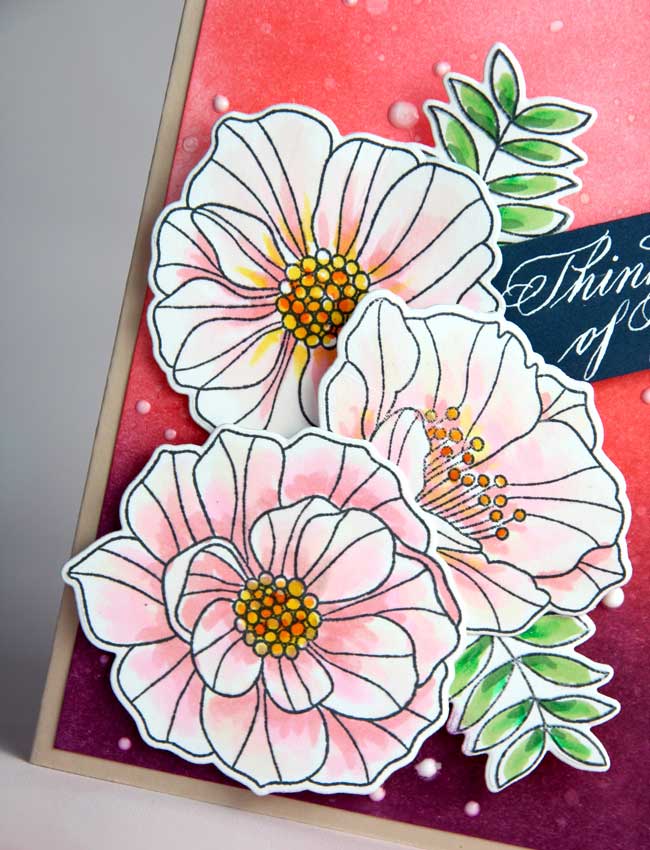 While the ink was drying, I stamped the flowers and leaves onto a piece of Neenah white cardstock using Memento Tuxedo black ink, then colored them with Copic markers. I used  R000, RV10, R32 for the pinks and Y0000 for a little yellow accent. The centers were colored with E23, Y15, and YR07. For the leaves, I first used G43, which is a lighter green, then G03 for contrast and G46 for shading. After finishing the coloring, I cut them all out using the matching dies.
With the background and flowers done, all that is left is to assemble the card and add a few finishing touches. Using a piece of  'Chocolate Malt' cardstock, I created a card base slightly larger than the inked panel, then mounted the panel onto the card base. Next, I arranged the flowers and leaves and adhered them with some foam tape. I added white dots with the Nuvo Simply White crystal drops. While the drops were drying I created the sentiment. I had a devil of a time finding the right sized sentiment. I never found one so I lettered the sentiment with Dr. Ph Martin's Bleedproof white ink and a dip pen onto a strip of Blueberry Sour card stock.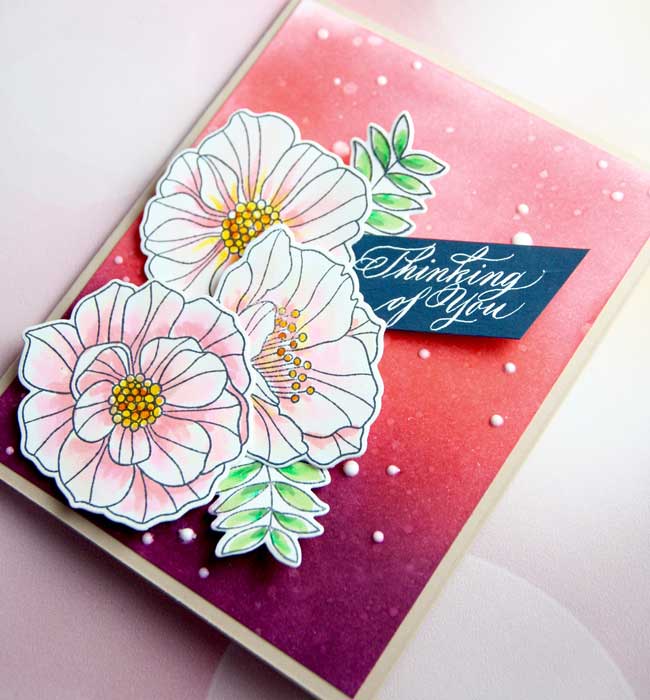 When the ink was dry, I trimmed the sentiment strip down to size and nestled it among the flowers. And there we have it… a versatile card for any occasion!

Goodies Used: