I am squeezing in another Valentine's Day card before the holiday is over – whew! I just made it. I hope you enjoy this one!
This card has a big red heart and beautiful flowers, all the essentials for a perfect Valentine's Day. With a few Shimmerz sprays, Brusho and a heart die, along with the Penny Black's Creative First Blooms die set, it all comes together.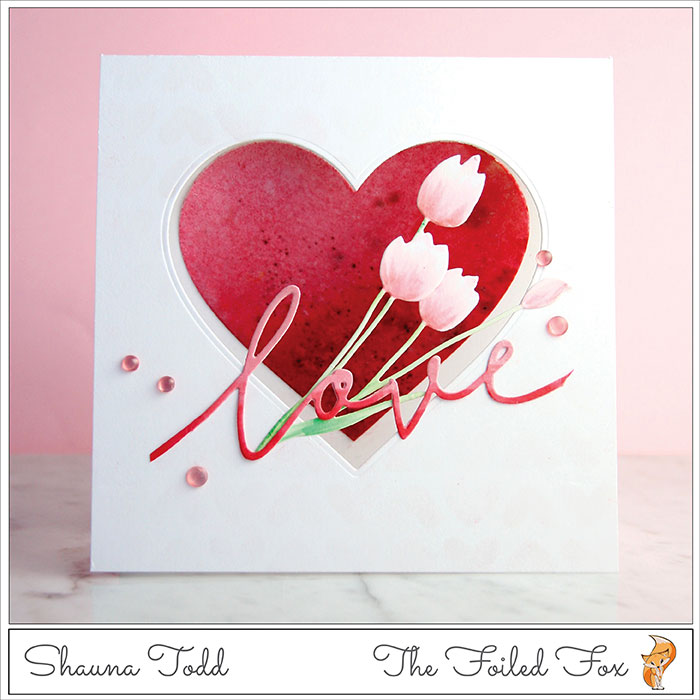 This card started out with a square Neenah white card base with a heart cut from the center of the front, using a large heart die from the Hero Arts Heart Infinity die set. I set aside the cut-out heart for a moment while I  stenciled hearts on the front of the card using the My Favorite Things Full of Heart stencil, Delicata White Shimmer ink, and a blending tool. You can barely see it in the photos but believe me, its there and adds a nice shimmery touch ♥!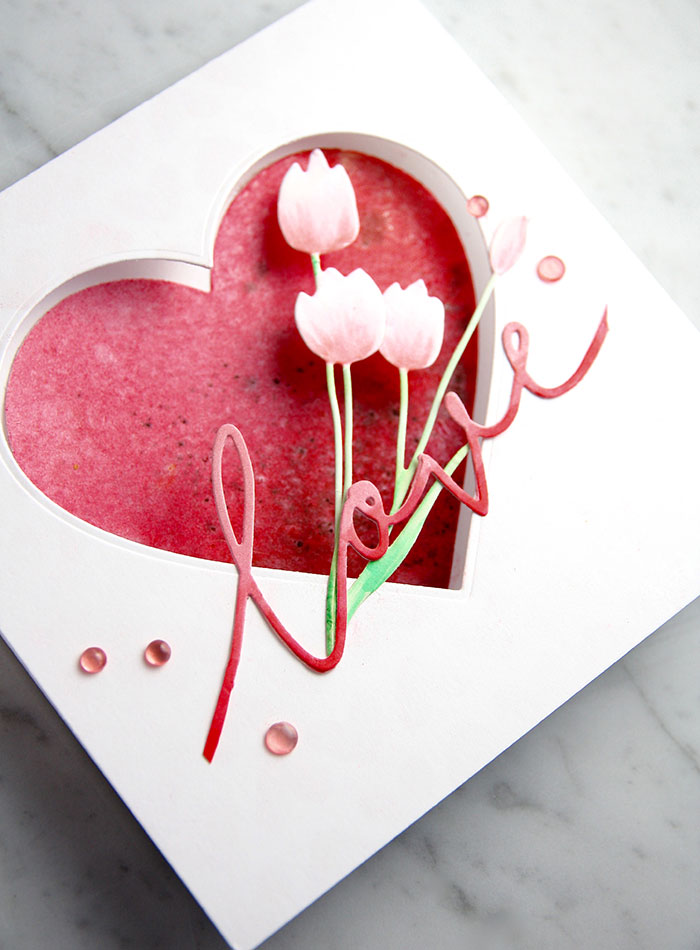 With the card base stenciled, I started to color the heart. To do this, I first sprayed the whole heart with the Cotton Candy Spritz Shimmerz spray, then using the Sweet Heart Vibez spray, I sprayed about two-thirds of the heart, leaving the upper left corner lighter. The right one-third of the heart was sprayed with Bed of Roses Spritz spray. This creates a gradation of color.
To spark it up a little and to give more depth of color, I then sprinkled a tiny bit of Brusho Scarlett and Brilliant Red crystals and lightly spritzed it with water. This gave it a more mottled look. I left the heart to dry naturally so the Brusho could continue to work its magic!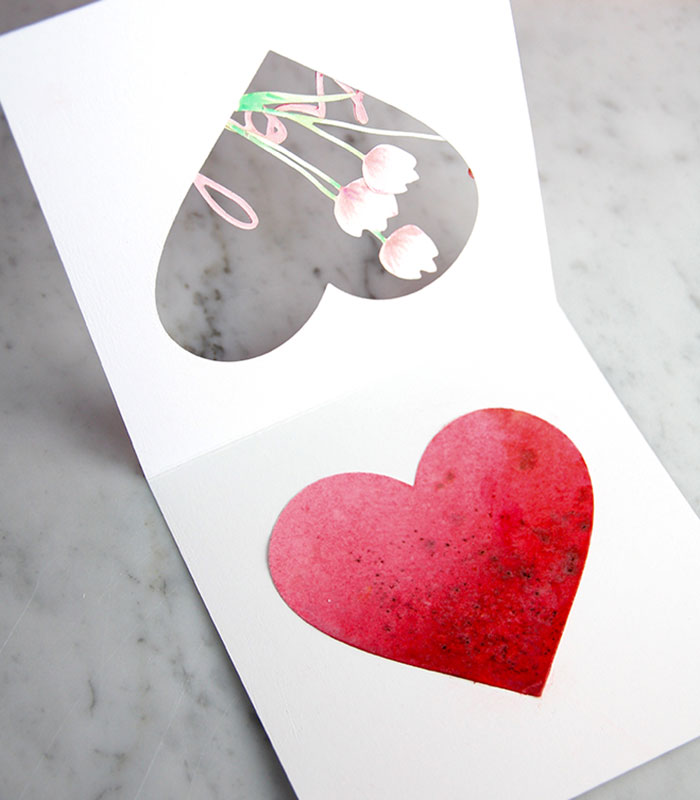 While the heart was drying, I cut some tulips from the Penny Black First Blooms die and a few 'Love" sentiments from the Concord & 9th Love Always Dies. I then colored the flowers (front and back – since it will show to the other side with Copic Markers R81, RV13 and RV04. The leaves were colored with G21 and G03.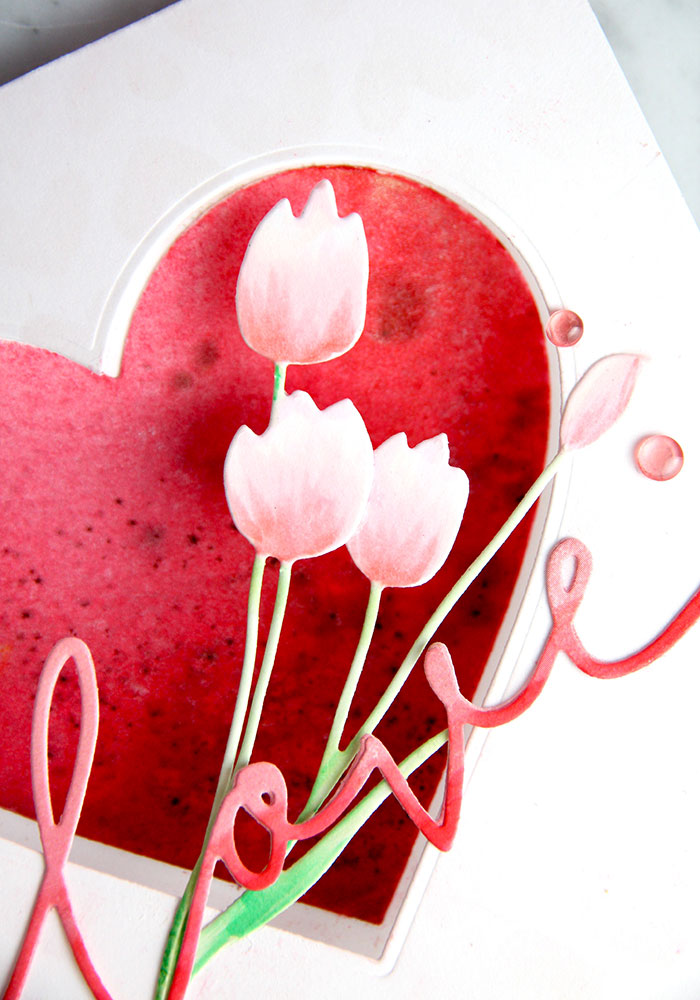 For the sentiment, I glued one 'love' on top of the other and then colored it with Copic markers in an ombre style. This is easily accomplished by first coloring all the word with RV13, then only the middle third with R35 and the bottom with R39. Now, all that is left to do is a simple assembly.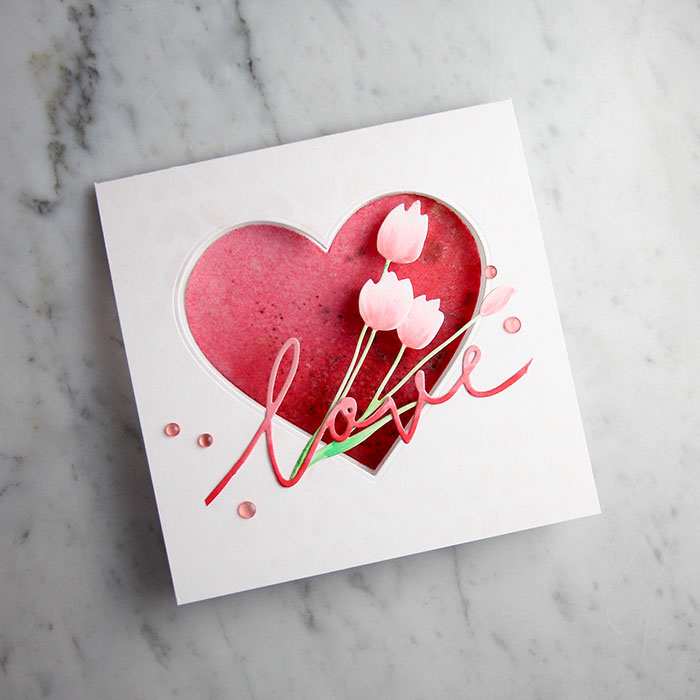 The colored heart was positioned and glued to the inside of the card to match up with the heart cut out on the front. Next, the tulips were arranged and glued on only the bits that overlap the card and the 'love' was layered over top and adhered. A few Queen & Co red and pink droplets were added.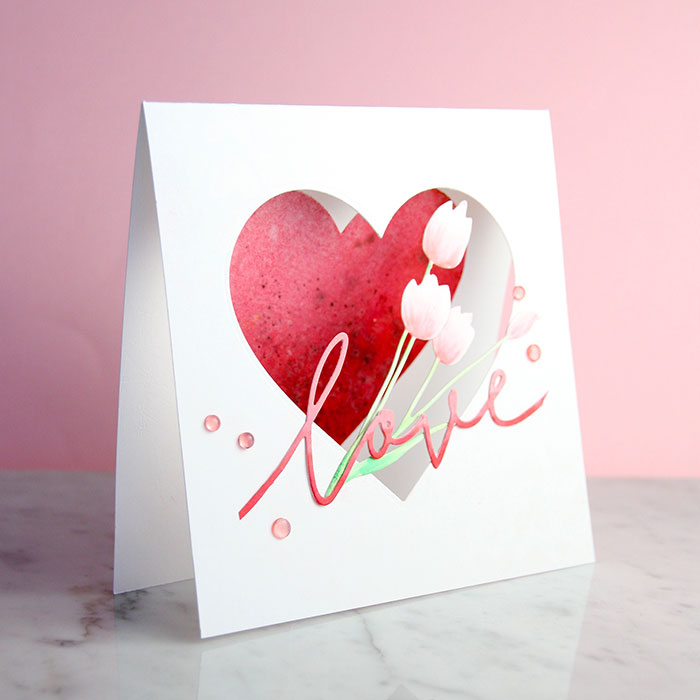 Thanks for stopping by… see you next time!

Supply List:
Penny
Black
First
Blooms
Creative
Dies

Hero
Arts
Nested
Hearts
Infinity
Dies

Concord
& 9th
Love
Always
Frame
Dies

My
Favorite
Things
Full of
Heart
Stencil

Shimmerz
Cotton
Candy
Spritz Spray

Sweet
Heart
Shimmerz
Vibez
Spray

Bed of
Roses
Spritz
Shimmerz
Spray
Brusho
Crystal
Colour
Set

Delicata
White
Shimmer
Ink pad

Neenah
110lb.
Solar White
card stock

R81
Copic
Marker

RV13
Copic
Marker

RV04
Copic
Marker

R35
Copic
Marker
R39
Copic
Marker

G21
Copic
Marker

G03
Copic
Marker

Zig
Two-way
Glue
Pen

Queen
& Co.
Red
Resin
Droplets