Hi there,
I love the rain! It always puts me in a creative mood. And by chance, it is raining cats and dogs today but we all know that Spring and Easter is right around the corner. And with Spring comes Easter bunnies, new life and lots of flowers.
This card could be for a new baby or Easter, or those that love the Velveteen Rabbit story like I do. It was one of my children's favorites and I think this bunny stamp was just made to be a Velveteen Rabbit, don't you?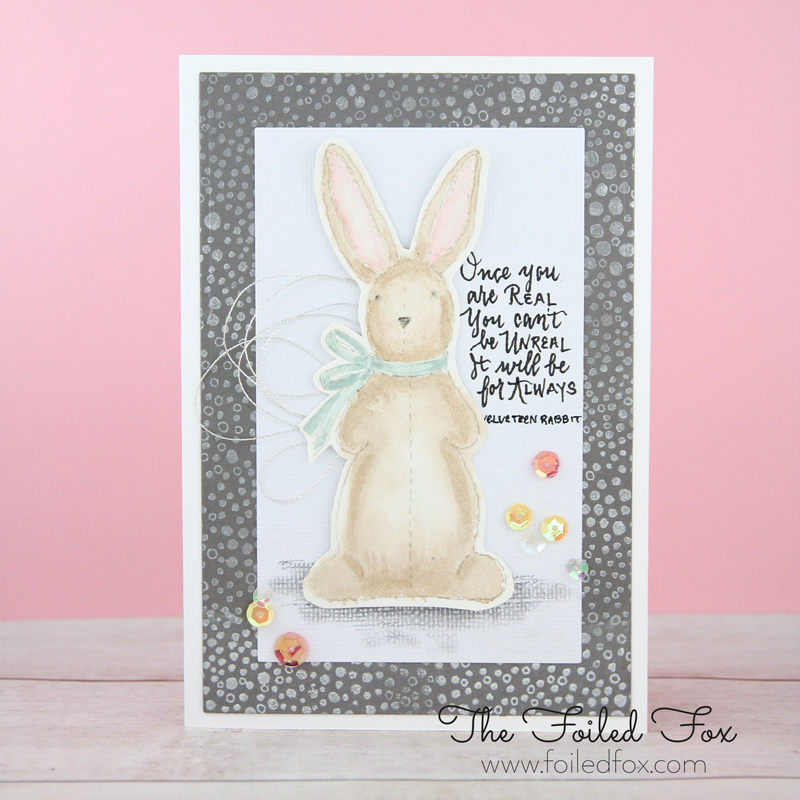 At our Foiled Fox store, we just got in a fresh order of outstanding stamps from Impression Obsession. Here are 2 great examples!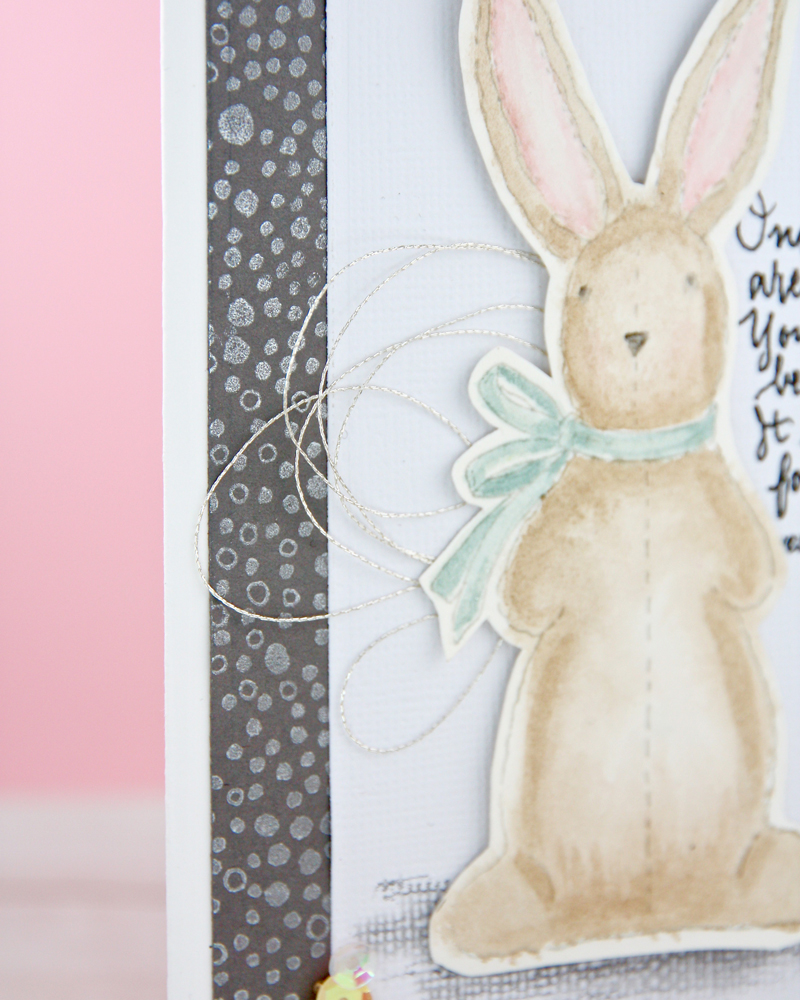 To begin, the background was created using the new Impression Obsession Cover-A-Card Fizz background stamp. It was stamped onto Sugar Wafer cardstock with the new, and totally fabulous (no lie, this stuff is sensational!) Delicata White Shimmer ink. This ink has the right amount of pigment and the perfect bit of shimmer!… not to forget the wonderful background. I can't say enough how I love this background. I seem to be using it on so many projects!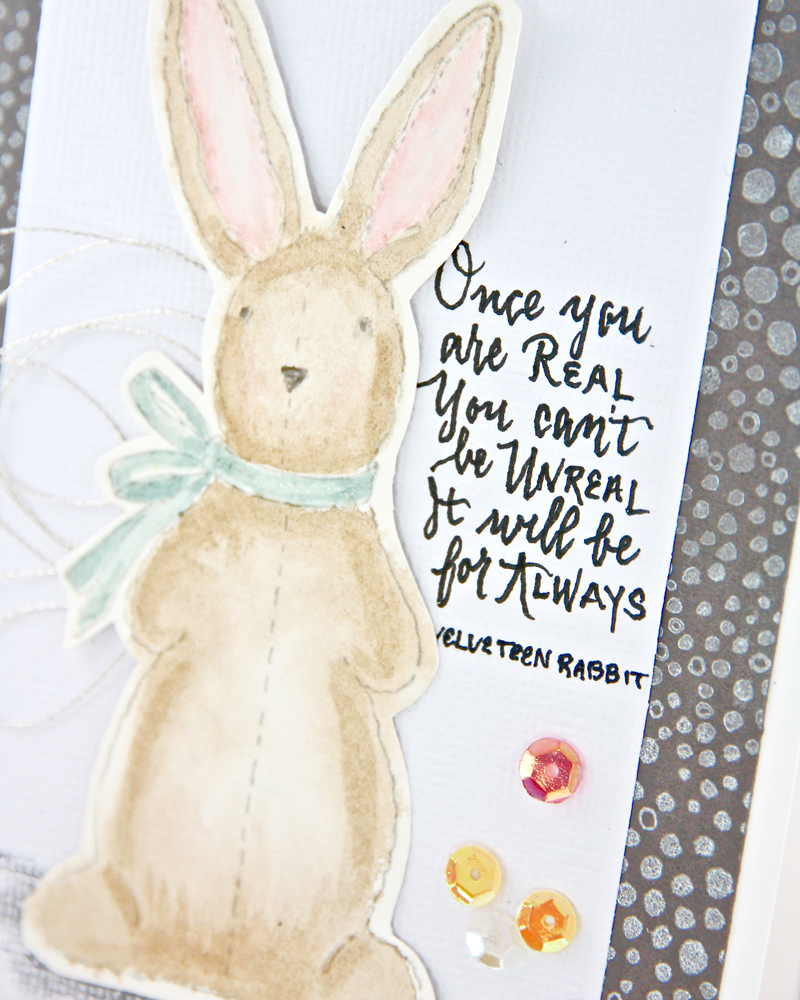 The bunny rabbit is the new Impression Obsession Cuddle Bunny stamp. It was stamped onto watercolor paper, using VersaFine Smokey Gray ink,  an oil-based pigment ink and it will not bleed with watercolors or markers. The bunny was then watercolored with taupe-y browns (brown paint, with a touch of black and water to make a watery wash). The bow is a baby blue with a touch of green and don't forget the pink inside the bunny's ears.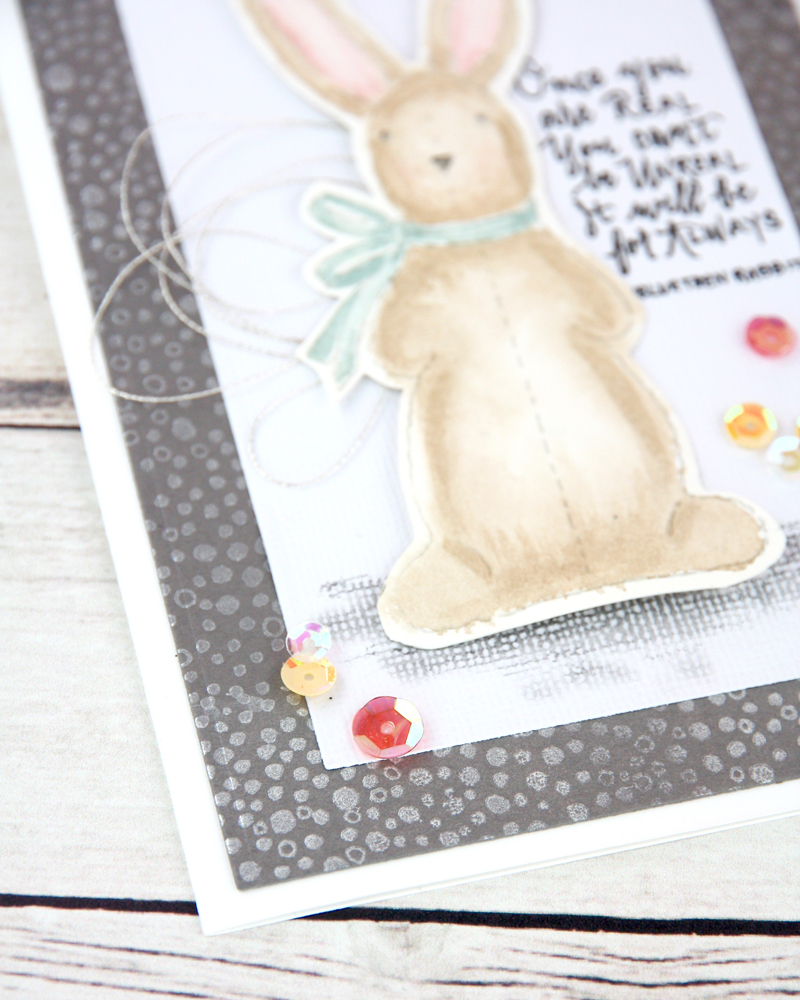 When dry, the bunny was cut out with scissors and foam tape was added to the back. The bunny was mounted onto a piece of Bazzill white textured paper where I had written my favorite quote from the Velveteen Rabbit story using a Pigma Micron pen.
After the bunny was mounted, I wanted to add a bit of 'ground' under the its feet. This was simply done with a soft pencil and blended with a blending stump (a soft paper felt with double pointed ends used for blending charcoal, pastels, etc).
The background was mounted to a white card base and the top panel with the bunny was placed on top. A few loops of DMC silver thread was added, along with a few clusters of sequin.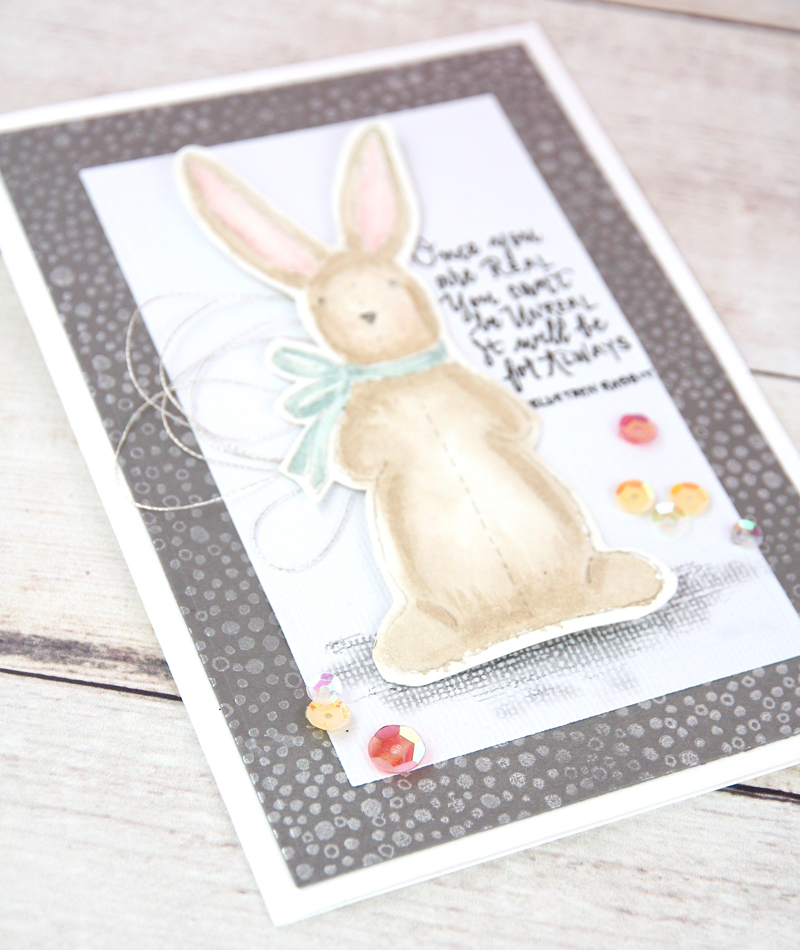 Thank you for joining me today! And don't forget to comment and/or follow us on Facebook, Twitter, Instagram and Pinterest to have a chance to win a $35 gift certificate. Bye for now.

Supply List:
Impression
Obsession
Cuddle
Bunny
Stamp

Impression
Obsession
Cover-A
Card
Fizz
Stamp

Bazzill
Sugar
Wafer
Cardstock

Bazzill
Mono
Textured
White
Paper

Neenah 110lb.
Solar White
card stock

Canson
Watercolor
Paper
Kuretake
Gansai
Tambi
Watercolors

Heritage
Arts
Blending
Stumps

Delicata
White
Shimmer
Ink pad

Versafine
Smokey
Gray

Pigma
Micron
Design
Pens

Neat & Tangled
Pixie Dust
Sequin
DMC
Silver
Metallic
thread

Foam
Tape

Tombow
Tape
Runner

Micro
Glue
dots