Hi Creative Friends,
I am sharing a winter scene where my little critters have gone postal (haha- in a good way)!  There are a few things I am a real sucker for. One is a beautiful door stamp, another is mailboxes. Call me crazy but these critters and mailbox by Purple Onion Designs are so cute and quite perfect!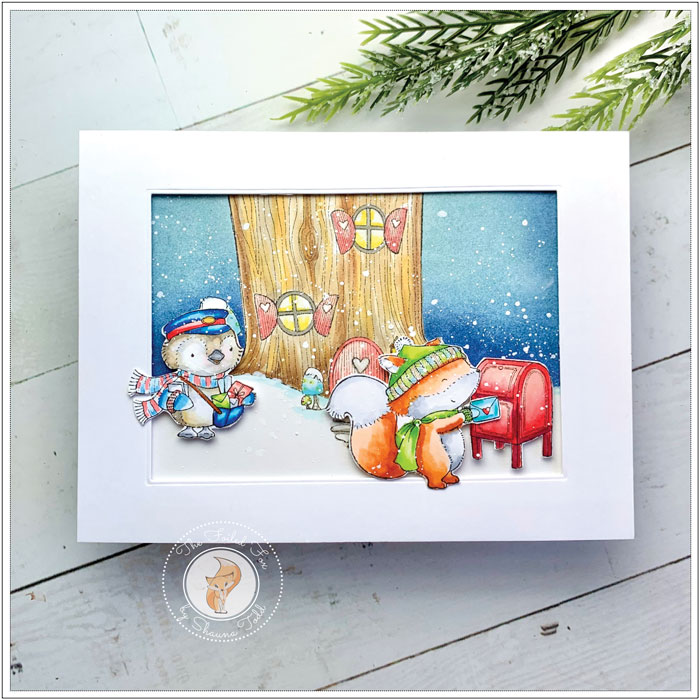 I started with the critters and mailbox. I like to get the main characters or pieces done so I can have a good play with how to arrange them.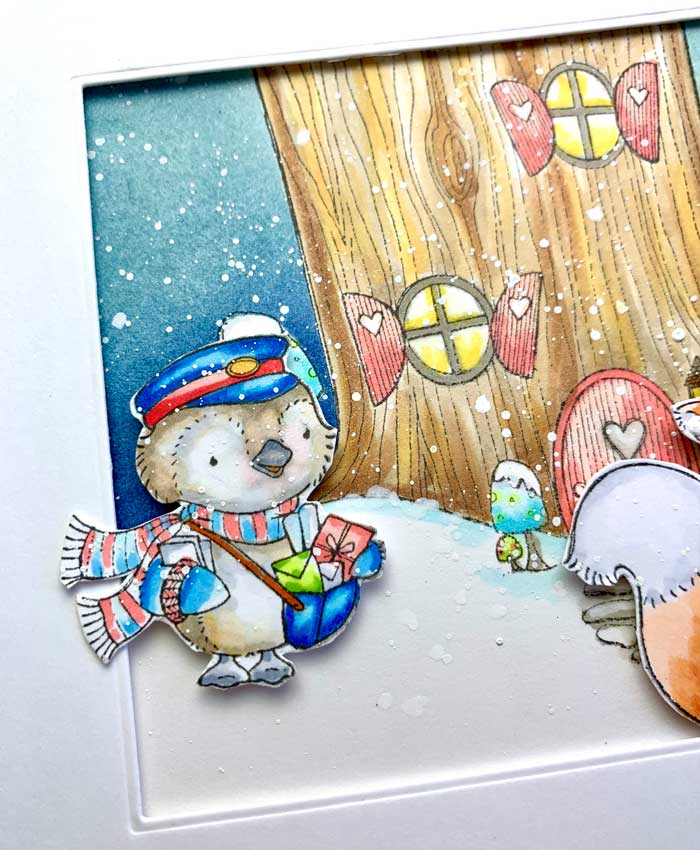 I stamped the penguin, fox, and mailbox with an alcohol ink-friendly ink onto a piece of Neenah white card stock. Then, colored all the critters and mailbox with Copic alcohol markers. There are so many alcohol markers out on the market now so choose the ones you have in your craft room. But just in case you would like to know what I used, here is a guide.
When the critters and mailbox were done, I carefully fussy cut them out and set them aside while I made the background. Using the same Copic-friendly ink, I stamped the treehouse onto a larger white cardstock panel. I also stamped the treehouse onto a piece of masking paper.
With a pair of detail scissors, I carefully cut the treehouse out of the masking paper. When I reached the bottom of the tree on each side, I extended out the sides to create a snowy bank on each side. I took a quick pic to give you a visual idea of what  I mean.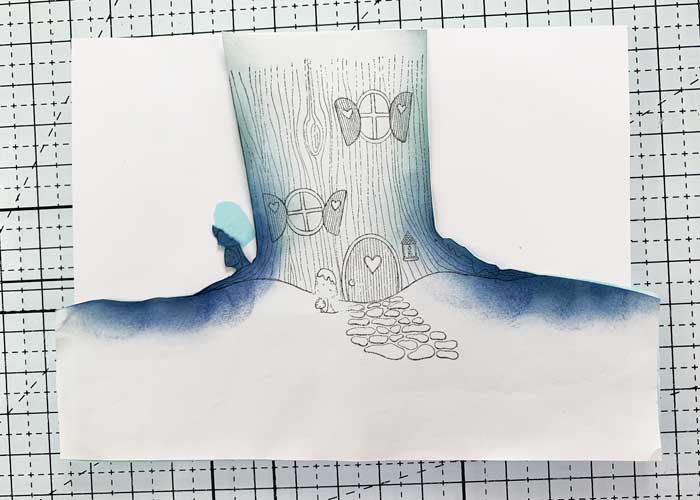 With the mask in place and covering the treehouse and snowbanks, I blended on some distress inks. I started with Speckled Egg over all of it. Then added Broken China on the middle third and Chipped Sapphire at the bottom of the treehouse, giving a graduated blue sky.
Once the sky was done, I peeled off the mask and colored the treehouse with Copic markers. I used soft colors as I wanted the background to be subtle.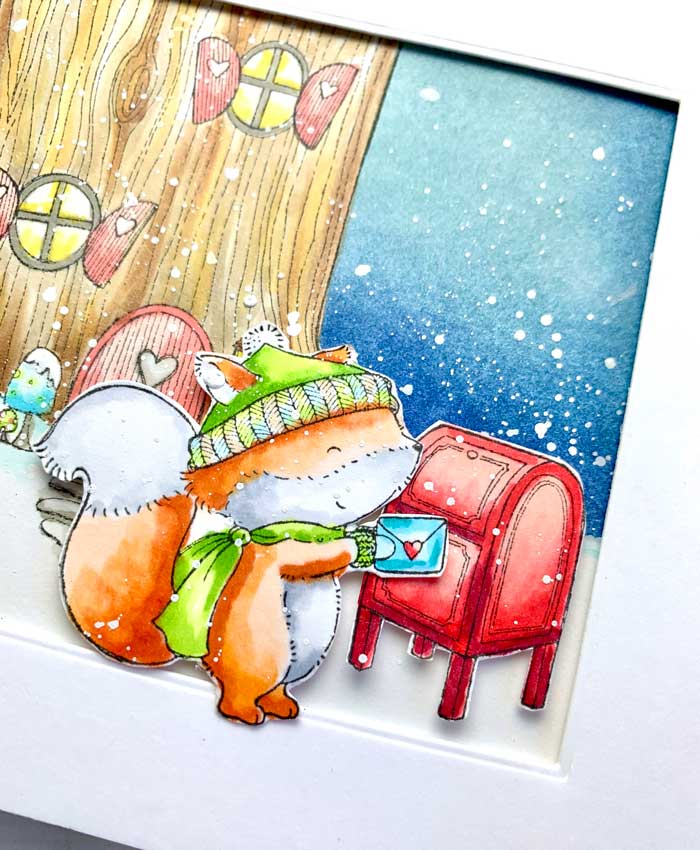 All the pieces were done and ready to assemble. I mounted the treehouse panel to a white card base. For the border, I cut a rectangle the size of the card base, then using a rectangle die, I cut out the center. This created my wide border which I mounted with foam tape to the card front. The critters and mailbox were arranged and pressed into place with a bit of foam tape to pop them up.
This is a winter scene after all so I had to splatter my favorite white ink, Dr. Ph. Martin Bleedproof White on the panel and critters for a sprinkling of snow.
Then, I created a sentiment strip on black cardstock but in the end, I left it off. The card can be used for so many occasions (ie: saying hello, Merry Christmas, miss you, etc) that I didn't want to limit how I used it. Anyway, I can still add one later if I want to!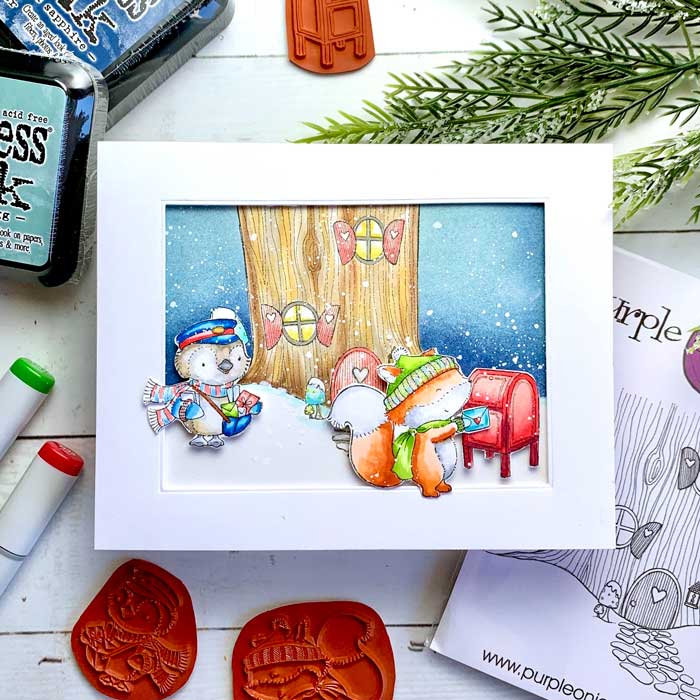 I always love the Purple Onion Designs critters, they brighten my day… hopefully it brightened yours! ♥
Goodies Used: