Hi Creative Friends,
I am super excited to share a new video for you that features two different card designs with wintery scenes, and two different techniques for each design. I have used Penny Black stamps: Landscape and Gorgeous Grove for these cards. These are two awesome scenic stamps!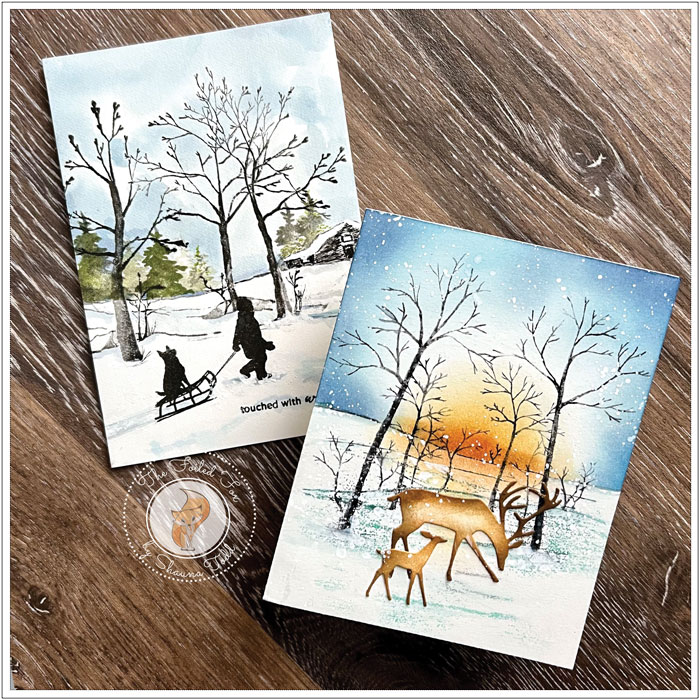 I am going to let the video do all the talking so we would love it if you took a few minutes to view it. I will, though, display a few close-ups below, along with a complete supply list. By the way, you will notice in the supply list that I have listed several archival inks and archival ink sets. You do not need all of them. You only need black, grey, and darker green archival ink. I added a selection in the supply list so you can see what is available and choose from there.
As you saw in the video, I started with the watercolor version. I am in love with the little boy and his sleigh! This card uses the Penny Black Landscape and Spread Cheer stamp sets. I used archival inks for the trees and distress inks as my watercolors.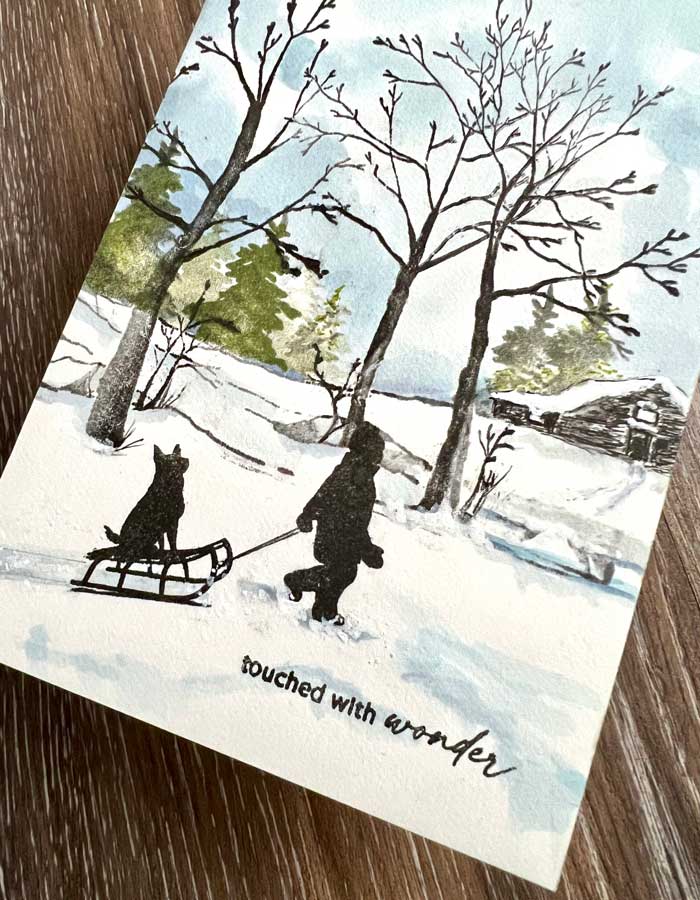 I thought Mimi a la carte (Facebook) was brilliant to suggest changing the rocky hill to a cabin. And, believe it or not, it was easier than I thought! I also added trees from the Penny Black Nature's Friend stamp set for the background.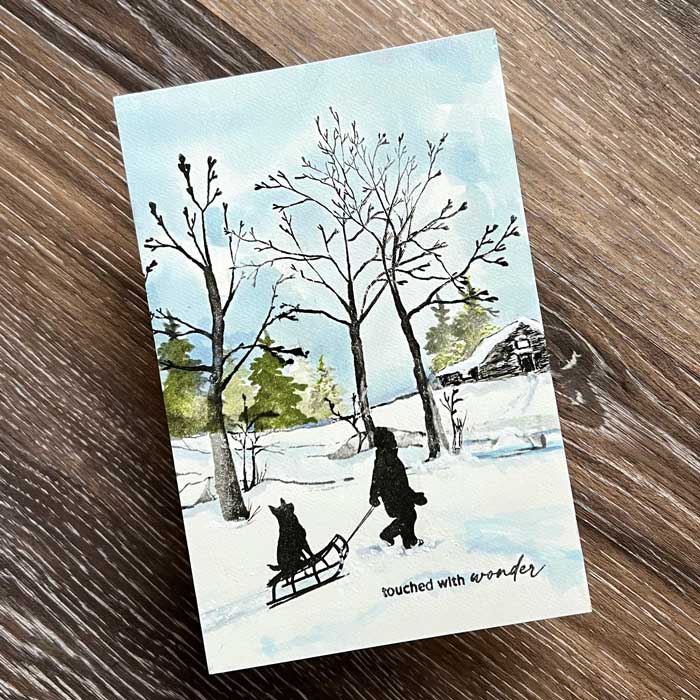 The second card design was created by using the Penny Black Gorgeous Grove stamp and Tombow pens as my ink (the video explains). I love using Tombow pens when I want to get into tight areas or use several different colors on one stamp.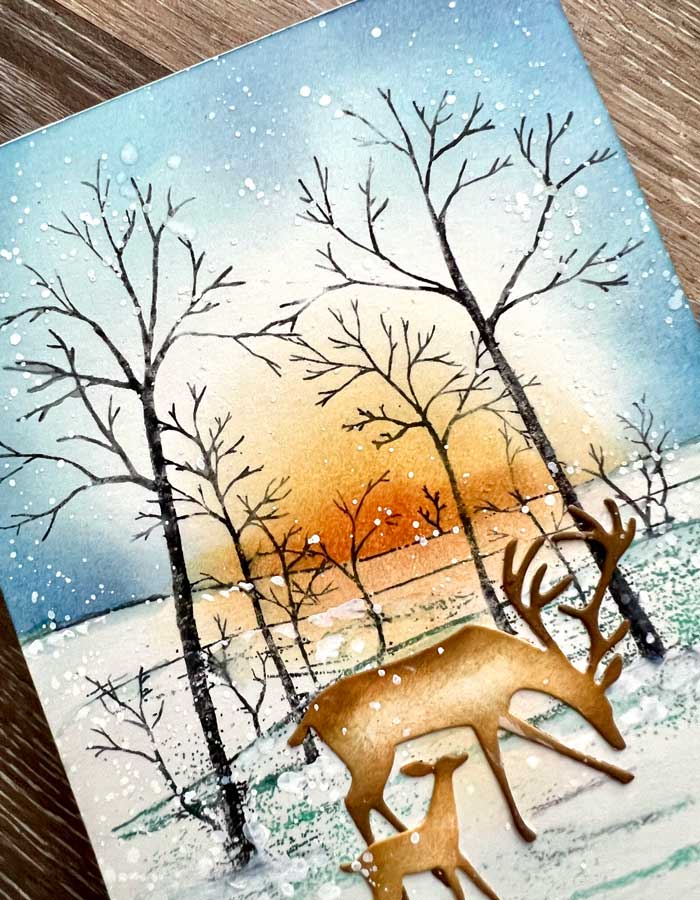 This card features a sunset (or sunrise if you prefer). I blended distress inks, namely Tumbled Glass, Salty Ocean, Chipped Sapphire for the sky and Squeezed Lemonade, Wild Honey, and Barn Door for the sunset/sunrise. I used Tombow pens for the ground. Snow was added by splattering Dr. Ph. Martin Bleedproof white ink.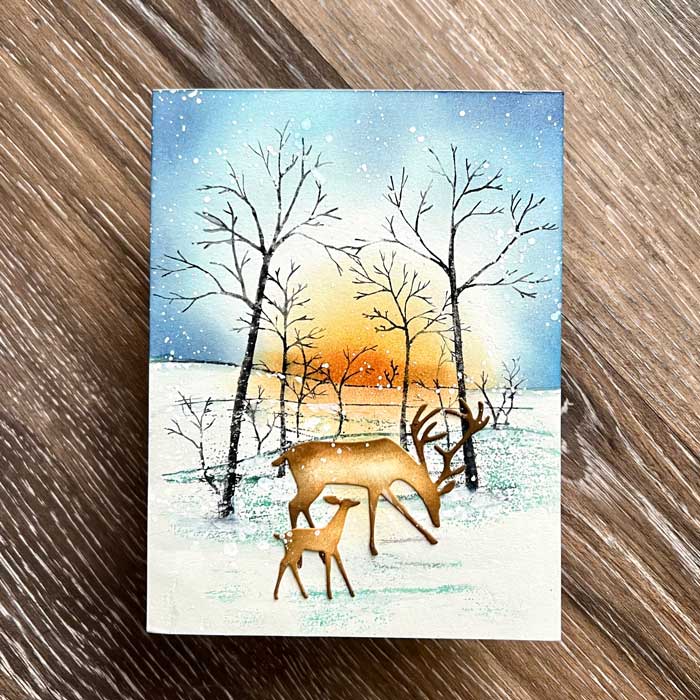 Woodsy deer were added to complete the card. I used the Darling Deer die set but I have listed a few other options for woodland creatures too. This way you can have a choice.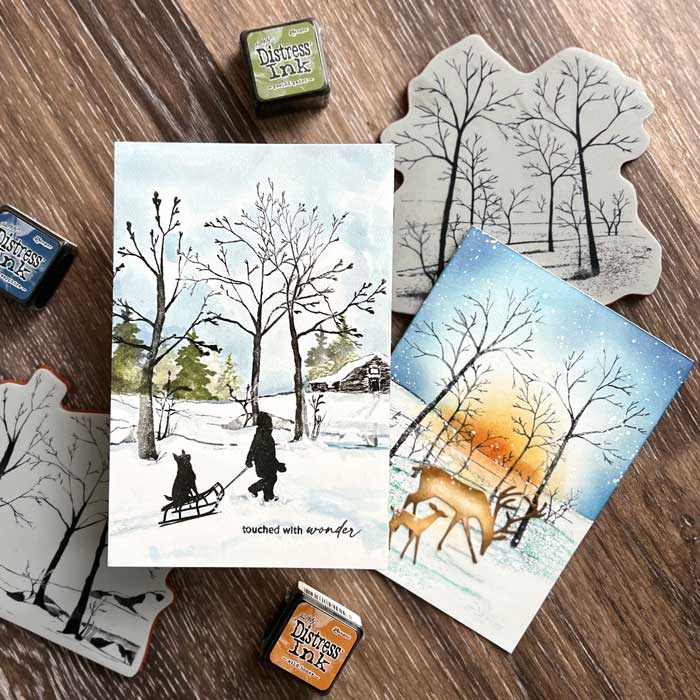 Above is another look at the two cards. You will have to let me know which one you like best!
Thanks for sticking with me through both projects. I hope you enjoyed them! ♥
Goodies Used: