Hi Everyone,
Heather Telford is with us today and she is sharing two fun and creative cards using alcohol inks and gold foil. Her results are stunning! We just love how she incorporates the gold foil with the luscious colors of the inks. The foil gives it just the perfect amount of shine!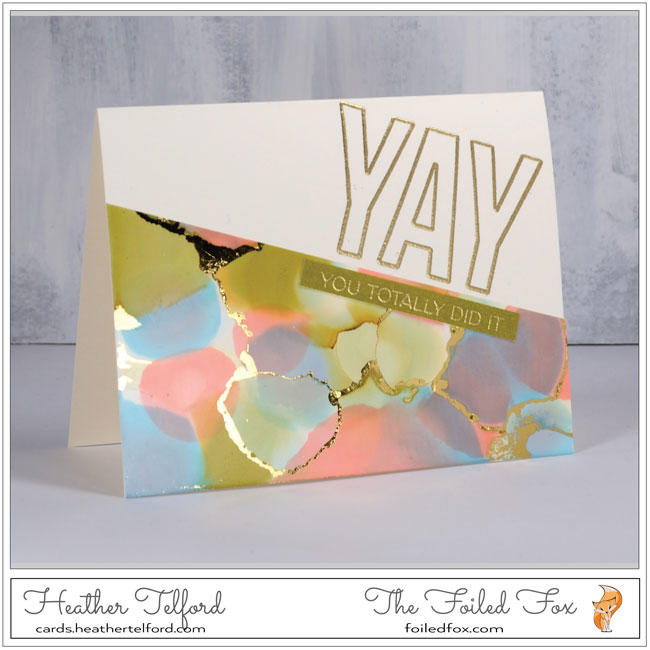 Hi, I am happy to be posting here on the Foiled Fox blog today where I can show you what I've been playing with lately. I have paired alcohol inks with some new heavyweight Yupo paper. In the past, I've used several weights of Yupo paper and this one was definitely a dream to work with. The surface of the paper works the same with alcohol inks regardless of the weight but turning it into a card is very straightforward with the heavyweight Yupo. There is no transparency so no need to back it with white cardstock to keep the colors vibrant. I didn't emboss on the Yupo for this card but I did test out some embossing on a leftover strip and there was no buckling from the heat.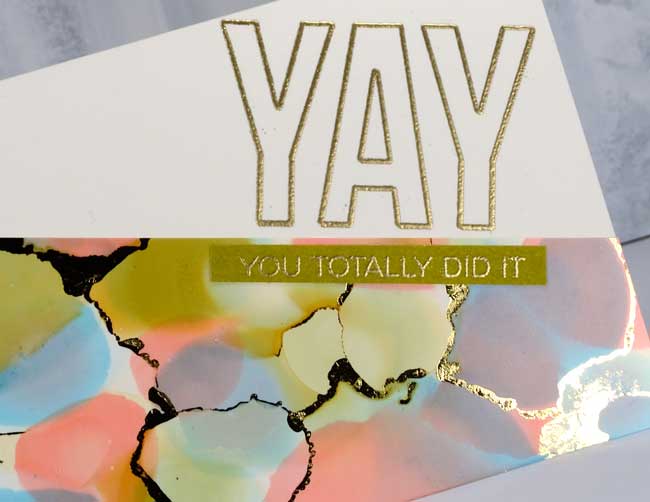 I used a whole sheet of the Yupo from the smaller 5″x7″ pad and was able to create two cards and still have a strip left over for something else. I chose to work with the Countryside alcohol ink set which includes shell pink, willow, and cloudy blue. I was interested to try a color combination the manufacturer put together.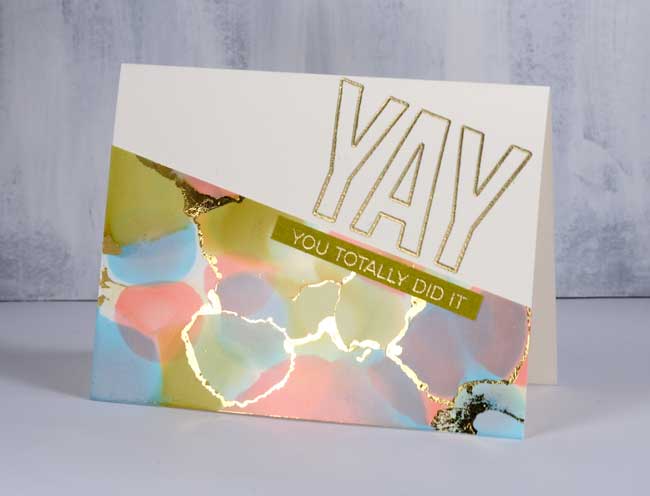 For these panels, I used a very basic alcohol ink technique where I dropped ink on the Yupo paper randomly. I dropped some close to previous drops as well as inside other circles of ink. For this panel, I did not tilt or move the ink around myself. I did drop some rubbing alcohol onto the panel which diluted some of the color. This simple pattern of three colors shows how not all inks react the same way. Some create blends, as you can see with pink and blue but others repel as is apparent with willow and blue. Where the ink dries thickly around the edges it is possible with some colors to add foil highlights just by pressing foil firmly over the panel. I ran it through my Minc on the zero heat setting. I love the circles of gold that resulted but had trouble photographing them with just the right amount of shine.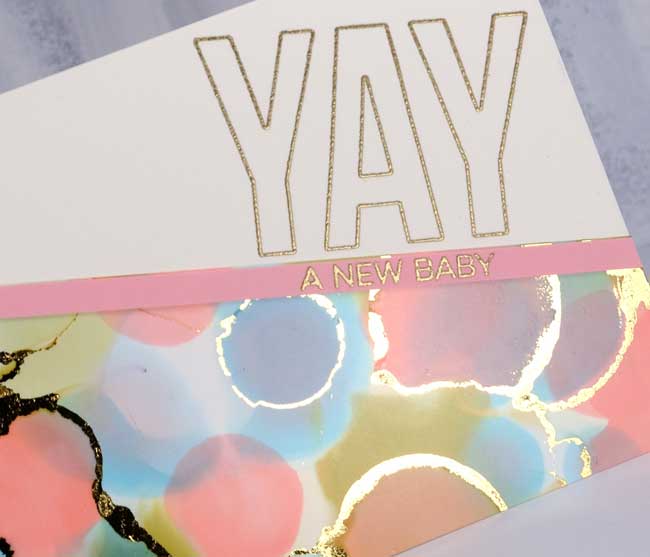 I cut two diagonal edged panels and paired them with gold embossing and the My Favorite Things 'YAY for you' stamp set. The colors did suggest a baby card so I added a pink strip to one card and embossed a baby sentiment. To the other I embossed 'you totally did it' on green cardstock to coordinate with the willow alcohol ink. I embossed the large YAY stamp directly on the card base with Delicata gold ink and WOW metallic rich gold embossing powder.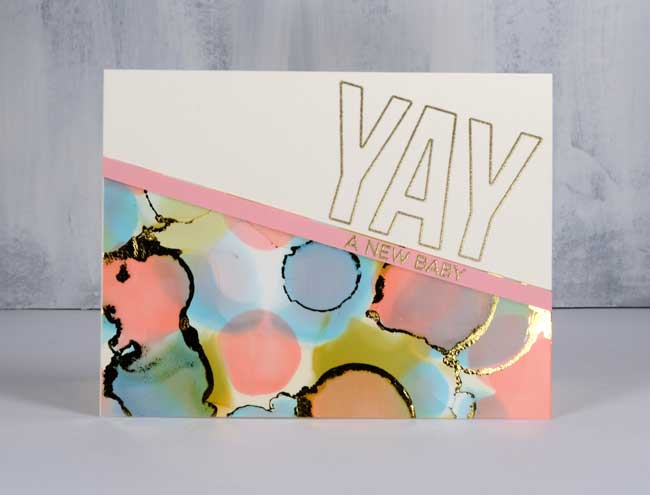 Thanks for joining me today; I hope I've given you a few ideas for your own projects.

Supply List:
My
Favorite
Things
YAY
For
You

Yupo
HEAVY
Paper
Pad

Cream
Neenah
Cardstock

Cotton
Candy
Cardstock

Delicata
Glitz
Gold
Ink Pad

Tim
Holtz
Countryside
Alcohol
Inks
Wow!
Metallic
Gold
Rich
Embossing
Powder

Gold
Deco
Foil
Sheets

Heidi
Swapp
Mini
Minc
Foil