Hi there,
One of our very favorites, Heather Telford, is visiting today. She is sharing two fabulous card designs using the Altenew's Leaf Canopy stamp set and distress inks. Heather has a magical touch when it comes to working with distress inks and stamps.
To celebrate our Color Trio card challenge going on right now, Heather is demonstrating how you can make gorgeous designs by using only three colors. We hope this inspires you to make your own three color card and play along with our card challenge.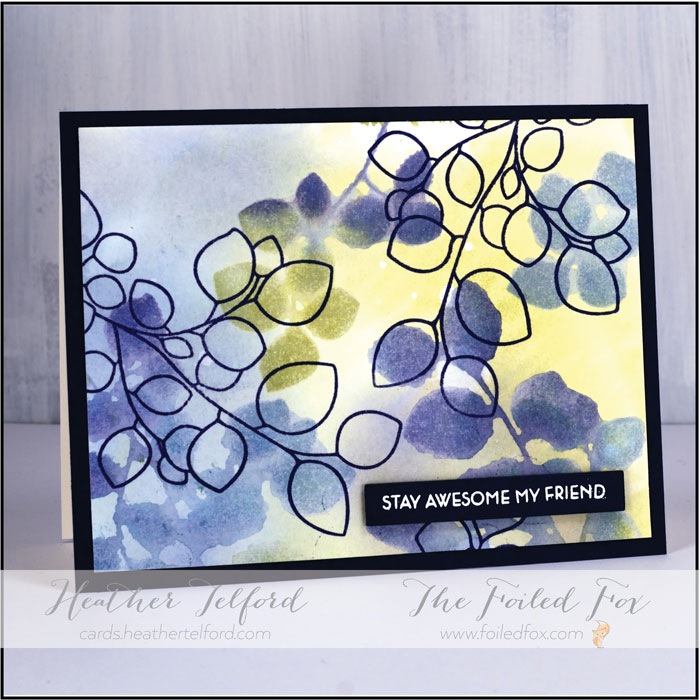 Hi my artsy friends, I am very happy to have another 'color trio' card to share with you. I've teamed up with the Foiled Fox to challenge you to create some three color cards and I'm hoping to inspire you with today's leafy cards. Three can be the magic number when creating color combinations. You can choose three from the same color family or add some contrast with a complementary color. Complementary colors are opposite each other on the color wheel and when used side by side they really create a striking contrast. Analogous colors such as the ones I used in today's cards are side by side on the color wheel and create a more harmonious calm color scheme.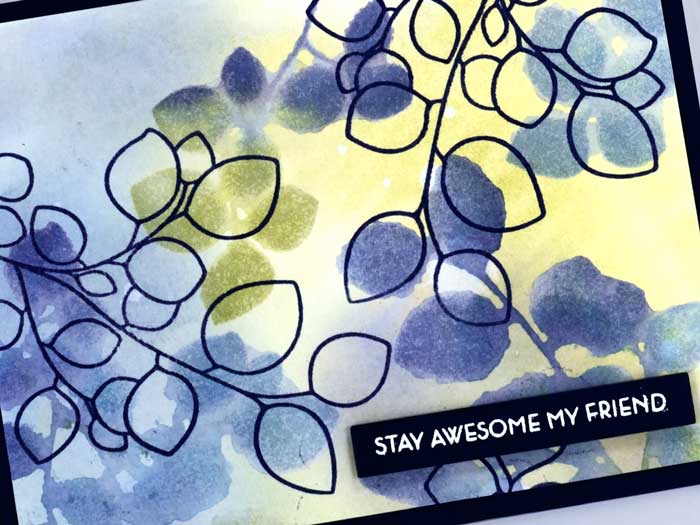 To create the soft look of these leafy cards I used the same three colors for the background and the stamping. On the first card (with outline stamping over the top) I used chipped sapphire, stormy sky and shabby shutters distress inks (not oxides). I pressed them onto my glass mat to transfer some ink then spritzed water over the ink until it started blending together. I swiped a piece of hot pressed watercolor paper through the ink a couple of times to pick up colour then dried it with a heat tool. Using my MISTI I inked the solid leaf stamps from the Altenew 'leaf canopy' set with the same three distress inks and over the ink with water so the colors were blending even before I stamped. I pressed the stamp onto the background panel and kept it there for a few seconds to let the ink soak in then opened the lid. Because I had spritzed water over the stamp the inky leaves were quite wet and extra liquid was sitting on the panel, I used the corners of a piece of paper towel to 'suck up' the extra liquid. You could also use a 'thirsty brush'. Once the panel was dry I added some water droplets, let them sit for a minute then dabbed them up with a paper towel also. I dried the panel completely before stamping the outline leaves over the top in chipped sapphire ink. To co-ordinate with the outline stamping I matted in dark blue cardstock and embossed in white on blue cardstock a sentiment from the same set. I die cut the sentiment with the Avery Elle sentiment dies again because I can't help myself; it looks so neat and then popping it up on black foam tape looks equally neat!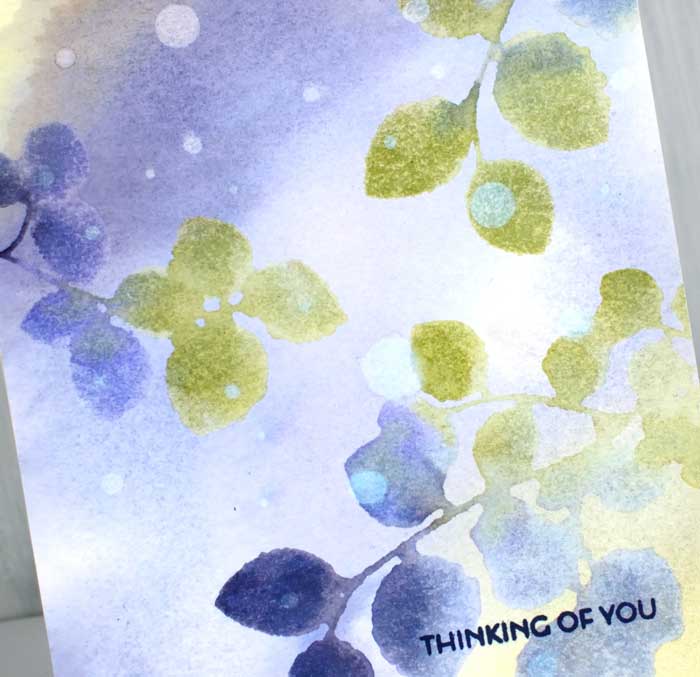 The second card is very similar but I switched one of the distress inks. Replacing the stormy sky ink with shaded lilac for a more purply blue. As I wasn't going to add any outline stamping over the top I added more water droplets which created a bit of a bokeh look. Once again I used a sentiment from the same set but stamped it directly on the panel in cobalt archival ink. I really enjoyed this technique with the soft blended background and blended leaves. The stamped leaves are dreamy rather than distinct and I'm fine with that.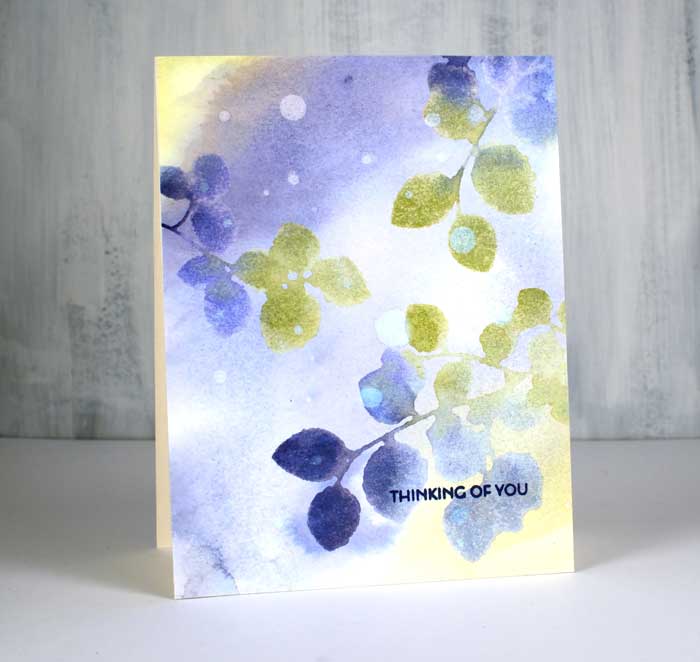 I hope you are inspired to create a three-color design and easily share it using the link up below. You have until May 30 to join in and yes, there are prizes!

For more inspiration, check out the projects here, here and here. They are already linked with this challenge.
You are invited to the Inlinkz link party!
Supplies Used: