Hi Everyone,
We are tickled pink to share this gorgeous card design by Heather Telford. She has chosen the beautiful flowers in the My Favorite Things Fine Line Florals stamp set to create this amazing design. Heather colored these flowers with vibrant colored pencils from Inktense.
Heather always has awesome projects, be sure to pop over to her blog after you ooooh and aaaah over this beauty.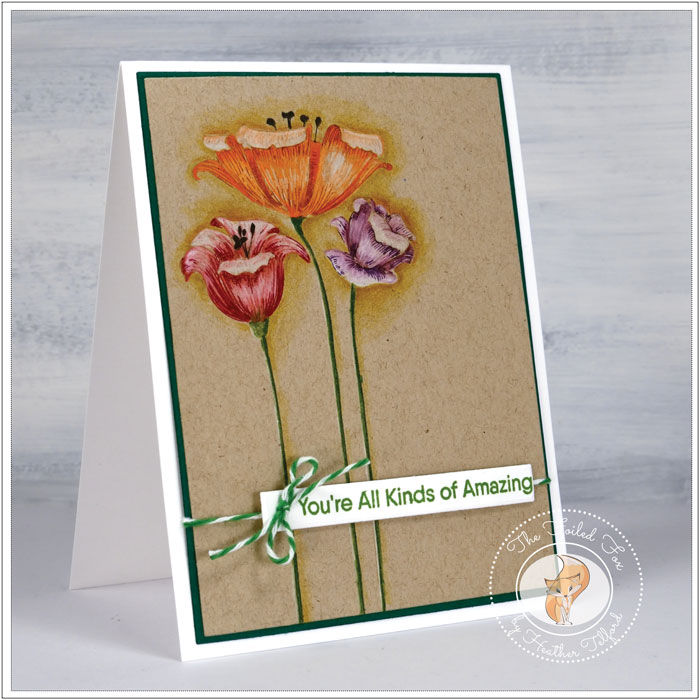 Hi there crafty friends,
I've been enjoying the floral outline stamps from My Favorite Things lately; they are very versatile stamps. So far I have tried emboss resist, pearlescent paints, no line watercolor, pencil coloring, distress ink painting, and some simple but elegant one-color outline stamping.
For today's card, I threw a few techniques into the mix. First I stamped the 'fine line floral' stamp on kraft cardstock with antique linen distress ink so I could do some no-line pencil coloring. I used Derwent Inktense pencils to color the flowers and although the pencils are water-soluble I used them without adding any water.
I initially colored each flower with a white pencil plus a color (red, orange, or purple) and did the stems with just a green pencil. Coloring a petal with white first gave me a slightly brighter base to add color to. I blended color over the white and sometimes white again over the color. The white Inktense pencil has a slightly chalky texture which is easy to blend with. The Inktense pencils I used were all from the set of 24: red-violet, felt green, antique white, cherry, and tangerine.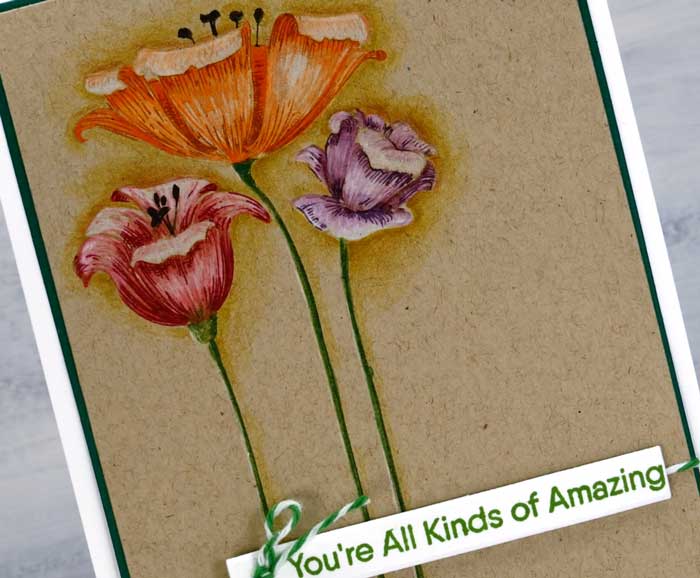 After I have colored all the flowers and stems I decided to add some detail with distress markers. I didn't want to stamp the whole image so I dabbed ink or sketched it on with a marker so I could add back some veins and shading. I paired a distress marker with the pencil colors choosing mowed lawn, candied apple, spiced marmalade, seedless preserves, and black soot. I also ran the mowed lawn marker down one side of each stem and then drew a white pencil line down the other side.
Once I had completed all the colouring I still wanted the image to pop off the panel a bit more so I shaded around the flowers with two more Inktense pencils, mustard, and baked earth.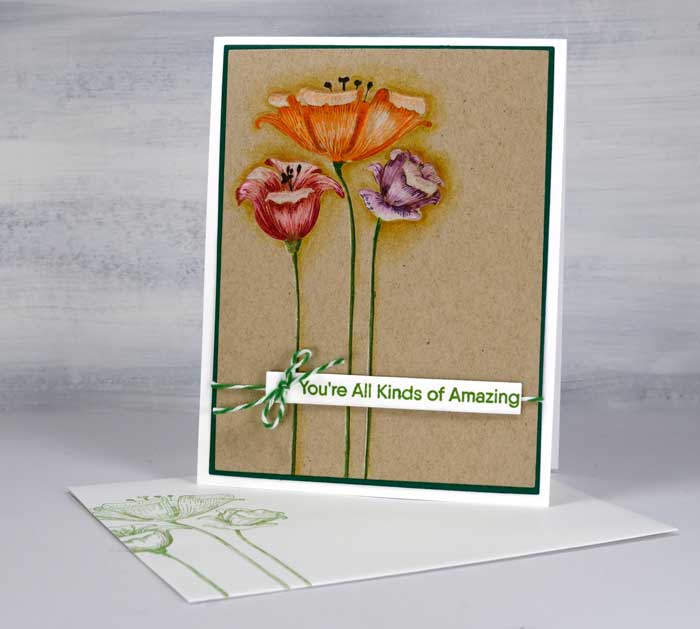 Even though the green is a minor player in the color list, I chose it for a mat and a twine embellishment. I stamped one of my favorite sentiments from the MFT 'anything but basic friendship set' in Papertrey 'new leaf' ink on white cardstock then thread the twine around the panel and through the sentiment strip before securing it with a bow.
Check out the recent MFT florals if you haven't already and stay tuned for more projects coming soon.
More about Heather: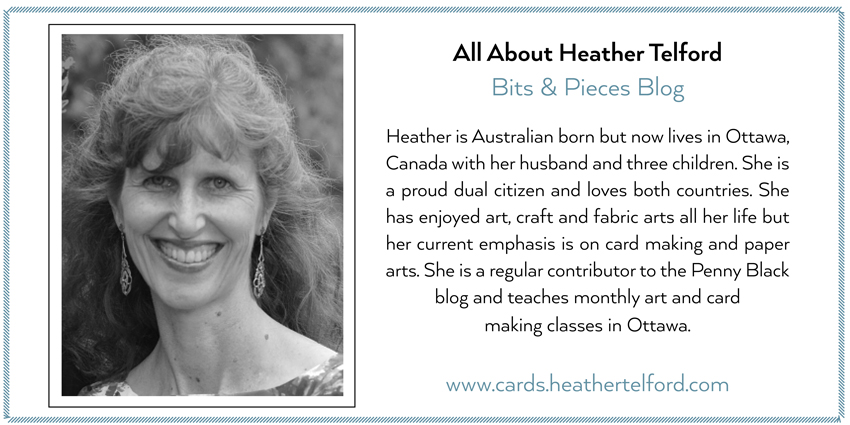 Goodies Used: