Hi Everyone,
Can you believe it? It is almost September! Fall is nearly upon us.  With this in mind, this card project is a tribute to all the gorgeous array of Autumn colors we will be seeing very soon.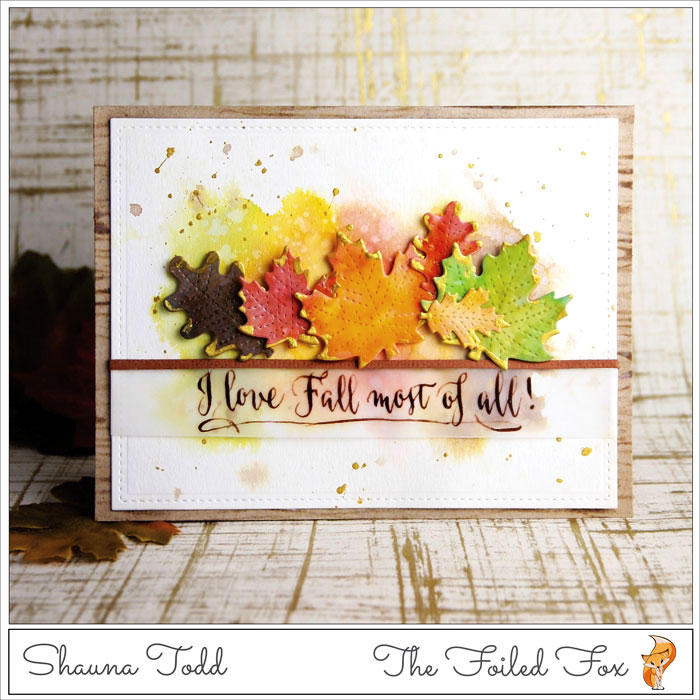 This card is all about the leaves. Using the Small Stitched Leaves set from Lawn Fawn, I cut them from watercolor paper. To prepare to color them, I smooched a spot each of Spice Marmalade, Fired Brick, Wild Honey, Walnut Stain, Peele Paint and Twisted Citron distress oxide inks onto my acrylic board and spritzed them with water.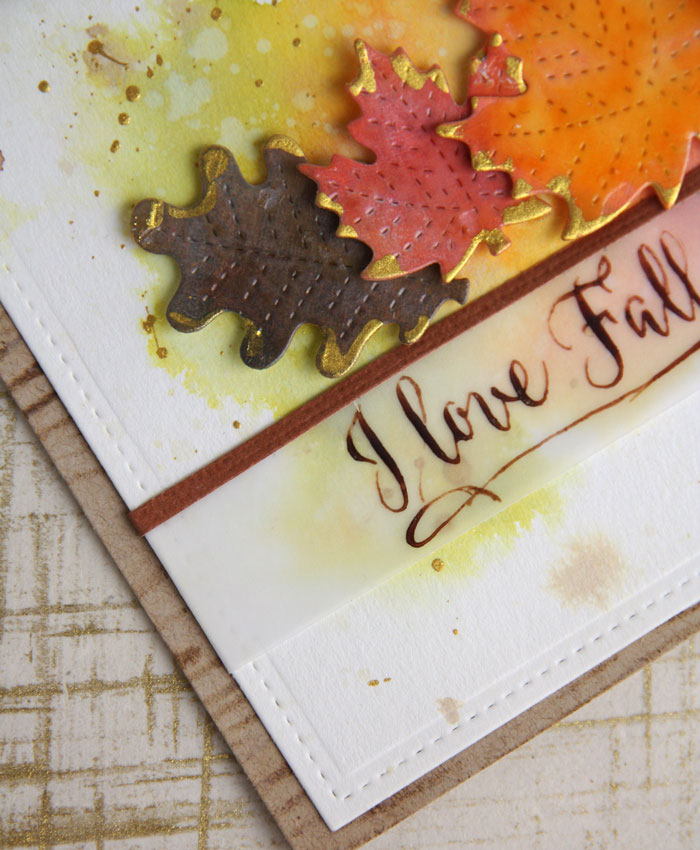 I placed each leaf into one or two of the colors and swirled it around, making sure to get a lot of color on each leaf. Then, because I am sooo impatient, I dried them thoroughly with the heat tool first and then generously slathered clear IrRESISTible Pico Embellisher over the top of each leaf (a complete supply list is below). This gives a really neat glossy finish and really brings out the vibrancy in the colors!
One caution though… you have got to let these guys dry thoroughly before applying them to your card.  I would give it a good 24 hours so they don't stick to one another.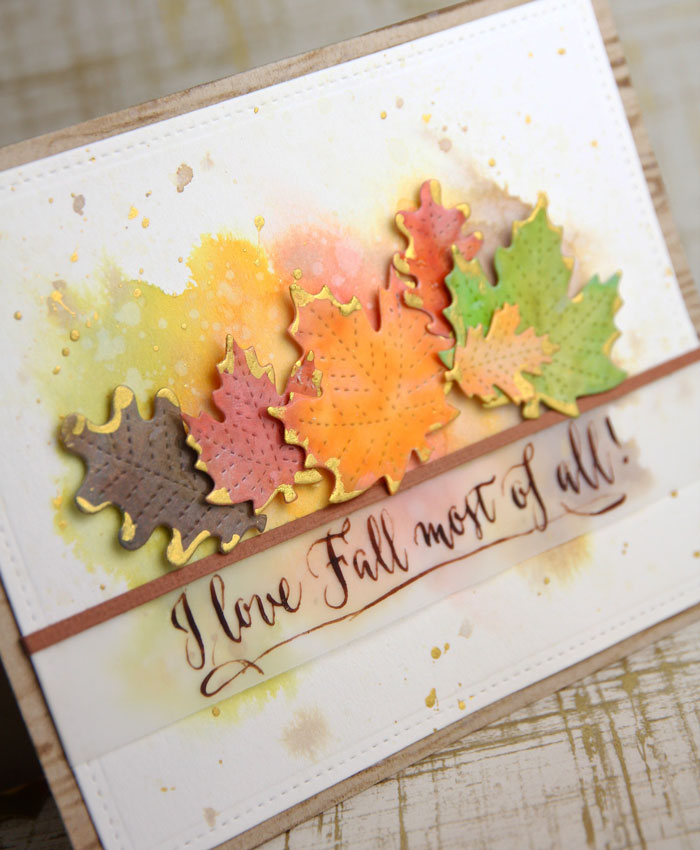 While the leaves are curing, I cut a panel of watercolor paper using the largest die from the Lawn Fawn Large Stitched Rectangle Stackables (have I told you how much I love this one die? – it cuts a full 4.25″ x 5.5″ stitched rectangle).
Using the same palate of distress inks, I first spritzed the paper with water. Then I made vertical stripes of each color and spritzed again so the stripes blurred and blended together. After the panel has dried a little, but not completely, I loaded up a brush with Walnut Stain distress ink and splattered in onto the panel.
To finish the panel, I dipped a small brush into one of my very favorite gold metallic inks, Kuretake Zig Gold Calligraphy Ink and splattered the panel again with the gold this time.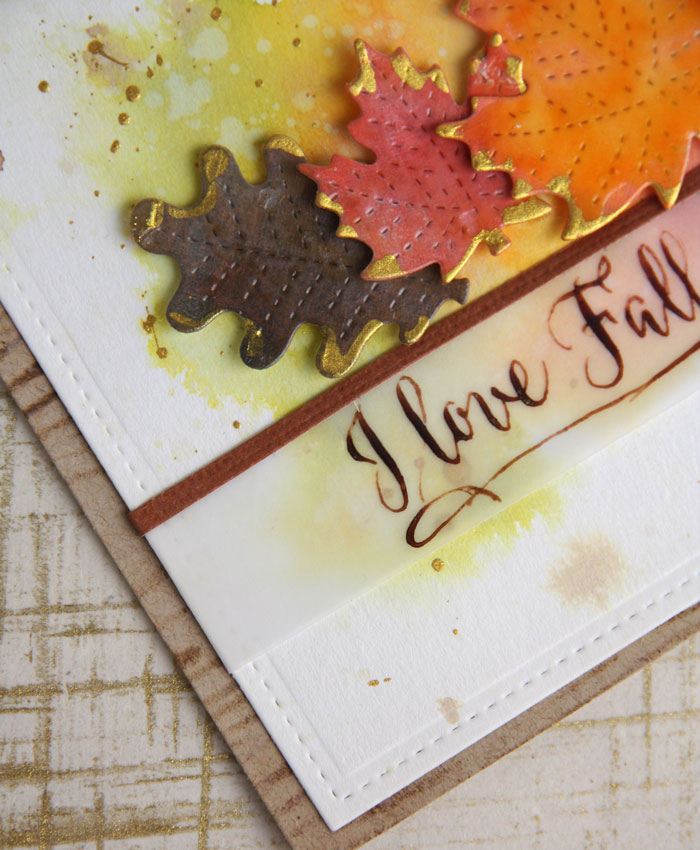 I just love this sentiment!! I hand lettered it with my oblique pen holder with a Nikko G nib and McCaffery's Brown ink onto heavy vellum (40lb) strip of paper.  If hand-lettering is not your thing then this same sentiment can be found in the Concord & 9th Give Thanks Stamp Set that you could stamp onto the vellum and heat emboss.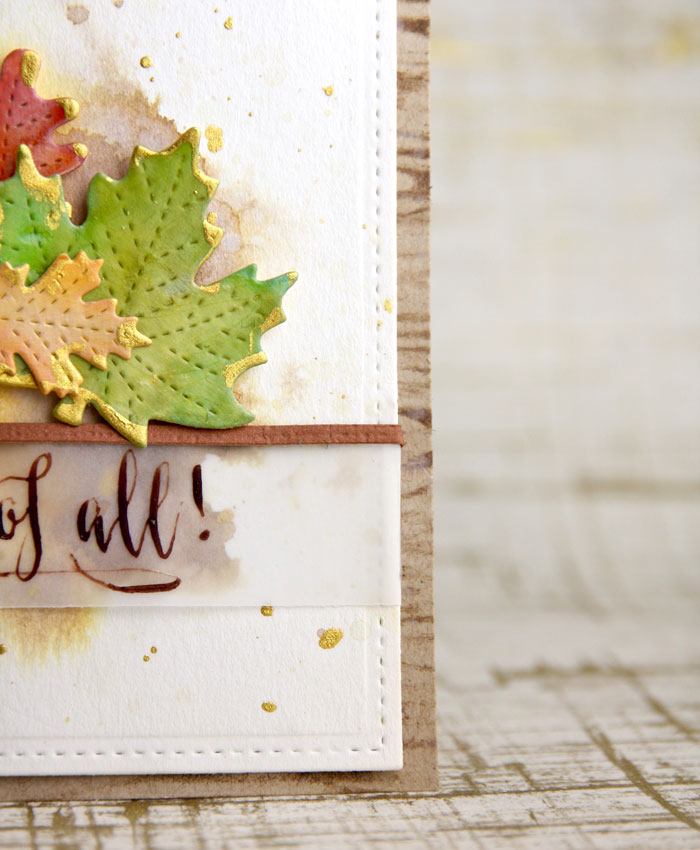 While letting the ink dry, I made a card base from Desert Storm paper and stamped the Impression Obsession Wooden Plank background stamp, using the walnut stain distress oxide ink, onto the front. I used the second generation technique (ink, stamp once on scrap paper, then onto card base without reinking) to soften the impression.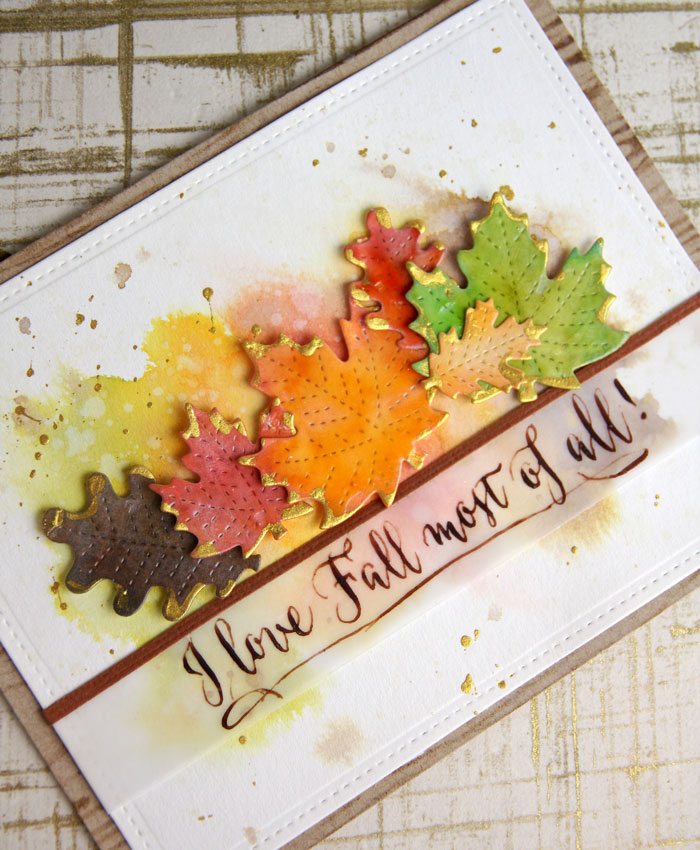 24 hours later (to let the leaves get good and dry), I gold tipped the leaves with the Kuretake Zig Gold Calligraphy ink I used before. Then assembled the card by first positioning the sentiment on the waterecolor panel, then folding the ends of the vellum to the back and taping them. I also added a tiny, thin strip of brown card stock the same way. It serves as a 'ledge' for the leaves to rest on, right on the top edge of the vellum sentiment. The leaves were added with foam tape and the whole panel was applied to the wood plank card base.
And there you go… we are officially ready for Fall!

Supply List:
Lawn
Fawn
Small
Stitched
Leaves

Impression
Obsession
Wooden
Plank
Background

Lawn Fawn
Lg Stitched
Rectangle
Die Set

Neenah
Desert
Storm
card stock

Peanut
Butter
Fudge
Card stock

Canson
Watercolor
Paper

Vellum
Heavy
40lb.
Paper
Tim
Holtz
Peeled
Paint
Distress
Oxide

Twisted
Citron
Distress
Oxide
Ink

Wild
Honey
Distress
Oxide
Ink Pad

Spiced
Marmalade
Distress
Oxide
Ink

Fired
Brick
Distress
Oxide
Ink Pad

Walnut
Stain
Distress
Oxide
Ink Pad

Kuretake
Zig
Gold
Calligraphy
Ink
McCaffery's
Brown
Calligraphy
Ink

Oblique
Pen/Nib
Holder

Nikko-G
Nib

IrRESISTible
Pico
Embellisher-
Clear

Foam
Dimensional
Tape