Hi Crafty Friends,
We are kicking off December with a BANG! First, we have the lovely Heather Telford sharing another one of her  holiday beauties. These sweet winter birds from Penny Black are singing merry melodies.
Second, there is still time to save! But you will have to hurry. Our Black Friday sale ends tonight at midnight! More about that below, but for now, let's hear from Heather!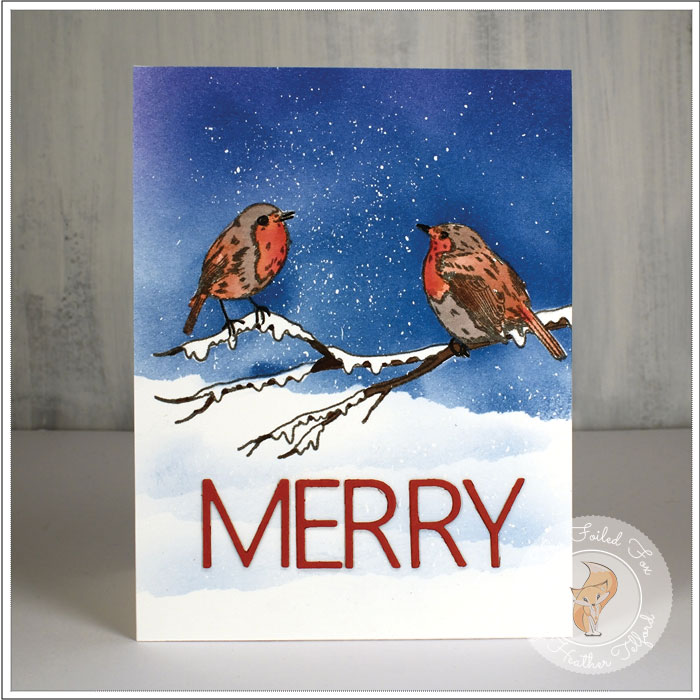 I am thrilled to be here on the Foiled Fox blog again, this time with a sweet little pair of birds. I've paired one of the new Penny Black 'Misty Melody' stamps with the '…bright' die for a wintry scene.
I worked on hot pressed watercolor paper as I planned to do a bit of blending on the birds. With the stamp in my positioner I stamped the 'birds on branch' on the watercolor paper in smokey gray Versafine ink and on masking paper also. I cut out the birds and branches so I would have a mask to cover them later.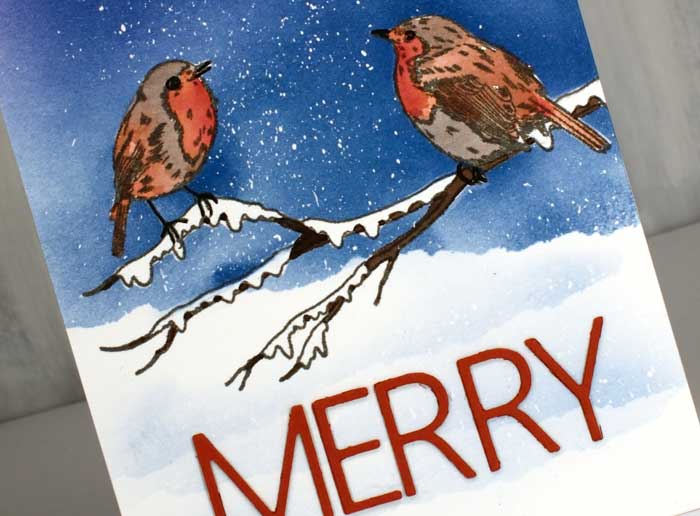 I've been planning to try out the Papertrey ink cubes as watercolour paints so I squished dark chocolate, Americana and scarlet jewel onto the glass mat where I could add a drop of water and pick up color with a paintbrush.  I found an image of a European Robin as my guide and painted the breast with the two red inks, the wings and tales with a mix of Americana and dark chocolate and the rest of the body with distress hickory smoke. I went over the beak and eyes with a black micron pen and then painted the branches in a mix of dark chocolate and black soot. Once that dried I went over the birds' feet with the micron pen.
With all the bird and branch painting done I had to decide whether to paint the background sky or blend it with blending brushes. I chose blending brushes and positioned my stamped bird/branch masks to protect the painted birds. With the mask in place I splattered masking fluid over the whole panel and let it dry. I tore the edge off a piece of post-it note to mask a snow bank just under the birds.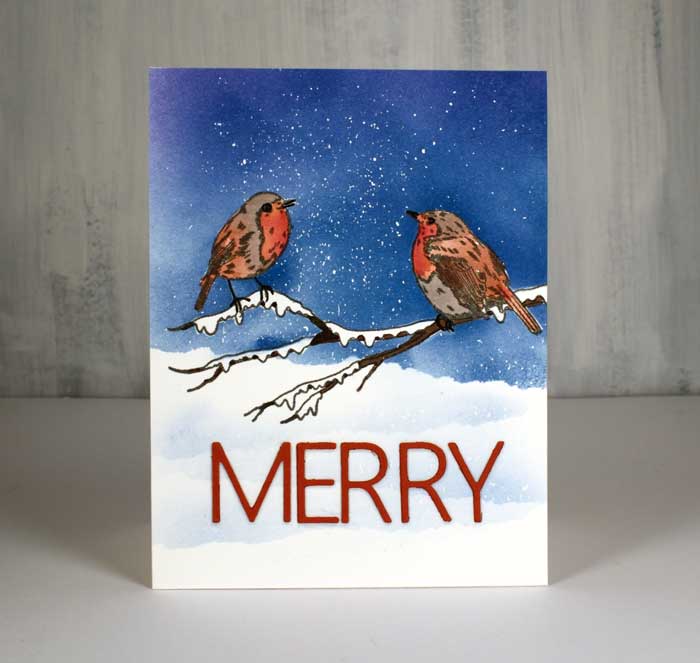 I stuck with the Papertrey ink cubes for the blended sky using mainly 'blueberry sky' and a bit of 'royal velvet'.  As I blended over the masking fluid I could see I was going to have a nice snowy sky. Once the sky color was a deep blue I repositioned the torn mask lower down three more times and blended over it for a soft 'snowbank' look. I didn't have to pick up more ink as there was plenty still on the bristles of the blending brush.
Once all my painting and blending was complete I removed the masking fluid gently by rubbing it with my fingers, you can also use an adhesive remover. To finish the card I cut two layers of the word MERRY from red card stock backed with stick-it adhesive sheet and stuck them over the snowbanks. As you can see the letters come out of the die individually, I used the negative piece of card stock and my magnetic 'Stay-tion' and ruler to position them all correctly.
Thank you for dropping by today, I will be back before long with more wintry scenery.
More about Heather:
~   ~   ~   ~   ~   ~   ~  ~   ~   ~   ~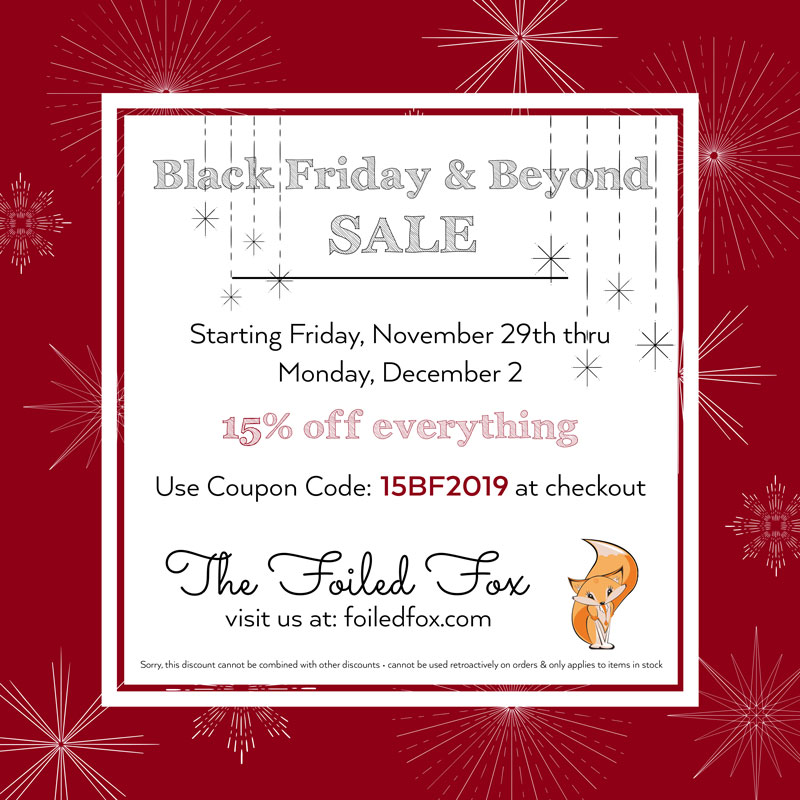 Supply List: