Hi Everyone,
Boy, what a dilemma I had – two cards for twin nephews turning 30 years old. Since masculine cards are always the most challenging (at least for me), I had my work cut out for me. I wanted to make the cards similar but different.  This is what I came up with. Hope you enjoy them!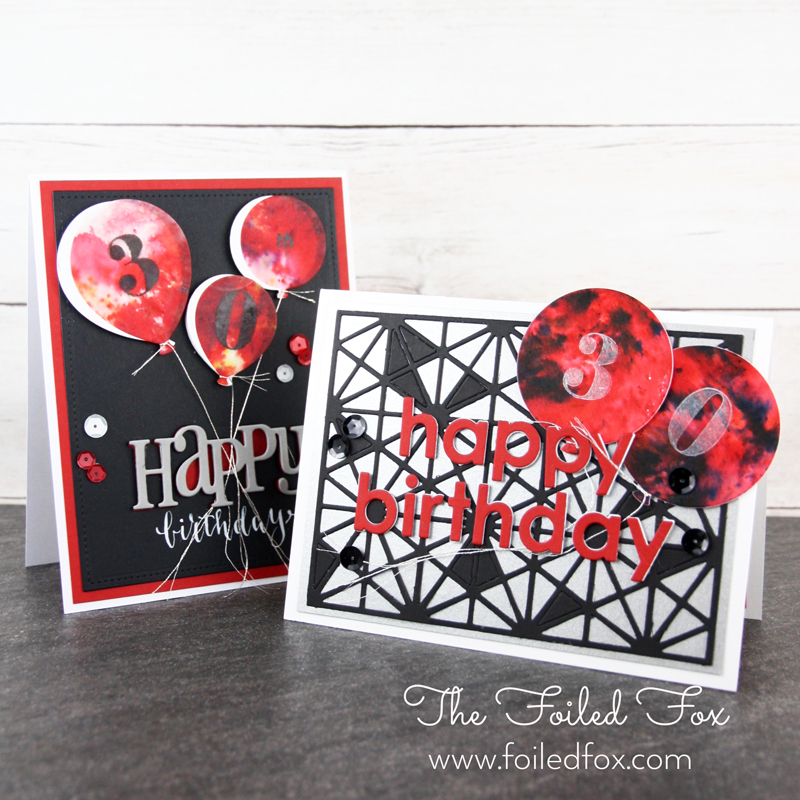 The common theme with these two cards is the balloons. I wanted as authentic of a balloon look as possible. I thought creating them with vellum and dried watercolor crystal watercolors, like Brusho or Color Bursts would help achieve that.
I started out with a sheet of vellum, taped it to an acrylic board, then spritzed it with water and sprinkled with Brusho paints and let the magic begin. I added spritzes of water until the colors had spread and mingled together, then let it dry.
After removing the tape, the vellum was still a bit crinkly so I sandwiched it between two plain pieces of paper and ironed it until smooth. then cut a variety of balloons using the Lawn Fawn Party Balloons die set.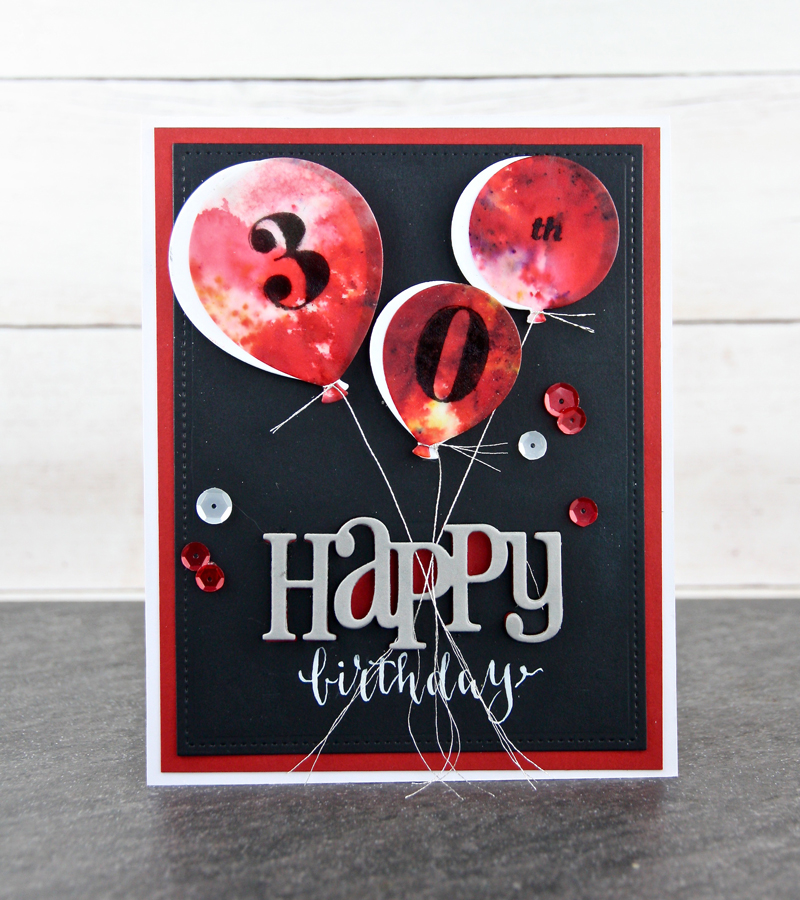 With the balloons done, I began with the vertical birthday card.  This card starts with a piece of black cardstock. A panel was created by using the largest die in the Lawn Fawn Large Rectangle Stackables. Then, after the panel was cut, using the Happy die by Whimsy Stamps (this die is sooooo handy and versatile!), I cut out "Happy" directly from the black panel. I also cut out 2 gray cardstock 'Happy's" and stacked and glued them on top of one another to give added dimension, and set them aside.

The card comes together pretty fast from here. "Birthday" was added below the "Happy". I chose to hand letter it with my pointed steno nib and oblique holder but stamping 'birthday' and white heat embossing would be great too!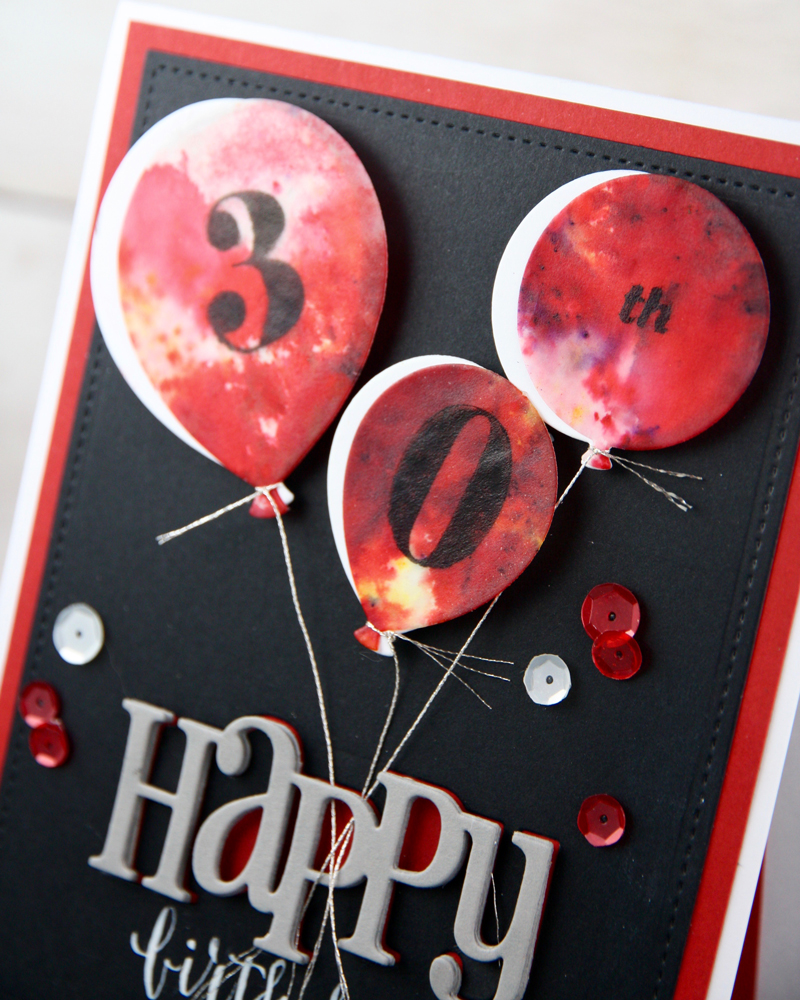 The card was assembled by using a white card base, adding a slightly smaller red card stock layer and then mounting the black top panel on top, letting the red peek out through the Happy. The gray "Happy" was mounted with foam tape.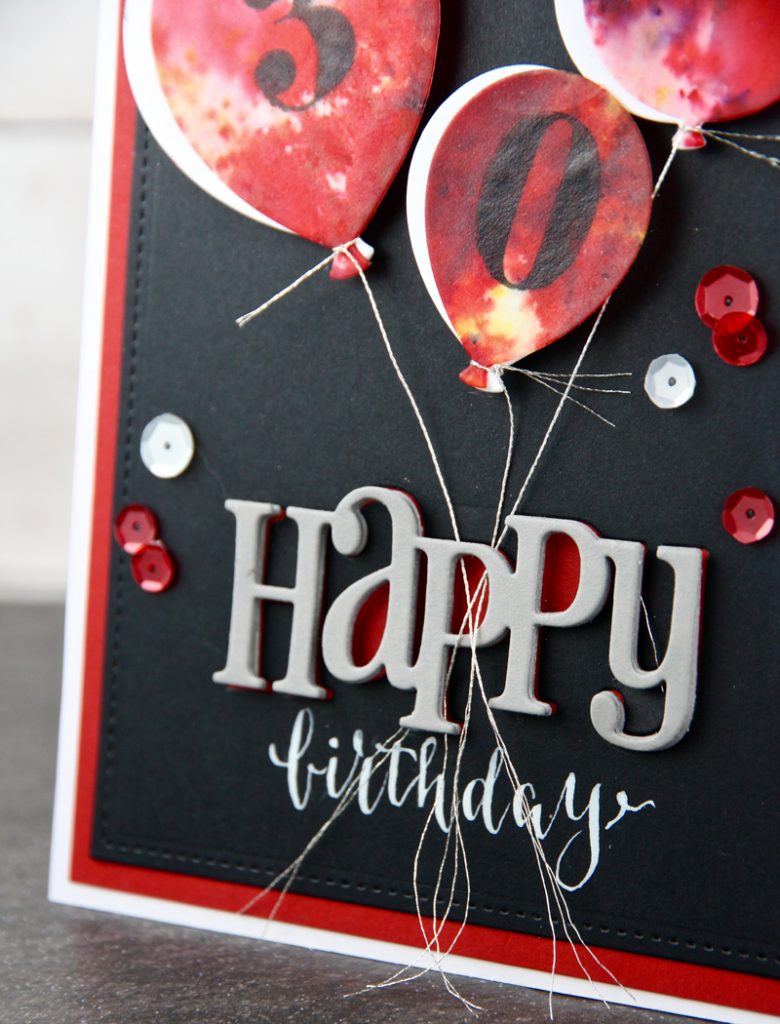 At the last minute, I stamped, with archival black ink, 3-0-th on each balloon, backed it with an offset coordinating white cardstock balloon for contrast, tied silver metallic thread for the balloon string and mounted them with foam tape.  Red and shimmery white sequins were added to complete the card.
••••••••••••••••••••••••••••••••••••••••••••••••••••••••••••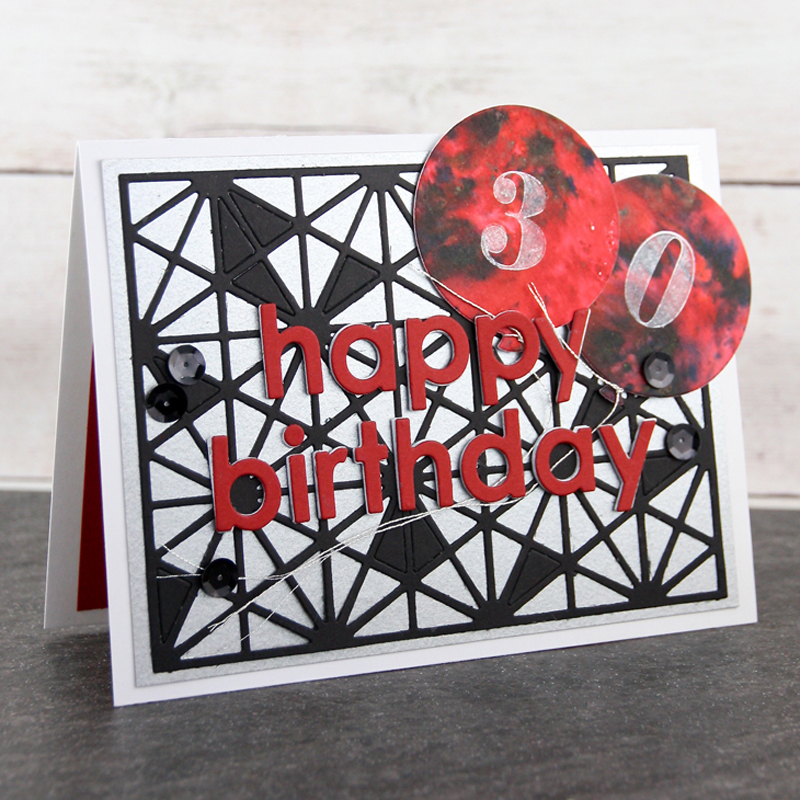 I rarely make two cards back-to-back using some of the same materials.  After doing this set, I see there are some definite advantages. This card came together super fast with the help of the Hexastar Cover Plate by Neat & Tangled and the previously made balloons.
Starting with a Neenah white card base, a slightly smaller matte silver panel was popped on top. A Hexastar pattern was cut from Neenah black card stock using the Hexastar Cover Plate by Neat & Tangled, keeping a few of the triangular pieces in place. This Hexastar pattern was added to the top.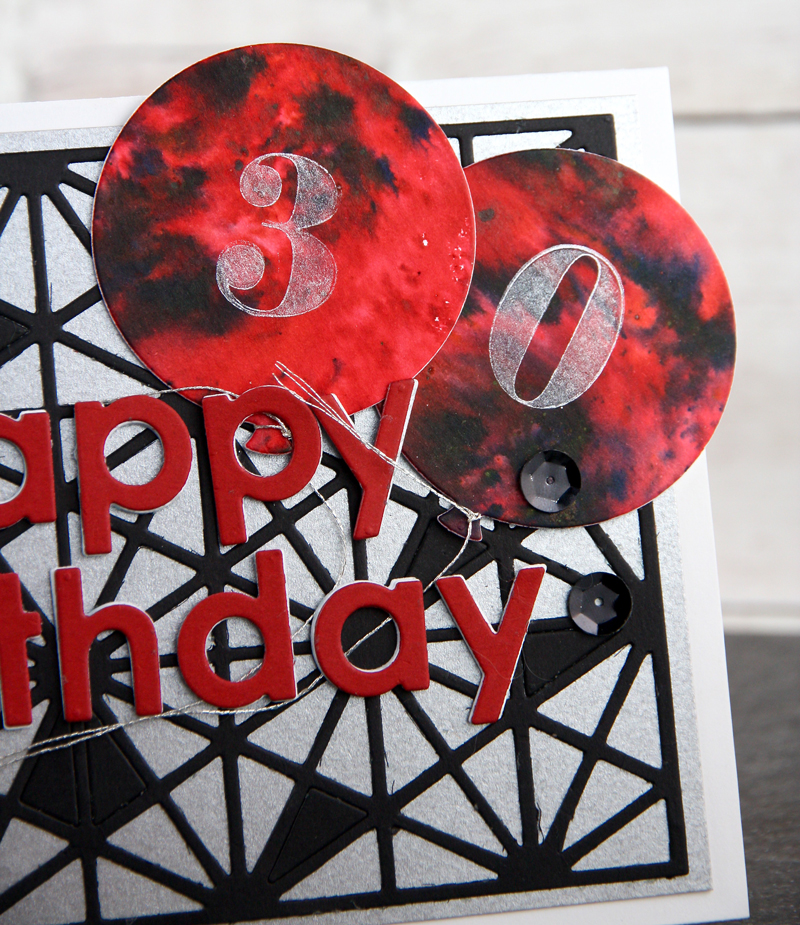 For the sentiment, Happy Birthday from the My Favorite Things Happy Birthday Die-Namics was cut in both red and white card stock. They were stacked and glued together with the red on top. To keep the letters straight when gluing to the card, I kept the letters in their original cut-out and ran a micro-dot tape runner over the back of all the letters so all I had to do was flip it over, position and press down. After all the letters were transferred onto the card, the negative part of the cut-out was carefully peeled away.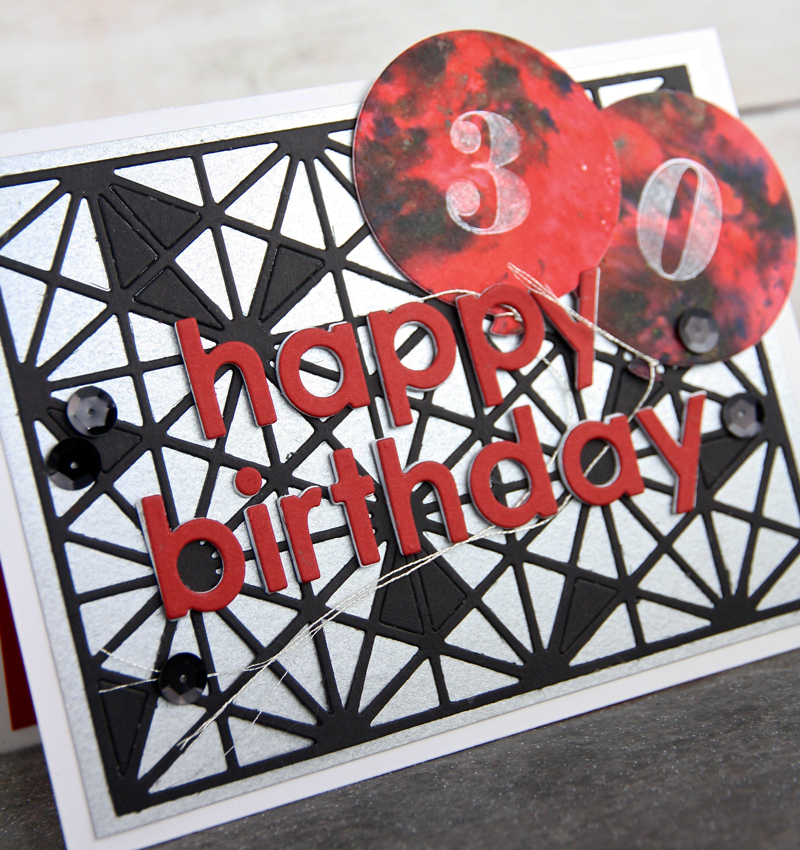 I selected two big and round balloons from my previously made balloons, stamped then with 3-O using Delicata Silver ink, tied on some silver thread for the balloon strings and tucked them in place. Finally, black sequins were added for a little pizazz!
And there you have it! Two birthday cards for twin boys that have turned into men. I hope you have enjoyed the projects. See you again soon!
•••••••••••••••••••••••••••••••••••••••••••••••••••••••••••••••
Supply List:
Lawn
Fawn
Party
Balloons
Die Set

Whimsy
Stamp
Happy
Die

My
Favorite
Things
Happy
Birthday
Die-Namics

Neat &
Tangled
Hexastar
Cover
Plate

Lawn
Fawn
Large
Stitched
Rectangle
Stackables

Avery
Elle
Count
On It
Stamp
Set
Archival
Jet Black
Ink Pad

Delicata
Silvery
Shimmer
Ink Pad

Brusho
Crystal
Colour
Set

DMC
Silver
Metallic
thread

Neenah 110lb.
Solar White
card stock

Neenha
Black
Cardstock
Peppermint
Paper

Brause
Steno
Nib

Oblique
Pen Holder

Mc Caffery's
White
Ink

Neat &
Tangled
Peppermint
Sequins

Darice
Black
Sequins
Vellum
Paper

Micro
Glue
dots