Hi there,
With Thanksgiving just passed, it is time to think of decorating our Christmas trees. So what better way to get in the mood but with an ornament card bursting with poinsettia blossoms, right?
The stamp set used is the Impression Obsession Round Ornament 2 Stamp set. It offers 2 beautiful ornament stamps to choose from.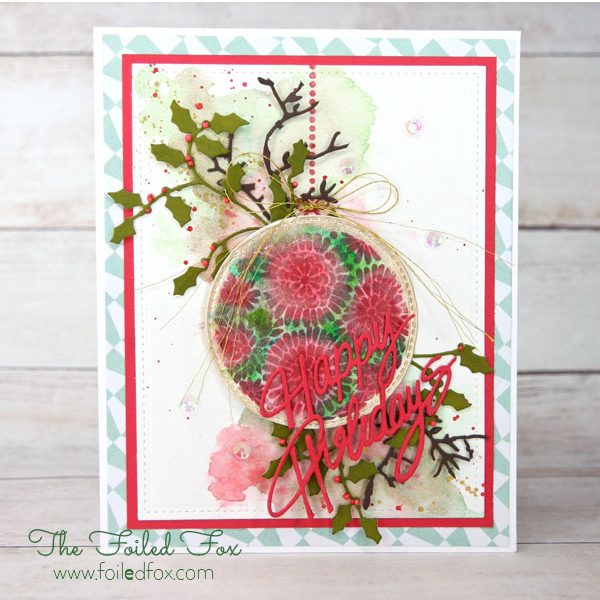 The card began with the single thought of the ornament as the centerpiece. But as you will see, as the making of the card unfolded I kept building the card layer by layer. By the way, before I forget, there is a complete supply list at the end.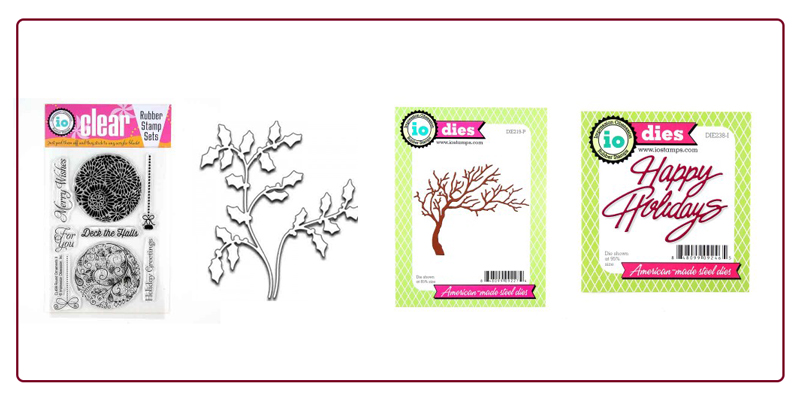 I started by stamping the ornament with Crimson Red Versafine ink onto some watercolor paper, then painted it with vibrant reds and greens. Next, I added gold around the edges with my beloved Finetec Artist Mica paints. Using the same colors, I watercolored the background onto some watercolor paper.  I used the traditional reds and greens and splattered it with the same colors and a little gold paint for pizazz, then stamped the 'string' for the ornament.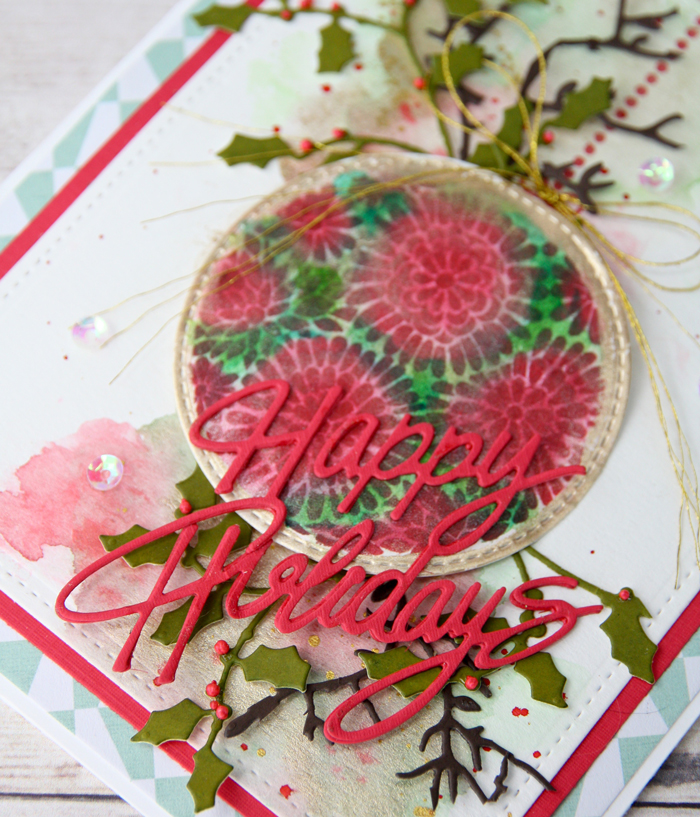 Next up was die-cutting the holly from the Penny Black Jolly Holly creative die and the branches from the Impression Obsession's wide tree and of course, using a circle die with a stitched edge to cut out the ornament.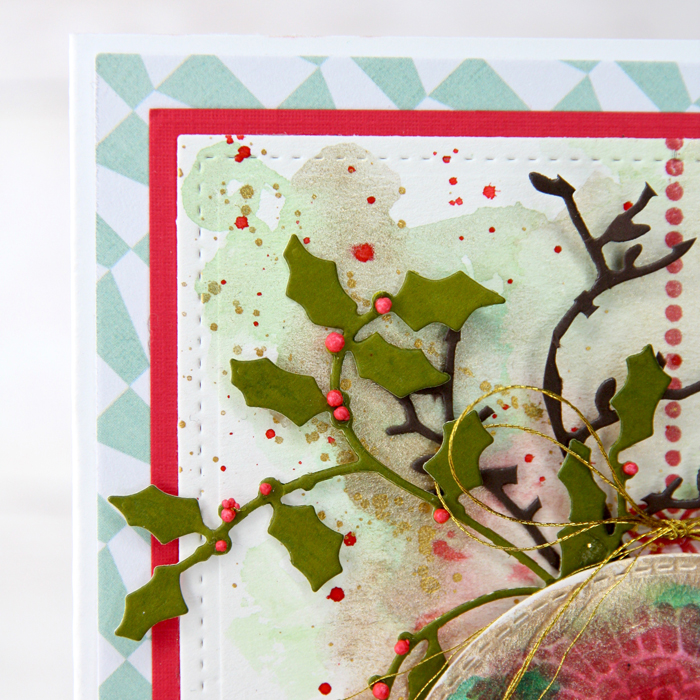 The ornament was then mounted onto the watercolor panel with some fun foam (for added dimension) and the holly and branches were arranged around the ornament and little red mini prills were glued onto the holly for the red berries.  This added a little more dimension and spark of color.
Finally the sentiment was die-cut and added.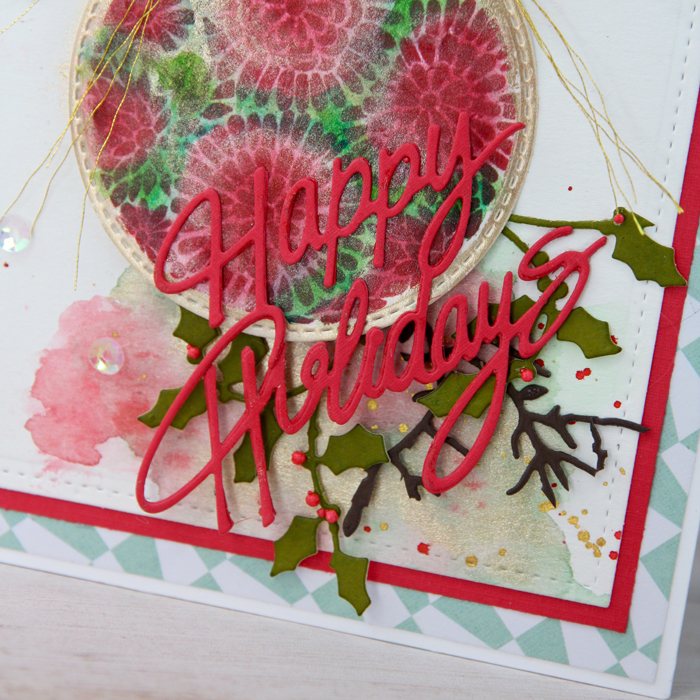 You would think that I would have added all these embellishments after the whole card was constructed.  But I was flying by the seat of my pants, so I took the long way around getting this card finished!  If I would have been more planful, I would have added all the layers in the beginning, following by the embellishments at the end.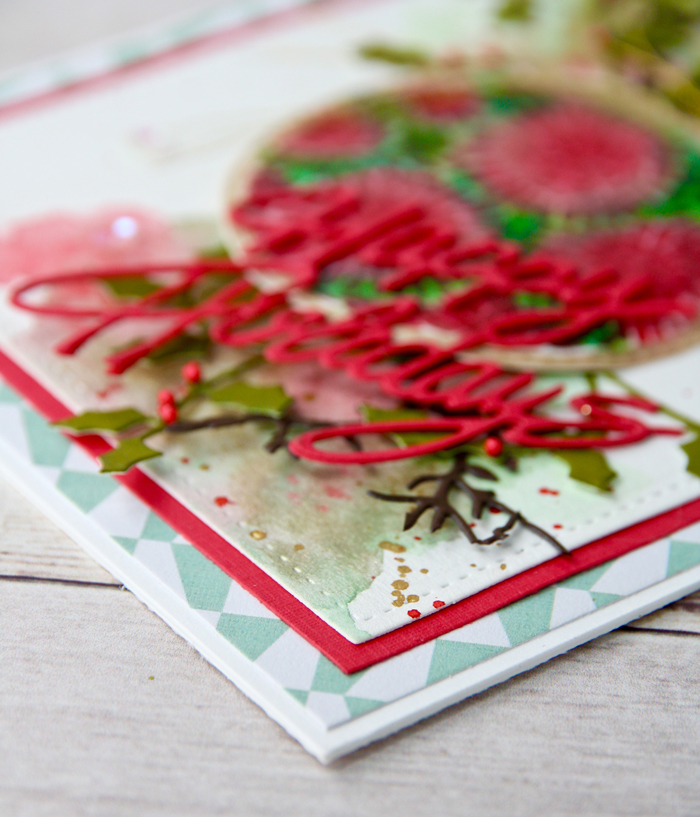 The whole top was mounted onto a deep pink panel.  It still needed something, so the patterned paper was added behind the pink panel and then all was mounted onto the white card base.
For the final, final finishing touches, the gold metallic thread bow was added, along with a few sequins.


Supply List:
Impression
Obsession
Ornament 2
stamp set

Penny Black Jolly Holly Creative Die

Impression
Obsession
Wide Tree
Die

Impression
Obsession
Happy
Holidays
Die

Arches
Hot Press
Watercolor
Paper

Spring
Paper
Pack
Caramel
Apple
Green
Card Stock

Heidi
Swapp
Hello
Beautiful
Paper Pak

Neenah 110lb.
Solar White
card stock

Lawn Fawn
Lg Stitched
Rectangle
Die Set

My Favorite
Things
Stitched
Circle
Dies

Kuretake
Gansai
Tambi
Watercolors
Finetec
Artist
Mica
Watercolor

Mini Red
Prills

DMC
Gold
Thread

White
Fun
Foam

ATG
Tape
Gun

Versafine
Crimson
Red
InkPad